Jen, from
Gricefully Homeschooling
,
and I team up, every Friday, to bring you a list of
free
bees...on both of our blogs.

PLUS...with the added bonus of this being a weekly link up...where you can showcase your freebies, things you've found online, and also, things you've received in the mail, totally FREE in the last week...or so.

FreeBEEs: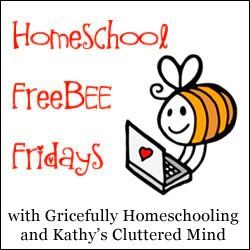 If you have homeschool FreeBEEs to share
please link up at the bottom of this post!
You can copy the button from my right side bar.

FreeBEEs:
Well another homeschool year has come and gone (well it will be gone in 18 days). Where did the year go? Since January 2012
Jen from
Gricefully Homeschooling
and I have been bringing you FreeBEEs each week. There were a couple weeks life got busy and I missed a post so perhaps there was a week you missed one too. So this week I am sharing some of my favorite FreeBee posts. There are about
46 posts
in all so be sure to check them out.
A Year of Homeschool FreeBEEs:
Here are my favorites I broke them into categories for you too.
Holidays, Days of Remembrance, :
-
Pearl Harbor Resources
-
Fathers Day Resources
-
Memorial Day Resources
FREE Unit Study/Lapbook/Notebooking Resources:
-
Mythology Unit Study
-
Bird Unit Study
-
Sand Unit Study
-
Primate Unit Study
-
Dr. Seuss Unit Study
-
Bugs and Butterflies
-
GA Unit Study
-
LEGO Learning Resources
-
File Folder Games
-
Notebooking Resources
-
Worksheet, Lapbooks and Unit Studies
FREE Subject Resources:
-
Art and Music Resources
-
History Timeline Resources
-
Foreign Language Resources - Spanish
For Mom:
-
Free Clipart, Images and Graphics
- these are great for making worksheets, notebooking pages, lapbooks etc.
-
Free Craft Idea Resources
-
Free Kindle and Audio Books
-
Printable, Electronic and Android App Homeschool Planners
-
Road Schooling
-
Discounts For Homeschoolers
-
Field Trip Edition
Thank you to all who participated and linked up this year!!! Next year is going to be even more exciting stay tuned for more details coming next Friday.
I hope you find these resources useful. If you ever have any questions feel free to leave me a comment or email me. Also be sure to follow my
FB page
where I post FreeBEEs daily.
Remember when it comes to FREE resources the internet and a good search engine are your best friend.
*Disclaimer - Many of the links found on my side bars and in my blog posts are affiliate links. Please note that prices indicated in the post are subject to change. As a result, I might get paid money and I will most likely spend the money on homeschool supplies.
Linking up with:
3 Boys and a Dog