Jen, from
Gricefully Homeschooling
,
and I team up, every Friday, to bring you a list of
free
bees...on both of our blogs.

PLUS...with the added bonus of this being a weekly link up...where you can showcase your freebies, things you've found online, and also, things you've received in the mail, totally FREE in the last week...or so.

FreeBEEs: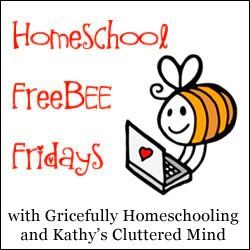 If you have homeschool FreeBEEs to share
please link up at the bottom of this post!
You can copy the button from my right side bar.

Internet FreeBEEs:
I have been very busy this week getting our first unit study for the new homeschool year put together (we start back up August 1st). The unit studies are chosen by the kids and when I asked them what they wanted to learn about first Gwyn yelled out,
"SAND"
. Sand really? I was very nervous that I would not be able to come up with enough stuff to cover sand for an entire month. BUT......then my wheels started turning and now I am exploding with ideas.


And since the new homeschool year is officially starting I will be changing up my weekly FreeBEE Friday posts a little bit and sharing a lot more unit study resources (FREE of course). It is one of the many homeschooling methods we use (read my Eclectic Learning post) and the kids and I love them.
One reason I love units studies is because you can pick one topic and then build off of it. Eventually that one topic becomes a HUGE web and you can cover just about every subject. At first when Gwyn said sand the first thing that came to mind was sand on the beach. But when I started to think outside of the box the unit study grew and now we will be covering deserts, glass, oysters/pearls, animals that live in desert and beach areas........you get the point. With one simple topic like sand we will be covering science, geography, history, art, religion, life skills, reading, writing and more.

SAND:
-
World Atlas of Sand
-
Sand Explained
-
Wikipedia Sand
-
Magnetic Iron Sand
-
Curious George Sand and Soil
Lesson Plan
-
Magic Sand
experiment
-
What is sand?
-Lots of
sand lesson plans
w/links
-
Learn About Geology
has lots of great resources for sand and other rock unit studies
DESERTS/SAND DUNES:
-
Desert Animlas
lapbook from Homeschool Share
-Robert Frost poem
Sand Dunes
-
Desert Biomes
GLASS:
-Wiki How -
How glass is made
-
Glass games
from Fireworks of Glass
-
Glass blowing
BEACHES:
-
How to build a sand castle
worksheet
-
Beach theme
ideas - printables, crafts, etc
-
PBS Building Sand Castle
game
OYSTERS/PEARLS:
-
Oyster lesson plan
-
How pearls are made?
-
Pearls PDF guides and links
- American Museum of Natural History
SAND STORMS/QUICK SAND:
-
Sand storm
lesson plan
-
Quicksand Goo
experiment
-
Make quick sand
-Wiki How -
How to survive a sand storm
BIBLICAL LEARNING:
-
Foot Prints In The Sand
- devotional
-Wise Man, Foolish Man Matthew 7:24-29
-
Wise Man, Foolish Man story/song slide
, activity to show how
sand crumbles and rocks stay firm
,
lesson plan and activity for
Wise Man, Foolish Man
YOUTUBE VIDEOS:
My kids love watching videos that go along with our unit studies. Here are a few we will be using. If you want to see more you can check out our YouTube channel.
-
Desert Biome
-
Deserts Adjacent to the Tropics
-
Footprints in the Sand
-
Wise Man Foolish Man
clip from Nest Learning
-
How Pearls are Formed
-
Waves and Beaches
from the Homeschool Scientist
-
Glass Blowing
-
Great Sand Dunes National Park
-
Sand Storm Al Asad Air Base Iraq
-
Sand Sculptures
-
Sand Dancer
-
Sand Animation
-
Hydrophobic Sand Underwater
CRAFTS/ART:
-
Moldable Sand aka Moon Dough
-
Wax Paper Stained Glass Butterfly
-
Stained Glass
coloring page
-
Sand painting
-
10 awesome sand crafts
-
Sand, Beach, Desert
coloring pages with writing lines
FOOD:
-
Stained glass cookies
-
Sand pudding
FIELD TRIPS:
-Glass blowing demonstration - I contacted a local glass blowing facility and asked about visiting and getting a demonstration. Guess what they offered to give us one for FREE!!!
-Glass fusing - check your local art studios to see if they also offer glass fusing. I was able to get a glass fusing class at
My Clayground
for FREE because I offered to write a review post about their facility.
The links above as well as others are pinned to my
Sand Unit Study Pinterest Board
. If you're interested doing a Sand Unit Study you may want to follow the board because I will be adding more FREE resources as I find them throughout August.
**

So do you think I missed covering anything for the Sand Unit Study? Be sure to check back this weekend I will be sharing a very cool project I have been working on. I call it our Explore, Dream, Discover Unit Study box.

**
I hope you find these resources useful. If you ever have any questions feel free to leave me a comment or email me. Also be sure to follow my
FB page
where I post FreeBEEs daily.
Remember when it comes to FREE resources the internet and a good search engine are your best friend.

*Disclaimer - Many of the links found on my side bars and in my blog posts are affiliate links. As a result, I might get paid money and I will most likely spend the money on homeschool supplies. Please note that prices indicated in the post are subject to change.
Linking up with
3 Boys and a Dog