Jen, from
Gricefully Homeschooling
,
and I team up, every Friday, to bring you a list of
free
bees...on both of our blogs.

PLUS...with the added bonus of this being a weekly link up...where you can showcase your freebies, things you've found online, and also, things you've received in the mail, totally FREE in the last week...or so.

FreeBEEs: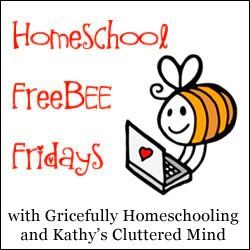 If you have homeschool FreeBEEs to share
please link up at the bottom of this post!
You can copy the button from my right side bar.
FreeBEEs:
Pearl Harbor Day is tomorrow December 7th. Are you planning to teach your kids about Pearl Harbor? If so here are a few great resources for you. We will probably touch on it very briefly tomorrow since both of my kids are very young and war is a difficult subject for them to fully comprehend. I hope you find these FREE resources helpful!
FreeBEEs:
-Peace Creek on the Prairie has a great FREE
notebooking page
-
Pearl Harbor lapbook
at Practical Pages
-
Pearl Harbor video
on History.com
-
Virtual tour
of Pearl Harbor
-
National Museum of Marine Corps
Pearl Harbor virtual tour
-Pearl Harbor
coloring page
-
Remember Pearl Harbor mini study
on Currclick - not FREE but only 25 cents
-
WWII lapbook
from Jimmies Collage - great idea for Pearl Harbor mini booklet
-
Have Fun With History
has several great videos
-Lots of great
Pearl Harbor
resources from Scholastic and also a
timeline
-Pearl Harbor
printables
-Pearl Harbor
book list
and more website resources
-Pearl Harbor
radio newscasts
- very, very cool resource
-
Interactive timeline
-Some great
printables and slideshows
I hope you find these resources useful. If you ever have any questions feel free to leave me a comment or email me. Also be sure to follow my
FB page
where I post FreeBEEs daily.
Link up:
FreeBEE Fridays
with
Kathy's Cluttered Mind
and
Gricefully Homeschooling
Remember when it comes to FREE resources the internet and a good search engine are your best friend.
*Disclaimer - Many of the links found on my side bars and in my blog posts are affiliate links. Please note that prices indicated in the post are subject to change. As a result, I might get paid money and I will most likely spend the money on homeschool supplies.
Linking up with
3 Boys and a Dog