Jen, from
Gricefully Homeschooling
,
and I team up, every Friday, to bring you a list of
free
bees...on both of our blogs.

PLUS...with the added bonus of this being a weekly link up...where you can showcase your freebies, things you've found online, and also, things you've received in the mail, totally FREE in the last week...or so.

FreeBEEs: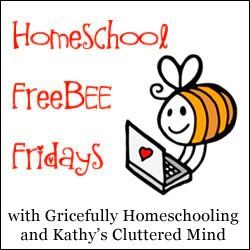 If you have homeschool FreeBEEs to share
please link up at the bottom of this post!
You can copy the button from my right side bar.

Internet FreeBEEs:
Are you in the process of getting ready for another year of homeschool? Not sure where to get started? Well this week Jen and I are sharing lots of great FREE planners some are printable and some are electronic. But just remember you DON'T have to spend lots of money on fancy planners. My planning binder combines printables from several resources.
Printables:
-
Donna Young
has lots of great printable homeschool planner pages.
-
Five J's
has a homeschool grade book and recording keeping spreadsheet for Excel or Open Office.
-If your a blogger be sure to add these great FREE blog planning sheets from
Homeschool Creations
to your binder. These have been such a life saver for me already and I just started using them about 2 weeks ago.
-
The Homeschool Mom
has several great homeschool planning sheets including pages for unit studies and unschooling.
-You asked for planning forms well be sure to check out ALL of the 823 forms at
Highland Heritage Forms
.
-
Circle of Moms
10 FREE organizing and planning sheets - menu plan, chores, school memories and more.
-
Homeschool Launch
many great printables for all different types of homeschool curriculum and styles.
-If you use
Unit Studies by Amanda Bennett
make sure you check out the awesome FREE planners she offers.
-
List Plan It
has several trial pages you can download for FREE. The rest of her eplanners do cost a small fee ($5 right now) but I can personally tell you that they are worth it, I use several of her items in my binder.
-
Money Saving Mom
has a great customizable planning pages.
-
New Beginnings
has 180 pages that are undated and can be used year after year.
Electronic:
-
Sked Track
is a homeschool electronic planner - you can do all sorts of awesome things in this program.
-
Homeschool Tracker
is a homeschool electronic planner there is a FREE version and a paid version.
-
Home School Inc
offers a FREE web based homeschool planner.
-Need help planning field trips? Check out this homeschool field trip map on
Homeschool Buyers Co-Op
.
Android Apps:
-
Cozi Family Planner
can be a great help for planning appointments, field trips, etc.
-
School Timetable Deluxe
this could easily be applied to homeschool life too.
-
Quick Time Table
another program that could easy be applied to homeschool life.
FreeBEE events:
Not free but
Only $1
. Head to
Regal Theaters
to catch a movie Tuesdays and Wednesday at 10 am until August 1st.
Lakeshore Learning
has FREE crafts every Saturday from 11 am - 3 pm.

Visit your local Disney Store for Summer Play Days. Starting Monday, July 23rd at 2pm, visit the Disney Store for the kickoff of Summer Play Days! In-store events will occur EVERY DAY from July 23rd – August 26th. Attend 4 events and receive a special gift!
Minimum age for participation is 3 years old. Call your local store for further details.
Sign up FreeBEEs, items I will be reviewing soon and items I won:
Image(s): FreeDigitalPhotos.net
Nothing again to share this week. Its been a slow couple of weeks the mailbox.
If you don't enter blogger giveaways or do Twitter and/or Facebook parties you need to because you can win cool stuff. Also it pays to follow companies on Facebook you score lots of FREE stuff.
I hope you find these resources useful. If you ever have any questions feel free to leave me a comment or email me. Also be sure to follow my
FB page
where I post FreeBEEs daily.
Remember when it comes to FREE resources the internet and a good search engine are your best friend.

*Disclaimer - Many of the links found on my side bars and in my blog posts are affiliate links. As a result, I might get paid money and I will most likely spend the money on homeschool supplies. Please note that prices indicated in the post are subject to change.
Linking up with
3 Boys and a Dog