Jen, from
Gricefully Homeschooling
,
and I team up, every Friday, to bring you a list of
free
bees...on both of our blogs.

PLUS...with the added bonus of this being a weekly link up...where you can showcase your freebies, things you've found online, and also, things you've received in the mail, totally FREE in the last week...or so.

FreeBEEs:
Sorry my post is a little delayed. I was feeling a little lousy the last couple of days and just wanted to relax in the evenings rather than type a post.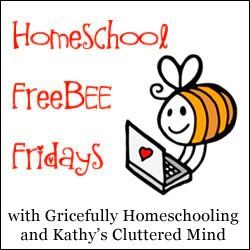 If you have homeschool FreeBEEs to share
please link up at the bottom of this post!
You can copy the button from my right side bar.

Internet FreeBEEs:
This week is not necessarily FreeBEEs but they are FREE reward memberships you can get at local stores so you can SAVE $$$ throughout the year when you purchase things your homeschool will definitely need.
-
Barnes and Noble Educator Program
- 20% discount + special educator days
-
Books A Million
- 20% discount
-
Office Depot
- 10% back on purchases, you can also earn rewards by recycling ink cartridges
-
Office Max Rewards For Teachers
- $10 rewards when you spend $75, you can also earn rewards by recycling ink cartridges
-
Staples
- 10% back on purchases, you can also earn rewards by recycling ink cartridges
-
FedEx/Kinkos
- 15% discount is applicable on many products and services
-
Apple
-
Academic Superstore
-
Half Price Books
-
10% discount card good at all of their brick-and-mortar locations
-
Lakeshore Learning
- they send amazing coupons as well
-
Michael's
- provide documentation that you homeschool each visit to get 15% off
-
Joann Fabrics
- 15% off your purchases
-
Hancock Fabrics
- 10% discount when they present their Red Apple Card (sign up for the card at the store must show proof you homeschool)
-Hobby Lobby - 1

0% off, go to the managers desk with you state registration paper
-
Homeschool Buyers Co-op
- lots of great discounts for homeschoolers
-
PBS Teacher Shop
- I am not 100% sure if this works for homeschoolers as I have never tried it but it may be worth a try they have some great discounts
-Homeschool groups can participate in
Box Tops for Education
to earn money for their group. You must be a group or co-op to participate.
*
Note: these programs may require some form of "teacher i.d." You can use pretty much anything that shows proof you homeschool. Here are some examples of what I have used -
Homeschool Legal Advantage
card, our Declaration/Letter of Intent (which we are required to send to the state of GA each year) and
Homeschool Buyers Co-op
card. If you have never had a Homeschool Legal Advantage membership get one for FREE using code
GIFT
.
**
Also don't forget to talk to your local museums to see if they offer the educators membership price to homeschoolers often these are about $10 cheaper (I know in GA the museums that offer the educator discount will allow homeschoolers to utilize it). And ask your library about getting an educator card which allows you to check out more books on a library card (again I know some of the GA library systems offer this so I can check out 50 books on my card instead of only 25).
If I missed any please let me know and I will add it to the list.
Giveaways:
-
iReward Chart iPhone App Giveaway x 2
- on my blog
FreeBEE events:
Check out the
Lowes
Summer workshops there are some great projects lined up. My kids always love the workshops and love playing with their creations even more.
Sign up FreeBEEs, items I will be reviewing soon and items I won:
Top:
Right - FREE scissors from
Westcott
Get them here its really easy and mine came in just a few days. Left - I won this great book Here's Lily cannot wait to read it to Gwyn.
Bottom:
Right - Got this FREE kit from
Random House
but its no longer available. Keep an eye out on the website though because they will be making the bookclub materials available in pdf. This is a great resource if you want to start a book club which I hope to do in the Fall. Left - I got FREE Dr Scholls insoles, 2 FREE bottles of Sobe drink and lots of great coupons by being a
Bzz Agent
. Sign up here take a few surveys so they can connect you with companies. Its FREE and I get nothing for you signing up. Then help spread the word about the products. When you spread the word you are awarded with
My Points
another FREE website where you can earn giftcards. Both of these websites I have been on for over a year and have earned great things from both. They are totally worth spending a few hours a week on.
If you don't enter blogger giveaways or do Twitter and/or Facebook parties you need to because you can win cool stuff.
I hope you find these resources useful. If you ever have any questions feel free to leave me a comment or email me. Also be sure to follow my
FB page
where I post FreeBEEs daily.
Remember when it comes to FREE resources the internet and a good search engine are your best friend.

*Disclaimer - Many of the links found on my side bars and in my blog posts are affiliate links. Please note that prices indicated in the post are subject to change. As a result, I might get paid money and I will most likely spend the money on homeschool supplies.
Linking up with
3 Boys and a Dog