Jen, from
Gricefully Homeschooling
,
and I team up, every Friday, to bring you a list of
free
bees...on both of our blogs.

PLUS...with the added bonus of this being a weekly link up...where you can showcase your freebies, things you've found online, and also, things you've received in the mail, totally FREE in the last week...or so.

FreeBEEs: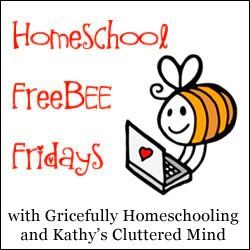 If you have homeschool FreeBEEs to share
please link up at the bottom of this post!
You can copy the button from my right side bar.

Internet FreeBEEs:
This week I had a friend inquire about notebooking so I decided to share some great FREE notebooking resources with you this week.
So what is notebooking anyway? Well notebooking can be done a variety of ways. The 4 main types of notebooks are binders, spiral notebooks, composition notebooks and self-bound notebooks. No matter which way you choose to go about notebooking they all serve the same purpose. Its a way for your children to catalog what they are experiencing and learning through writing and pictures. If they are too young to write they can always dictate to you while you write their thoughts. Notebooking helps children reinforce what they have learned and its a way to keep track of what they learn over the years (sort of like a homeschool scrapbook). Notebooking is great for children of all ages and even homeschool mommas.
-
Notbooking Pages
has lots of FREE stuff like templates, pages and more. Just sign up for a FREE membership. But if you want even more including a the NEW Publisher where you can design your own pages then consider the membership ($74.95).
-The
Notebooking Fairy
has MANY great FREE resources on the website. If you need a great resource to teach you the ins and outs of notebooking then consider purchasing
Notebooking Success Ebook
for $5.50 (introductory price and there is a 30 day money back guarantee).
-
Notebooking Nook Blog
- lots of great resources
-
That Resource Site
- many FREE notebooking pages
-
Homeschool Notebooking
- Free notebooking pages for every subject
-
Science Notebooks
- learn about science notebooking
-
Temporary Tents
has great FREE notebooking pages on her blog
-
Donna Young
- Free printable blank notebook pages - Design your own
-
Notebooking Yahoo Group
- a place for you to share thoughts, gather ideas and just have fun talking about notebooking
-
Currclick
- lots and lots of FREE notebooking resources some may cost a small fee
-
Homeschool Share
- lots of great notebooking pages
-
Homeschool Helper Online
- notebooking pages for holidays, science, history, geography and more
-Like my friend
Adventurez in Child'Rearing on Facebook
to get your FREE Nature Study Notebooking ebook
-Free
sticker story
notbooking page
-Get 3 FREE Knowledge Box lapbooks (US Symbols, Country Study and Presidential Election Games & Trivia) by visiting
Hip Homeschool Moms
And if you're busy planning like me then I am sure you can use these....
-Adorable FREE printable
summer calendars
-Free calendars from FREE
Homeschool Deals
Giveaways:
-
We Choose Virtues Giveaway
- Adventures in MamaLand
-
100+ FREE Things to do in Atlanta Ebook Giveaway
- Expedition Mom
FreeBEE events:
On Sunday, June 3, 2012, The Woodruff Arts Center and its divisions – the Alliance Theatre, Atlanta Symphony Orchestra, High Museum of Art and Young Audiences – will commemorate the 50th anniversary of the tragedy at Orly Airport, which was the catalyst for the founding of The Woodruff. The event will be from 11:00 am - 5:00 pm. Click Here for the Full Schedule of Activities(pdf) The even is free but they are asking you register so they can plan accordingly.
1) The Joy of Discovery this is an item I just got in the mail and will be writing a review about in July 2) Get your FREE
Cavity Nesting Birds
poster here. You can also
download
a Pigeon kit.
If you don't enter blogger giveaways or do Twitter and/or Facebook parties you need to because you can win cool stuff.
I hope you find these resources useful. If you ever have any questions feel free to leave me a comment or email me. Also be sure to follow my
FB page
where I post FreeBEEs daily.
Remember when it comes to FREE resources the internet and a good search engine are your best friend.

*Disclaimer - Many of the links found on my side bars and in my blog posts are affiliate links. Please note that prices indicated in the post are subject to change. As a result, I might get paid money and I will most likely spend the money on homeschool supplies.
Linking up with
3 Boys and a Dog