Jen, from
Gricefully Homeschooling
,
and I team up, every Friday, to bring you a list of
free
bees...on both of our blogs.

PLUS...with the added bonus of this being a weekly link up...where you can showcase your freebies, things you've found online, and also, things you've received in the mail, totally FREE in the last week...or so.

FreeBEEs: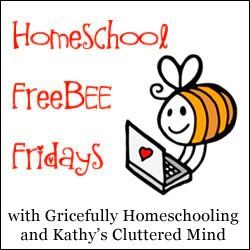 If you have homeschool FreeBEEs to share
please link up at the bottom of this post!
You can copy the button from my right side bar.

Internet FreeBEEs:
Are you planning to take a vacation? Or perhaps you're like us and always out and about doing fun field trips or errands? Well you will like this list of FUN and FREE road schooling ideas.
-Load your Kindle with FREE ebooks
Free Homeschool Deals
posts a huge list of FREE Kindle books every week. And if you don't have a
Kindle
device download the Free
App
for your cell phone, PC or tablet.
-Load an MP3 player with audio books. You can get some great FREE audio books from this links:
Books Should Be FREE
,
Homeschool Radio Shows
,
Internet Archive
,
Storynory
.
-Kids can also learn a lot about Geography while on the road. Here are a few ideas:
Map Out The Road Trip
, have your kids name the State Capitols or States, Play
State Capitol Bingo
, keep track of landmarks, cities etc on these great customizable
maps
, have your kids
read the maps
as you travel.
-Play some fun games you know like the ones you played when you were a kid like "I'm going on a trip and I am bringing a ___." There are some great ideas on
Squidoo
.
-Take turns telling stories. Here are some websites with story starter ideas:
Classroom Jr
,
Homeschool Starter
,
School Express
.
-One of my favorite things is Mad Libs. Here are some Mad Lib websites with free printables and ideas:
Classroom Jr
,
Mad Glibs
.
-Load up the MP3 player with FREE music. Download some classical music so the kids can learn about the great composers. Or just some educational songs about days of the week, weather, ABC's and 123's. You can get some great FREE music from these links:
Dream English
,
Free ABC Songs
,
Free Kids Music
,
Amazon Free Kids Music Samplers
.
-Print or make some scavenger hunts - There are lots of FREE ideas on the internet here are few.
Moms Mini Van
this website also has lots of other great ideas so make sure you take some time to search her website.
Moms Mini Van
also has one for Pre-School age kids.
Family Fun
has great list which you can type up in your own form. Here is a fun
photo road trip challenge
you can join in just give them a camera and let them have fun. Here are a couple of others
Free Puzzles
,
Car Brand Search
,
Spot the License Plate
.
-Car Bingo can always be fun. Here are some ideas:
Moms Mini Van
printable,
We Just Got Back
printable,
Family Fun
printable. There is one cool idea using bubble wrap posted on my
Pinterest
Board. I plan to add more fun travel stuff to this board soon.
-Practice Tongue Twisters I could see this being tons of fun here are some tongue twister websites:
Twister King
,
Fun With Words
,
Zo Zanga
.
-Print up some fun printables like these:
Highlights Hidden Pictures
,
Car and Truck Coloring Pages
(have the kids color the vehicle as they see them on the trip and maybe even count how many times they see each type of vehicle),
Tic Tac Toe and Hangman
,
Road Trip Word Scramble
,
Customized Word Searches
,
License Letters
,
Highway Alphabet Soup
,
Travel Detour
.
-And you can always take along the laptop for some online learning.
Giveaways:
-There is 3 days left to enter to win 1 of 3
Rose Art 3D Create 'N' Color Imagination Stations
.
FreeBEE events:
Michaels
Passport To Imagination
. These are always so much fun. Hopefully tomorrow we are going to Michales between 6pm-8pm to make the duct tape wallet for Ben for Fathers Day. He loves duct tape wallets and one made by the kids will be really cool. Most of the time they are FREE but there are times you may need to make a small purchase. Be sure to also check out the cute craft ideas like this
Flip Flop Journal
.
Sign up FreeBEEs, items I will be reviewing soon and items I won:
Left: A review will be coming on this eventually. Right: Frizz Ease samples I get lots of great FREE stuff through a website called
Bzz Agent
check it out.
If you don't enter blogger giveaways or do Twitter and/or Facebook parties you need to because you can win cool stuff.
I hope you find these resources useful. If you ever have any questions feel free to leave me a comment or email me. Also be sure to follow my
FB page
where I post FreeBEEs daily.
Remember when it comes to FREE resources the internet and a good search engine are your best friend.

*Disclaimer - Many of the links found on my side bars and in my blog posts are affiliate links. Please note that prices indicated in the post are subject to change. As a result, I might get paid money and I will most likely spend the money on homeschool supplies.
Linking up with
3 Boys and a Dog