Jen, from Gricefully Homeschooling, and I team up, every Friday, to bring you a list of freebees...on both of our blogs.

PLUS...with the added bonus of this being a weekly link up...where you can showcase your freebies, things you've found online, and also, things you've received in the mail, totally FREE in the last week...or so.

FreeBEEs: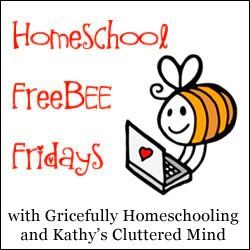 If you have homeschool FreeBEEs to share
please link up at the bottom of this post!
You can copy the button from my right side bar.

Internet FreeBEEs:
-
Magic Tree House
book lesson plans
-
Busy Bingo
game printable
-List of FREE things to do at
Disney
-
Blue Herron
Nest live stream
-
Math Mammoth
free printables
-I love the calendar connections from 1+1+1=1 this month they are all about
weather
Next month we are learning about Primates and here are some of the Free resources we may be using:
-
Monkey lapbook
from homeschool share
-
Rainforest
lapbooks and ideas
-
Caps For Sale
literature study
-
Curious George
literature study
-
Primate
lesson plans
-
Jane Goodall
lesson plans
-Disney Chimpanzee Nature movie
educators guide
Giveaways:
-A Perfect Pet for Peyton multiple chances to enter on my
blog
as well as
Jens
-Easter Bundles Set from Alphabet Alley enter at
Homeschool Giveaways
FreeBEE events:
Don't have anything to share this week.
Sign up FreeBEEs, items I will be reviewing soon and items I won:
1)
Got this FREE DVD from Nest Entertainment there is also an activity book to go with it. The promo expired but you can get a streaming video for free 7 days + an activity book
here
If you don't enter blogger giveaways or do Twitter and/or Facebook parties you need to because you can win cool stuff.
I hope you find these resources useful. If you ever have any questions feel free to leave me a comment or email me. Also be sure to follow my
FB page
where I post FreeBEEs daily.
*Disclaimer - Many of the links found on my side bars and in my blog posts are affiliate links. As a result, I might get paid money and I will most likely spend the money on homeschool supplies.