You may have heard me speak a little bit about
The 5 Love Languages
and
The 5 Love Languages of Children
before on my blog (stayed tuned for a review and giveaway for The 5 Love Languages of Children). Well Gary Chapman has done it again!!! But this time he has created a children's book that will help your children to discover their love language.
Synopsis:
This wonderfully imaginative children's hardcover book by bestselling authors Gary Chapman and Rick Osborne, featuring four-color illustrations (with hidden details!) by Wilson Williams, Jr., will help children learn the importance of love. Based on Gary's highly successful
The 5 Love Languages
®,
A

Perfect

Pet

for Peyton
tells an entertaining and playful story of five children who each, with the help of Mr. Chapman and the unique pets at his special emporium, discover their own personal love language. Children and parents alike will experience firsthand the power of the love languages as they cuddle up and spend precious time together reading this book over and over again.
*Free interactive app with in-book experience COMING SOON to the Apple App Store.
A moms review:
As soon as
A Perfect Pet for Peyton
arrived the kids were excited and begged for me to read it to them... and that is just what I did. The illustrations are absolutely wonderful and my kids loved all of the animals throughout the book (if a book has animals they are hooked). The book is about Peyton and Penny who are twins celebrating their birthday. After numerous hints their parents host their birthday party at Mr. Chapman's Perfect Pet Emporium (if this place really existed we would so be there). It is their hope that they will find their perfect pets at the emporium. Several friends join them and find out that they too will also be finding their perfect pets. Throughout the day the kids explore the pets in the various attractions which consist of reptiles, sea, cats/dogs, jungle, barnyard/petting zoo and more.
Throughout the story small clues are dropped that will help your kids start to figure out what Peyton, Penny and each of their friends love languages is. At the end Mr. Chapman uses these clues to match the kids with their pets.
The Five Love Languages are:
Quality Time
Words of Affirmation
Gifts
Physical Touch
Acts of Service
For example: Sofia, loves to pet the animals, hold her friends hands and loves giving all kinds of hugs. She was paired with Snuggles the rabbit. Physical Touch is definitely our daughter Gwyns love language and she actually has a cat named Pixiedust who will only Gwyn hug and snuggle her.
I love interactive books that get the kids involved and
A Perfect Pet for Peyton
does that too. On each page of the book there is a hidden insect. My kids just loved searching for them as I was reading and they found every single one. There are also animal scavenger hunts on the pages where the twins and their friends are exploring the emporium attractions.
As a bonus, in the back of the book there is a quiz for kids to take with their parents to find out what their love language is. It is recommended that you read the book several times, talking with them about it and discovering which characters and perfect pet pals they are drawn too. Also observe which characters they mimic. Once you think you narrowed it down to at least two its time to ask your child the seven questions to find out which one matches best. You want to be careful to not place too much emphasis on which language is theirs because you want to guide them to learn and discover their love languages for themselves.
This is definitely a book we will be reading a lot since this year one of our primary goals is working on character, virtues and behavior. Since I already knew about the 5 love languages and already know what each of their primary love languages are I can tell you that speaking your childs love language will result in better behavior. Believe me knowing what your spouse and childs love language is will change your lives and relationships.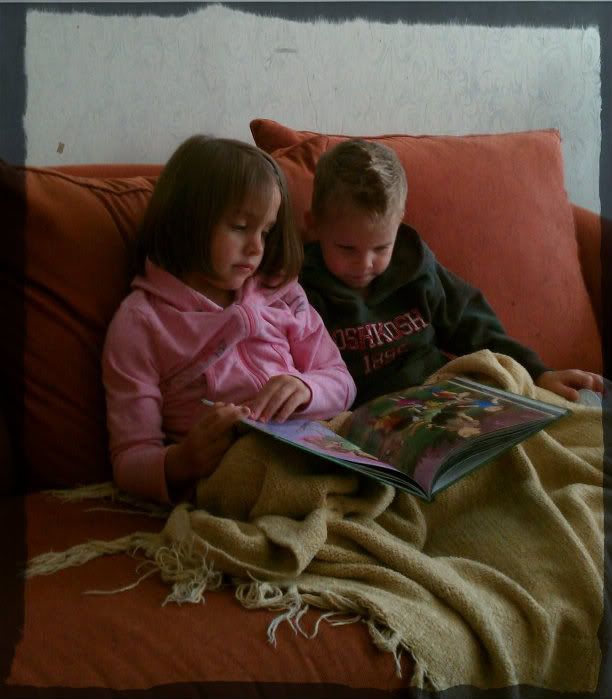 On Sunday the kids picked up the book by themselves and were looking at the pictures and trying to find the insects again.

Gwyns review (6 yrs old):
My favorite part of the book was at the end where Pennys perfect pet rides around the house on Peytons perfect pet. I also like the cute ferret.
Rowyns review (4 yrs old):
My favorite part was looking for the bugs.
Links to follow:
-A Perfect Pet for Peyton
Website
-The 5 Love Languages
Website
-Dr. Gary Chapman on
Facebook
-Dr. Gary Chapman on
Twitter
You can purchase Perfect Pet for Peyton here on
Amazon
or on
5 Love Languages.com
.
Now time for the giveaway:
Only the first entry is mandatory. Other entries are optional and give you extra chances. This giveaway is not affiliated with Facebook in any way. The winner will be posted on the blog and will be emailed. Winner must reply within 48 hrs with their name, address, phone number, and email address or another winner will be chosen. Prize will be mailed to you directly by Propeller.
a Rafflecopter giveaway
*Disclaimer of Material Connection: I received one or more of the products or services mentioned above for free in the hope that I would mention it on m blog. Regardless, I only recommend products or services I use personally and believe will be good for my readers. I am disclosing this in accordance with the Federal Trade Commission's 16 CFR, Part 255 "Guides Concerning the Use of Endorsements and Testimonials Advertising."