Jen, from
Gricefully Homeschooling
,
and I team up, every Friday, to bring you a list of
free
bees...on both of our blogs.

PLUS...with the added bonus of this being a weekly link up...where you can showcase your freebies, things you've found online, and also, things you've received in the mail, totally FREE in the last week...or so.

FreeBEEs: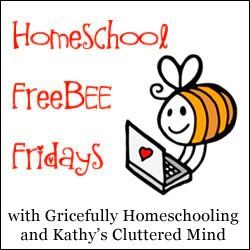 If you have homeschool FreeBEEs to share
please link up at the bottom of this post!
You can copy the button from my right side bar.
FreeBEE Field Trips:
As you may know we are more of a road-schooling family. We average about 2 field trips a week (most of the time more). We haven't really had the opportunity to travel outside of Georgia yet but when we get a better car with better gas mileage we plan too. Now most people think that we probably spend lots of money on these field trips but we actually don't. Since we don't spend money on curriculum thanks to all of the internet
FreeBEEs
our homeschool fund goes towards our field trips. If a field trip does cost money I try to keep the fee around $5-7 per person. There some times we go a little over those prices but that's our average budget. Gas is the worst part of our field trip budget (anyone want to buy a Ford Explorer).
So on this weeks edition of FreeBEE Fridays I would like to share some ideas, websites and tips on finding and taking FREE and low cost fieldtrips.
Websites:
-
Field Trip Factory
.
-
40 fieldtrip ideas
some I already listed on here but there are a few others on this list.
-See if any local facilities participate in
Target FREE days
(not all are free some have a small fee)
-
Museum FREE days
for major cities across the country
-Do you have a Bank of America account? If so did you know you can get into museums FREE? Check out details
here
. I am actually thinking about getting an account there just so I can take advantage of this.
-Another
website
with lots of great ideas.
Ideas:
-Go on a nature walk or participate in a FREE event at your local National or State Park - sometimes you need to pay a parking fee but throughout the year both offer FREE family days. For example get into National Parks for FREE from
April 21-29
. Find more details and other upcoming dates
here
. And don't forget about your local parks, nature centers and playgrounds as well. We had blast bird watching at a newly discovered park today.
Cloudland Canyon GA
-Go Geocaching! We love doing this. It is very educational and lots of fun. Check out my post on Geocaching
here
.
-Check with your local colleges. Many times they offer FREE field trips. For example here in GA
UGA
offers an open house every year for their Veterinarian Medicine Department.
-Don't leave the house take a virtual field trip. Here are a few websites with ideas
Teachers Guide
,
Utah Education Network
,
LDS Homeschooling
,
Air Force One
by
Founders Academy
,
WWII Museum
. And don't forget about YouTube. The kids really enjoyed taking tours of Bethlehem in December when we were learning about Christmas.
-Call your local
Post Office
, Police Station, Grocery Store, Recycling Center, News Channel, Water Treatment Facility, Airport, Hospital and Fire Station. Almost all offer field trips and they don't charge most of the time.
-
Home Depot
and
Lowes
clinics - there are some great workshops coming up.
-National Public Gardens day is coming up May 11th. Find a local garden and more details
here
.
Smith Gilbert Gardens Kennesaw
-Check your city or county websites for events. Many GA cities and counties offer monthly family events that can often be very educational.
-Volunteer at a nursing home or other organization. Kids learn valuable lessons and get out of the house.
-Visit local historic monuments, sites, landmarks etc.
Wikipedia
has it broken down by states. Most of the historic sites are Free or very inexpensive.
-Visit a historic cemetery. I know this sounds creepy but it can be very educational. Here is a great
website
with information about cemeteries.
-Learn about other religions. Contact churches, temples, mosques, etc. We toured a Jewish S
ynagogue
and it was very educational.
-Contact small local farms. I know a few in GA that don't charge a fee.
-Go visit your state Capitol. I know Atlanta offers free tours I am sure most do throughout the country. Even if they don't offer a tour just walking around the outside can be educational.
Georgia Capitol
Upcoming Events:
-GA Folks here is a great fun FREE family event to go to this Friday, Saturday and Sunday. I have heard great things about the
Dogwood Festival
.
Tips:
-Ask about group rates and gather some homeschool friends. Since we belong to a large homeschool group we always get discounts.
-Check with your local library to see if they have membership passes. I know a few library systems here in GA that have memberships that you can check out for the Zoo. Now it can be hard to get a hold of these but it is an opportunity to go for FREE so its worth checking into.
-About once a year you can generally get FREE admission to local museums, nature centers etc. You just need to keep an eye out. For example every year the Smithsonian offers FREE admission to a museum of your choice. This year its on September 29th keep checking the
website
for details.
-Contact local museums, zoo's, aquariums, nature centers, amusement parks, etc and ask about homeschool days/classes/rates. Almost every single facility offers them now and for discounted rates. Heck even Disney and Sea World offer homeschool days. Here is an example. The GA Aquarium is normally $29.95 for an adult and $23.95 for a child. But the homeschool class rate is $12.50 per child (+$ 4.00 for the dolphin show if you want that). So for t$12.50 they get admission to aquarium all day, class and 4D Deepo show.
-Price shop memberships and set a yearly budget for memberships. Our budget is $100 on a membership every year. We are going to be rotating our memberships each year so we don't get bored going to the same place. Last year we did the Fernbank Science Center but this year we were able to get two memberships and for under our budget by shopping around. You can do this by checking to see if a reciprocal museum offers it cheaper. And also by keeping an eye on websites like Groupon, etc. This year we got an Atlanta History Center membership on a special offer for $37.50 and an Elachee Nature Center membership for $55.00. They are both tax deductible. And we can get into reciprocal museums around the country. Pricing shopping at reciprocal museums will save you big time. For example I really wanted a membership to the Chattahoochee Nature Center which is right by our home. But it is $80 for a family. But Chattahoochee Nature Center is a reciprocal center with Elachee Nature Center so now we can get into it also.
And also with the memberships remember to share with friends. Generally memberships can get up to four kids in for free. So if you don't have four kids you can get some of your friends kids in for free with your membership. Also some memberships can get extra adults in as well which is even nicer. Many times you will also get a few guest passes with your membership. We have a friend who gets us into the Atlanta Zoo for FREE and I got her kids into Fernbank for FREE. I have also gotten into Tellus for FREE and a few other places thanks to friends memberships.
-If your a blogger consider asking places if they will give you FREE admission in return for a review about their facility.
-And to save even more money when your out on field trips pack your lunch.
Now get out and have some FREE FAMILY FUN!
If you ever want to see what we have been up too and get a short review check out our
Homeschool Journeys Google Map
. This is always on the right side of my blog and its also a tab on my
Facebook Page
as well.

View Homeschool Journeys in a larger map
Oh and for the Moms.......
Take a reusable cup into
Caribou Coffee
on Sunday and get your coffee FREE, field trips can make you very tired sometimes so you may need it.
Giveaways:
-The Five Love Languages of Children
Kathys Cluttered Mind
ends tomorrow night.
-Bob Books Level 1 Readers -
Kathys Cluttered Mind
Sign up FreeBEEs, items I will be reviewing soon and items I won:

1)
I will be reviewing this amazing
Art Curriculum
next month
2)
Heifer International order your kit
here
3)
Carrot growing kit we were given this at the Earth Day event we went to last Saturday
4)
We also picked this up at the Earth Day event. I did not see this one their website but there are lots of other great FREE brochures and booklets
here
If you don't enter blogger giveaways or do Twitter and/or Facebook parties you need to because you can win cool stuff.
I hope you find these resources useful. If you ever have any questions feel free to leave me a comment or email me. Also be sure to follow my
FB page
where I post FreeBEEs daily.
Remember when it comes to FREE resources the internet and a good search engine are your best friend.

*Disclaimer - Many of the links found on my side bars and in my blog posts are affiliate links. As a result, I might get paid money and I will most likely spend the money on homeschool supplies.