*This post contains affiliate links. Please see my Disclosure Page for details.
Christy Ziglar has yet again published a fabulous children's book. Must-Have Marvin is the second book in the Shine Bright Kids series. This amazing book series teaches children practical live skills, character traits and the importance of making good choices. Christy is a fellow Atlantan so I am always happy to share about her amazing books on my blog, maybe one day we will get to meet her so she can sign them for us. Do you recognize the last name? Christy is also the niece of legendary motivator Zig Ziglar.
A moms review:
I am a huge fan of
Ideal's Children's Books
. We have reviewed several of their books in the past including the first book in the series
Can't Wait Willow
.
Must-Have Marvin is a beautifully illustrated 32 page, 10 x 10, hard back book. My children loved the sparkly, glittery book jacket. The book is recommended for children ages 4-8 years old, though slightly older and younger can definitely benefit from it as well. Marvin is a curly haired little boy who loves NEW things. But, Marvin is so consumed with wanting what everyone else has that he begins to let his friends and family down. Want to take a guess who one of his friends is? Willow of course! The kids were really excited to see Willow make an appearance in the book. Marvin finally gets the new toy he has been dreaming about, but finds that he is still not happy. After a series of events Marvin learns a hard lesson that it's people, not the things in our lives that bring the most joy.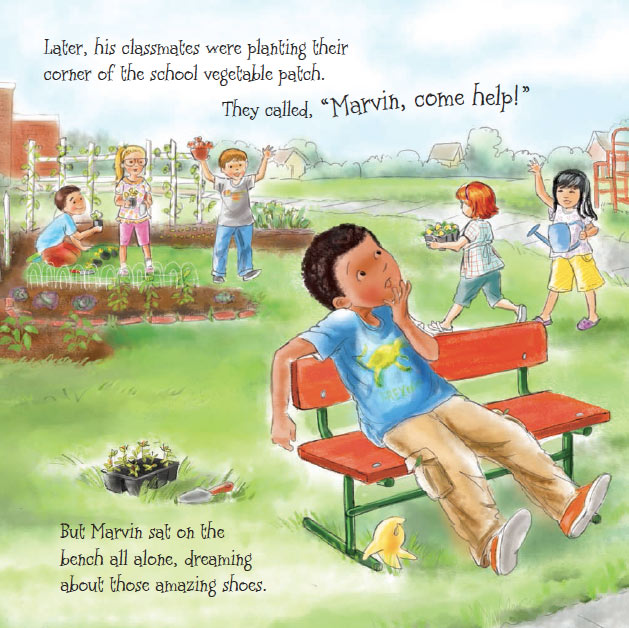 Sometimes my children have trouble with wanting what others have...and to be perfectly honest so do I. Reading this book together gave us the perfect opportunity to discuss important character traits like greediness, materialism and selfishness. But we were also able to discuss taking responsibility, solving problems, having a positive attitude, the importance of friendship, happiness and perseverance.
Throughout the book there is an adorable little star, named Ziggy, that children can search for on each page. When Marvin makes good choices the star is bright and happy but when she makes bad choices the star is dim and deflated. This was an excellent way to discuss feelings and choices with my children.
Christy Ziglar, financial planner, mother of twins and niece of legendary motivator and the world's original optimist, Zig Ziglar, is bringing the same timeless wisdom and ageless advice to an entirely new, younger audience through her new Shine Bright Kids picture book series.
Christy is available for Q&A, author interviews, Skype calls, etc.!
Thanks to her first grade teacher, who recognized her superior skills in drawing a robin, Luanne Marten has been drawing, painting and sketching ever since. She is a great experimenter and has a fresh, whimsical approach to bring her characters to life.
Choose Right. Shine Bright.
The Shine Bright Kids series provides children and their families with a framework to teach the importance of making good choices. The principles that will be explored include: using good judgment, taking responsibility, having a positive attitude, and demonstrating perseverance.
Visit Shine Bright Kids to find great resources to go along with Must-Have Marvin including a printable poster with 'Ways You Can Shine,' coloring pages, reward charts, project ideas and more. There are also great parenting resources and tools on the website as well.
Gwyns review (8 yrs old):
I liked the book. I learned that friends are more important than a silly toy. I learned that friendship can cheer you up when you are sad and lonely but toys can't. I had fun searching for the stars in the book.

Now time for the giveaway:
Ideal's Children's Books has graciously offered to giveaway a copy of the this amazing book to one lucky reader. Only the first entry is mandatory. Other entries are optional and give you extra chances. This giveaway is not affiliated with Facebook in any way. The winner will be posted on the blog and will be emailed. Winner must reply within 48 hrs with their contact information or another winner will be chosen. Prize will be mailed via the marketing company.
Please wait a moment for Rafflecopter to load.....