The majority of what we use in our homeschool is FREE but there are a few things that I think are worth spending money some curriculum dollars on. All of these items we have reviewed personally and think are wonderful resources for homeschooling families. Listed below you will find the current deals each of these companies are offering right now.
We have done about 6 classes from
Founders Academy
and absolutely love them. Lynn does a wonderful job teaching children through the live online classroom. It amazes me that she can go from teaching a group of Jr. High/High age children to teaching a group of 5-8 yr old's. She has just added a few NEW classes which are very reasonably priced at $5-$7. Keep an eye out on my blog for a giveaway for one of Lynns courses. You can check out some of her Free convention specials
here
.
We Choose Virtues
make an amazing product that will help you build your children's character. Read my review
here
. Be sure to check out some of the Free assessments and memory verses under the products section. This month they have some amazing specials:
SPRING30 for Parenting Cards at 30% off
HOMESCHOOL25 for Homeschool Kit at 25% off
And for the month of May, there will be no shipping charges to anywhere in the world on our website. No code needed.
Also make sure you like their Facebook Page. They are very close to reaching 2500 fans and when they do they will be offering two FREE iron on designs for their fans so you can make T-shirts at home for your kids.
Our favorite
Unit Studies
. Check this link weekly because the specials change. Right now you can get Chocolate Challenge, Pizza Party, Bountiful Bread, Hoppin Popcorn, Crunchy Cookies for $4 each. But if you buy all of them you can get an additional $5 off your order. That's 5 unit studies for $15. Get them
NOW
before this deal is gone.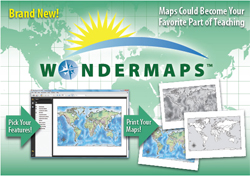 These maps are well wonderful. I reviewed
Wonder Maps
several months ago read it
here
. Wonder Maps is $49.95. Here are the specials for May:
May 13 and 14 - Happy Mother's Day! To celebrate the women who brought us into the world, get FREE SHIPPING with any purchase! Just enter the coupon code ThankMeLater at checkout.
May 28
- It's Memorial Day, and we're keeping all of the armed forces overseas in our prayers. Read about one serviceman's experience in
Basic to Baghdad
, available at 15% off today when you enter the coupon code
HonorableService
at checkout.
We love, love, love
Reading Eggs
. Read the review
here
. Right now you can get
Reading Eggs
for only
$37
for a yr subscription
here
. If this expires before can snag it let me know by posting a comment below and I will try to find you another deal. If you would like to try before you buy everyone gets a FREE 2 wk trial.
Are you wanting to incorporate more
Physical Education
into your homeschool? Then this is the perfect curriculum. My kids really enjoy the workbooks and fun exercises. Read our review
here
. Right now the lifetime
Fitness 4 Homeschool
curriculum is on sale for only
$79
.
Want to have some science fun then grow your own mushrooms. We love these kits. Actually we are looking forward to a
Back to the Roots
team member doing a presentation for our homeschool group this Thursday. Read the review
here
. The mushroom kits are currently $19.95 but if you order 2 you get FREE shipping.
The Critical Thinking Company
is a USA based company, family owned business that makes wonderful critical thinking books. My 6 and almost 5 year old have really been enjoying the Mind Benders book 1. If you are interested in ordering a book click
here
for possible
specials
. Also if you place an order use cod ETB22 to get $2 shipping on your order of $25 or more Exp. 8/31/12.
One of my all time favorite websites is
CurrClick
. There are constantly FreeBees and Specials so make sure you sign up for the email alerts.
Are you getting ready for next year? Starting to plan out lessons, field trips, appointments then you need one of these
planners
. I use the on the go planner because I like that it can fit in my
purse
backpack. The 2012-2013 planners have been released and are $15.95.
*Disclaimer - Many of the links found on my side bars and in my blog posts are affiliate links. As a result, I might get paid money and I will most likely spend the money on homeschool supplies or fixing the broken down car. Please note that prices indicated in the post are subject to change.