*This post contains affiliate links. Please see my
Disclosure Page
for details.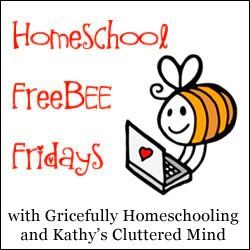 If you have homeschool FreeBEEs to share
please link up at the bottom of this post!
You can copy the button from my side bar.
Each month Jen, from
Gricefully Homeschooling
,
and I host a freebie link up called Homeschool FreeBEE Fridays.
The blogger link up will start on the first Friday of every month and end on the first day of the following month. Each month there will be a new link up.
Check back next Friday for an amazing, limited time, special freebie from on of our
Homeschool FreeBEE Friday Sponsors
. View all my FreeBEE posts
here
!
FreeBEEs:
Do you have any little geologists? My kids love rocks. We recently moved into a rental house and now have a yard, yay! Well in the back corner of the yard is a retaining ditch which the children have turned into their personal excavation site. They don't find anything too exciting but they have tons of fun digging in the GA clay finding large pieces of quartz and granite (the two most common rocks in GA). This week we decided to explore rocks a little more closely. We were supposed to have a Rock Nature Club hike but due to the rain we had to cancel it. So we spent the day exploring the children's rock collections. Armed with some of the helpful resources below, our rock collections and helpful tools (magnifying glass, nail, penny, piece of glass, measuring tape, magnet) we were ready to get to work. We had lots of fun and covered science, history, geography, math, reading and writing in 2 hrs.
So here are 10 awesome rock resources for your little geologist!
1)
I made this
Rock Observation Journal
page for my children which you can grab for FREE by clicking the link or photo below.
2)
Rock treasure box idea and free printable
from Handbook of Nature Study
3)
Types of Rocks & Rocks Cycle Video for Kids by makemegenius.com on YouTube
4)
Fun rock craft idea
5)
History Scribe - Rocks and Minerals
on CurrClick (not free but almost only 99 cents)
6)
The Students Elements of Geology
(Kindle eBook) This unit study eBook is $2.99 but if you keep an eye on it you can snag it for FREE from time to time
Geology and Minerals Unit Study
7)
Rocks and Minerals Unit Study
- Homeschool Den
8)
Interactives Rock Cycle
9)
Geology.com
- this website helped us investigate the rock and mineral types
10)
Rock lapbook
What is the coolest type of rock your child has found?