Dave and Pat Holt owners of
See the Light
have a love for Jesus Christ and a heart for children. See the Light creates a variety of DVDs that teach a variety of techniques, art history, chalk artistry, performance art, gospel chalk art (with black light), crafts, creative lettering and more. They offer something for every age and skill level. They are dedicated to bringing scripture and biblical principles to viewers in a new engaging way and teach art skills along the way!
A moms review:
We received
God's Special Surprise
to review. The DVD has two portions the story portion and art lessons portion. The story portion is recommended for children 3 years and older and the art portion is recommended for children 6 years and older. I utilized the DVD with my almost 6 year old son and 7 year old daughter. God's Special Surprise is part of the Bible Stories collection and there are 5 Bible Story DVDs in all.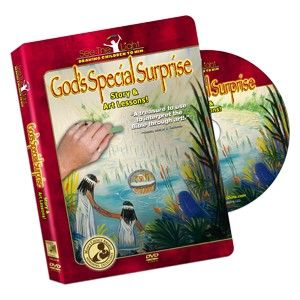 God's Special Surprise
is a 285 minute DVD. We were able to watch the story and do two of the art lessons in one sitting. As you may have guessed by the cover God's Special Surprise is all about the story of Moses. Children learn about Moses while Gloria Kohlmann draws a black light interpretation of the story. The story portion is only 13 minutes!
After the story is over there are three art lessons:
Hope For A Nation (35 minutes) -
See The Light Master Artist Pat Knepley leads budding young artists in a step-by-step drawing lesson using chalk pastels. Admire the fluorescent colors under black light as you think of the hope Moses brought to the Israelites.
Moses In The Nile (25 minutes) -
See The Light artist and pre- senter Jim Pence gives an Egyptian mixed media tutorial as young artists discover The Joy of Art. The black light enhances the drama.
Surprise (23 minutes) -
See The Light artist Heidi Shorts teach- es the art of Creative Lettering. Learn to draw the entire alphabet with a look that feels as if it were chiseled in stone long ago.
My kids had lots of fun with the art lessons. Even my son who is not normally interested in doing arts and crafts jumped in. The DVDs are a great way to learn a biblical story and also have fun with art. These DVDs are not really an art curriculum but rather a fun devotional with final art projects to reinforce what was learned in the story. The art lessons include very little information about the mediums or techniques that are being used. My children (one of which is very artistic) had a hard time following the art lessons and became frustrated at times. The camera angles were poorly done and often times the artists covered the picture so the children couldn't see what they were doing. Also they didn't provide very detailed verbal directions. Because of this I had to pause the DVD very frequently and rewind it as well. However despite the few minor issues the children did do very well and created some very pretty pieces.
Here are some photos of their completed Surprise and Hope For A Nation pieces both with and without the black light.
The children's favorite part about the DVD was the black light. This is something we had never experimented with in art and now that we have they are quite addicted. I would like to note that we did not have the fluorescent pastels for our projects because every store I visited did not have them. However guess who had a booth at the Nashville, TN
Teach Them Diligently Convention
? See The Light. So we did pick up a set and have been having fun redoing the lessons with them. We also got to sit in on Jim Pence's workshop on Teaching The Creative Child. It was wonderful to hear what he had to say and witness how passionate the See The Light artists are about teaching children about the Bible and art. Even my children enjoyed his workshop!
The materials needed for the lessons are very easy to find (with the exception of the
fluorescent
pastels) and many of them we had on hand. The other items I purchased at Michaels using a 40% off coupon and my
teacher discount card
(which homeschoolers can utlize). Here is a list of what we needed for these lessons.
CHALK PASTEL LESSON
A white or gray kneaded eraser

Medium tone 9" x 12" paper

12 or more chalk pastels

Fluorescent pastels*

A black light*

Baby wipes

A box of tissues

An old shirt
CREATIVE LETTERING LESSON
Materials Needed
A #2 pencil

A white or gray kneaded eraser

A pencil sharpener

White or light colored 8-1/2" x 11" regular paper

A 12" ruler

A box of colored pencils

Crayola EXTREME colored pencils*

A black light*
MIXED MEDIA LESSON
Materials Needed
A #2 pencil

2 bowls of water (1 for clean water, 1 for dirty water)

Paper towels

Watercolor paper

A round brush

A craft foam brush

Permanent markers

(1 fine point, 1 broad point)

Crayola EXTREME fluorescent crayons*

A black light*

A 12" ruler

A set of 16 watercolors
Free resources:
-FREE art lessons
-FREE
tip of the week
-Visit the
blog
for lots of great information including art exercises and instructional tutorials and tips
Gwyn review (7 yrs old):
I liked the story a lot and the art lesson was fun too. I really liked making our art glow up. Moses is so cute and it is sad his mommy had to stick him in a basket. I liked writing the fancy letters too. Even my little brother drew a picture.
Click here for more See The Light
reviews from the
The Schoolhouse Review Crew
.