A few of the Teach Them Diligently bloggers are sharing some mini geography lessons which you will hopefully be able to utilize before, during and after your travels to your favorite
Teach Them Diligently Conference
or
Teach Them Diligently Marketplace
. There are 3 great Conferences and 9 Marketplaces so hopefully one of us will be sharing information for a state you will be passing through on your trip.
Our family lives in Georgia just north of Atlanta. Since we will be traveling through the northern parts of the Peach State to reach both the
Teach Them Diligently Conference
in Tennessee and South Carolina I decided to share about Georgia.
There are two main interstates that run through Georgia, I-75 and I-85. If you're making your way through the state you are most liking traveling on one of these two interstates. It's possible you could also be using I-95 since it is the main interstate for the East coast and one of the oldest interstates in America. However it only passes through Georgia for 112 miles so I don't count it as one of Georgia's major interstates.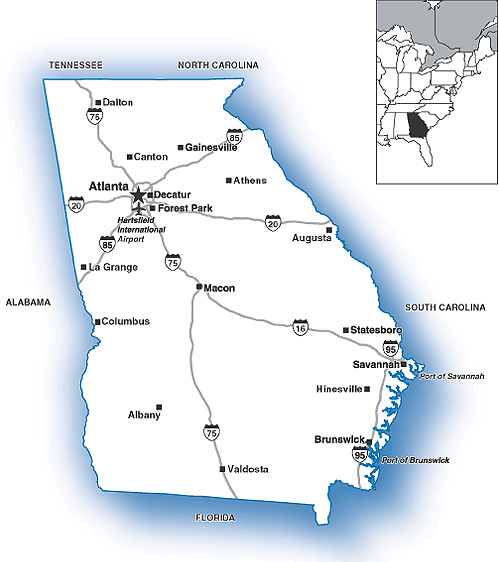 History of the roads:
I-75 started being planned in the 1950's and continued being added to until November 25, 1992, when Alligator Alley was reconstructed and received the signs for I-75. I-75. It is one of the major north-south Interstate Highways and travels from State Road 826 (Palmetto Expressway) and State Road 924 (Gratigny Parkway) in Hialeah, Florida (northwest of Miami) to Sault Ste. Marie, Michigan, at the Ontario border. Interstate 75 is the 7th longest interstate highway after Interstate 95. It passes through 6 different states: Florida, Georgia, Tennessee, Kentucky, Ohio and Michigan.
I-85 is and has always been a work in progress. I-85 is a major interstate highway in the Southeastern United States. Its current southern end is at an interchange with Interstate 65 in Montgomery, Alabama; its northern end interchanges with Interstate 95 in Petersburg, Virginia, near Richmond. It passes through 5 different states: Alabama, Georgia, South Carolina, North Carolina and Virginia.
Just a quick side note I got my first ever speeding ticket on I-85 in Virginia...however I have read that they finally did increase the speed limit on that portion from 65 to 70.
I-85 roughly parallels an ancient Indian trading path documented since colonial times from Petersburg, Virginia to the Catawba Indian territory.
Sights along way:
There are so many sights in Georgia, way too many for me to list them all. So I will share some of our favorites and ones that are on our personal to-do list that are along the interstates. Be sure to label these on your map (see below).
Sights along I-75:
Many of the Civil War battles took place all along I-75. Visit this website to learn
more
, many of these towns have small museums, historical sites etc that you can stop at to learn more. In Andersonville you can take a tour of a
Civil War prison
.

Sights along I-85:
Be sure to also check out the many amazing
National
and
State
parks in Georgia. Many of them are not far off the Interstates.
Map:
Print out this
map
(actually maybe a couple of them). Next label major cities, rivers, mountains, historical trails, etc. You can also label your route to the Teach Them Diligently Convention. And label any of the places you stop to visit along the way as well.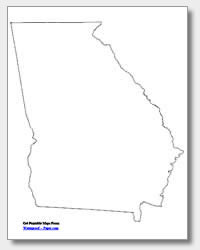 Cities:
Atlanta (Capitol)
Savannah
Albany
Macon
Valdosta
Roswell (where we live)
Pine Mountain
Augusta
Athens
Columbus
Dalton
LeGrange
Trails:
Trail of Tears - there are several historic sites in GA where you can learn more about the Trail of Tears which forced hundreds of Cherokee Indians out of their home. Visit this website for a Trail of Tears map of the route.
Underground Railroad - GA was sadly a slave state. However thanks to brave people like Harriet Tubman who were conductors on the underground railroad many slaves were led to freedom. In Savannah, GA you can visit two sites that were actually underground railroad station stops: First African Baptist Church and Fort Pulaski.
Appalachian Trail - 70+ miles of the Appalachian trail is in GA.
Rivers:
Chattahoochee
Savannah
Etowah
Chestatee

Oostanaula River
Mountains:
Brasstown Bald
Rabun Bald
Stone Mountain
Swamps:
More resources:
Several months ago I put together an entire blog post all about Georgia. Be sure to visit that post for more great information,
GA Unit Study
. Make sure you visit this post for loads of additional information and links. Including book recommendations, craft ideas, printables, games, information on famous people and more.
We hope you enjoy your travels through Georgia!