We are having lots of fun with the
Poppins Book Nook
blog series. This month's theme was wizards. So we choose to read about one of the most famous wizards of all time, Merlin! Below you will find the books we have been using, videos we have been watching, resources we have used and crafts we have made.
Books:
Everyone knows about Merlin, King Arthur, the sword and the stone and Camelot But how about Merlin's childhood and how he came to be one of literature's most famous wizards? We visited our library and checked out three great books. We have read two of the three.
Young Merlin
and
Wizard of Wind & Rock
, are short story books about Merlin's childhood, how he got his name, how he became a wizard and how he used his powers for good. The third is a book named,
Camelot
, and is a larger chapter book. Unfortunately we haven't been able to read this book yet. I loved how both of the story books were different adaptations about young Merlin because it gave us an opportunity to talk about how legends change through the ages and what adaptations are. We discussed the similarities and differences between the two books as well as the illustrations.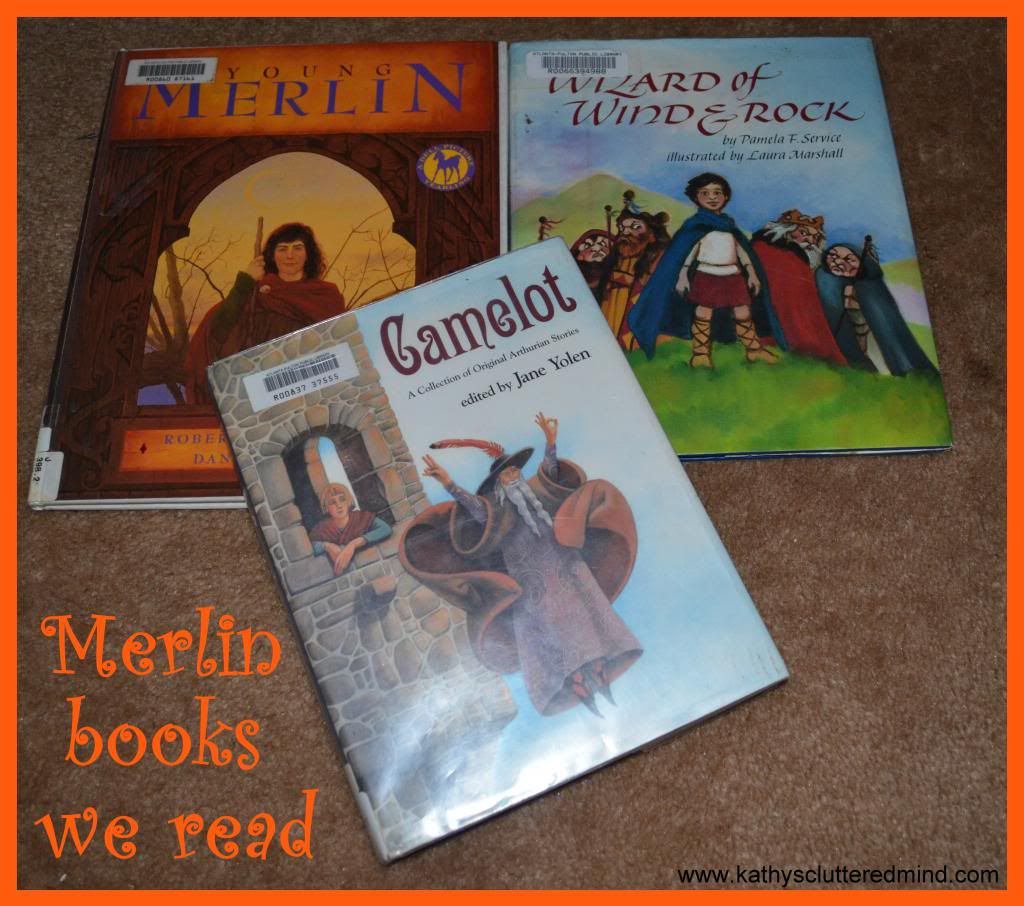 Merlin Quote:
"Don't you get any foolish ideas that magic will solve all your problems, because it won't!"
Merlin Sword and Stone Disney

Crafts:
We love crafts. So of course we had to come up with something to go along with our wizard theme. The kids decided they wanted to make the dragons that were hidden inside two stones under the ground in a pool of water. Vortigern had Merlin captured (per his wizards visions) so he could use Merlin' blood to stop his castle walls from falling down each night. But Merlin had his own vision and informed Vortigern that the dragons under the ground were responsible for his walls collapsing and the his blood was not the answer.
So we used paper bags, construction paper and markers to create a white and red dragon puppet. The kids also insisted on making Merlin puppets as well. It was a simple and fun craft and the kids had a blast recreating the story with their puppets.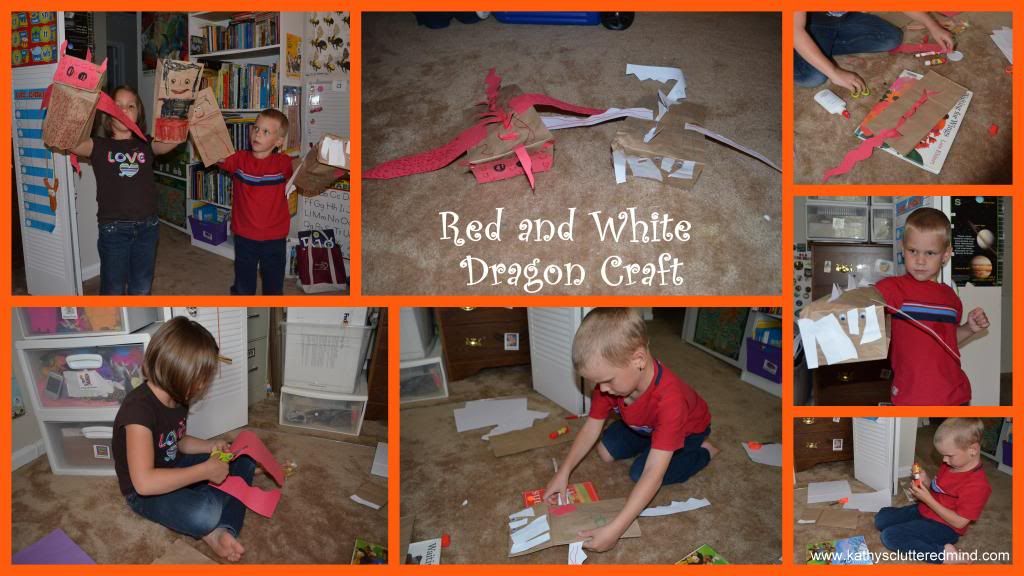 Geography:
Both story books nicely described and illustrated the Welsh landscape including rivers, mountains, towns, etc. The kids even learned about a famous stone structure called Aurelius's Rest (aka Stonehenge). So we also had some fun with geography and history too.
The kids each marked Wales on a blank map of the United Kingdom and marked mountain ranges, rivers and Stonehenge. I even snuck in some handwriting and had the kids write Merlin on their maps.
Print this map by visiting this link
And of course we had to incorporated some LEGOs into our mini literature unit study as well. So Rowyn and Gwyn built Stonehenge. The mini fig in the middle is King Aurelius. Legend has it that Merlin created Stonehenge by moving the Dance of Giants standing stones from Ireland to England using his magic. He floated the massive bluestones through the night sky and placed them in a towering circle which local folk called Stonehenge over the years. In the middle Uther (King Arthur's father) buried his brother King Aurelius.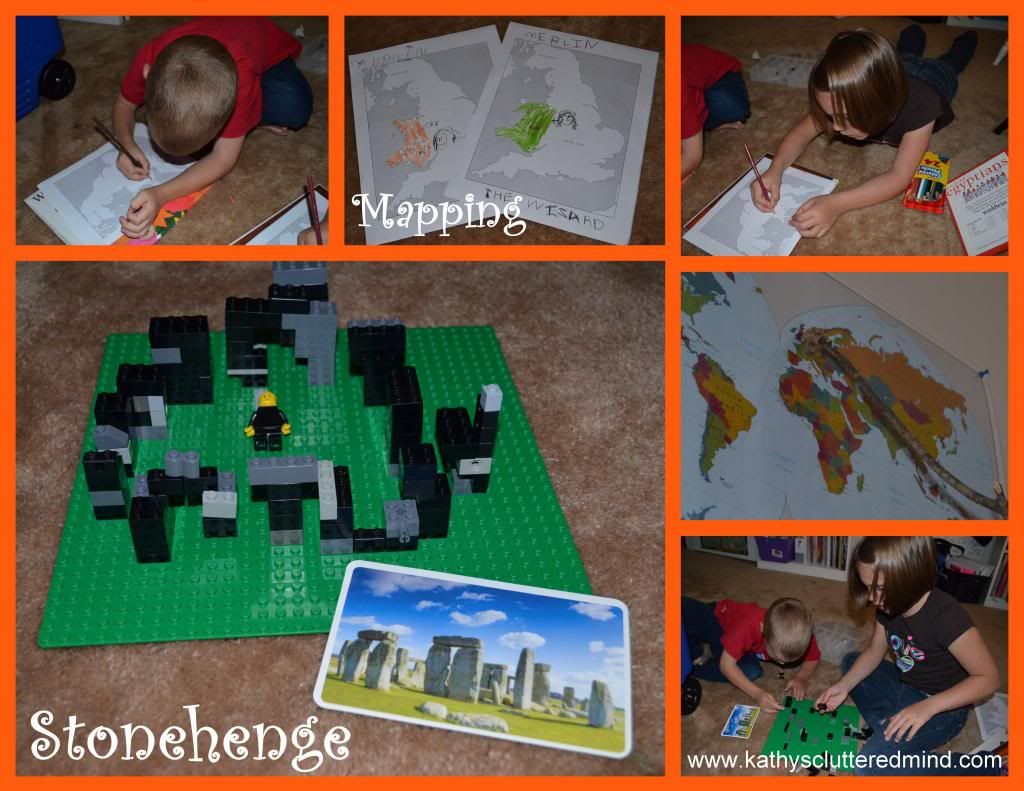 YouTube Videos:
And we watched some videos on
Merlin
,
Wales
and
Stonehenge
and also watched
Disney's Sword and the Stone
.
Here is a list of the wonderful bloggers participating in the Poppins Book Nook be sure to visit them for more fun Wizard themed ideas: