Well we have completed our first homeschool year successfully. We have finished our 180 days so according to the state we are done with our 2011-2012 year. But we still have unit studies, field trips and lots of learning planned so we are going to just keep chugging along. Technically I now have a 1st Grader and Kindergartner, WOW. I am so happy to finally be a stay at home/homeschooling mom. Now I get to actually see my kids learn and grow first hand. I got to teach Gwyn how to tie her shoes and read. And I got to teach Rowyn to write his name and see him color in the lines for the first time.
My post is a little delayed due to a very busy schedule and I was waiting to get a video from our event last Saturday to share with you. So this post will share two weeks of homeschool fun, sorry its a little long.
Week 37:
We had another week of mostly road schooling. But right now for us this works very good because my kids are getting the hands on learning they enjoy.
Sunday the kids received their Easter baskets which had some candy and DVDs I had won online. Then we went to Easter dinner at my
family's
. Everyone loved my chocolate sunflower peep cake that I shared a picture on my week 36 post.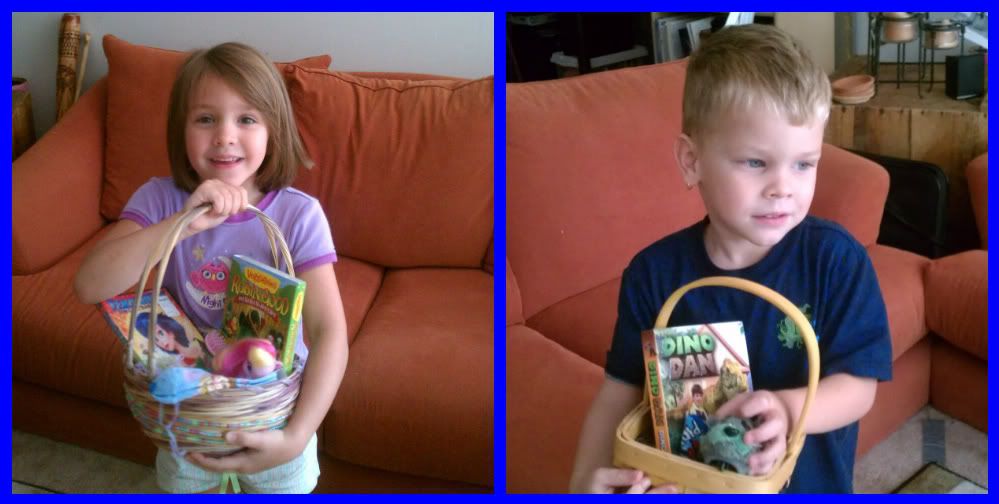 Monday was very busy. The kids had their dentist appointment where they got to see their x-rays. They found out that they each have big teeth hiding under their gums Then Rowyn had speech. We made a quick library run then we worked on our Primate learning at home. We also started growing another
Back to the Roots Mushroom Kit
.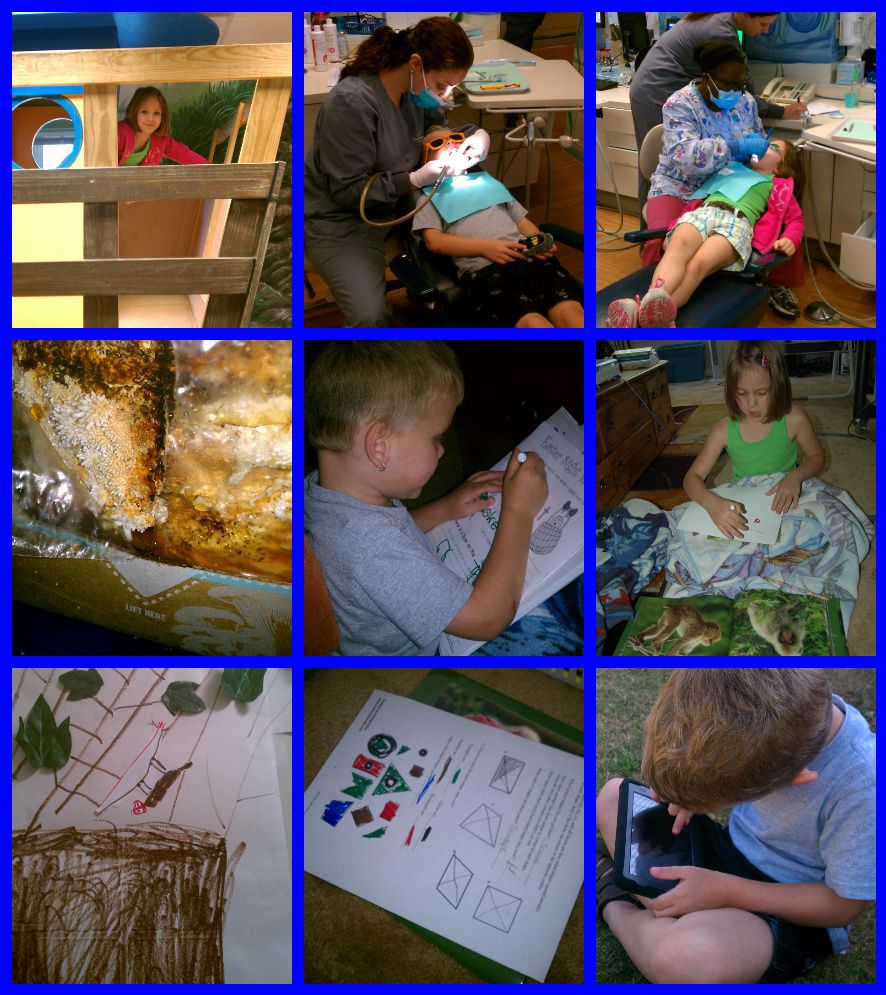 Tuesday we went to
INK (Interactive Neighborhood for Kids)
in Gainesville, GA which is an interactive play facility where kids can pretend to be Doctors, Vets, Bankers, Musicians, Beauticians and more. There is also a real firetruck from the early 1900's which the kids can climb on and pretend to drive. And a real police car with flashing lights. And the cow you can milk was a huge hit as well. On Tuesdays you can get into INK from 2:00 PM- 7:00 PM for $2.00 admission thanks to Target (2 and under are FREE)! And I loved that all of the exhibits provided educational posters with lesson ideas for parents that covered topics like math, reading, etc.
Wednesday we went to the
Atlanta Aquarium
. Ben got to go with us and we had a great time. We watched the dolphin show, explored the Aquarium, had a class called Bite Size Basics and watched the 4D Deepo Show. I honestly still prefer the Chattanooga, TN Aquarium but we had a good time and the kids learned lots of great things.
Thursday we went to the
Southern Museum
in Kennesaw, GA where we learned all sorts of awesome things. They were offering FREE admission to celebrate the 150th Anniversary of the Great Locomotive Steam Chase. If you don't know what that is read more
here
and don't feel bad I had no clue what it was either. The kids had a great time at the museum. They got to do a scavenger hunt, watch a move about the Steam Chase, tour a train, run through a tunnel and play with model trains. They also got to see a real Medal of Honor and the train The General which is the train that was involved in the Great Locomotive Steam Chase. We learned a lot about the Civil War era and Gwyn even got to dress up like a lady from the 1800's. Go check out this place next time your in Kennesaw you won't be disappointed. When we got home Gwyn got caught up with their field trip journal.
Friday the kids played some games, learned about apes and played with their new Rose Art clay. Gwyn tried walking like Chipanzees do and realized its very hard because our arms are shorter. Then a very nice box of stuff arrived in the mail from Rose Art and the kids couldn't wait to dig in. They made Chimpanzees and Planet Earths out of the Rose Art clay. Then we got together with several families from our homeschool group. The kids had a blast playing outside while the moms discussed curriculum and homeschool styles. Then the kids made Mac and Cheese for dinner (I know its boxed but hey the kids were in the kitchen learning). After dinner we played Hungry Hippos with daddy and had some fun with math.
Saturday Gwyn had her second soccer game and scored 4 goals. Afterwards we went to the
Chattachoochee Nature Center
in Marietta, GA for their Earth Day event. We got to see Laughing Pizza, Captain Planet and Plastic Bag man. We learned a lot about saving the planet, animals and helping others in need. We love the Chattachoochee Nature, if your ever in the area add this one to your list of things to do as well. There is so much to do there their events are always amazing. The staff is amazing and loves answering kids questions about nature.

This is the kids Weather Wall video.
Week 38:
This week wasn't quite as busy. A few schedule had some changes throughout the week so we had more days at home which was actually nice.
Monday we had our normal morning of speech and then we worked on our Earth Day and Primate unit studies. Then we went to see the new Disneynature movie Chimpanzee. You can read our review
here
. If you want instructions for the Earth Day coffee filter craft click
here
.

Tuesday we learned all about Chimpanzees then we spent some time riding bikes and playing at the playground. The kids also did a little project to understand better how Chimpanzees use tool. So they collected "tools" from outside that they could use to crack nuts, drink water and eat pretend ants (aka chocolate morsels) with.
Wednesday we went to
Andretti Speed Lab
with daddy to use up some of our gift cards. The kids had lots of fun and won lots of tickets which they turned in for super bouncy balls. Later that night we enjoyed the Bats Alive webinar as a family.
Thursday we had fun at a Self Defense/Safety class at
ATA
with the homeschool group. Afterwards we had lunch at our favorite restaurant IHOP with the kids adopted Canadian Grandma. Then we went to a newly discovered park. The kids had fun playing on a huge 3 story playground and we got to do some bird watching as well.

Friday we spent the day with some of the homeschool group families at a yardsale. The kids had a blast playing while the moms tried to make some extra cash for field trips.
Saturday we had a great field trip to
Yerkes Primate Research Field Center
(please refrain from leaving hateful comments). Since we are learning about Primates I figured it was important for the kids to also learn about how Primates are used for research. We had read about animal research in several Primate books and learned how Primates have a similar DNA make up to that of humans. I was a little worried about the field trip because Gwyn is quite the animal lover and wasn't sure how she would react. The field station is primarily used for breeding and behavior studies. So we didn't see Primates locked in little cages. The actual research on the animals takes place at the Atlanta Emory location. The Primates we saw were in large fenced in outdoor areas with plenty of food and enrichment toys (it was sort of like going to the Zoo). Since it is breeding time for one of the species we got to see lots of babies. They explained what kind of research and behavior studies they do at the Yerkes facilities. And both Gwyn and I got to ask lots of questions. We saw Chimpanzees, Rhesus Macaques and Sooty Mangabeys. We heard from the director of the facility, researchers studying the animals and the veterinary and behavioral management staff caring for the animals. Prior to going we discussed what an opinion was. I did not tell the kids my personal opinion but just explained why research is done on various types of animals. This week we will discuss the topic some more using some resources I found online from -
ASPCA
,
All About Animals
,
Kids 4 Research
. One of my goals as a homeschool parent is to have my kids think for themselves and develop their own opinions. And to be able to defend their beliefs and opinions. I personally feel that if they are exposed especially through opportunities like this to topics that are considered controversial then they will be able to better formulate their opinions.
If your ever interested in visiting the Field Center they tours for groups of 10 or more people and they are FREE (they will take donations though to help support their research and animal care programs). They also need phone book donations.
The phonebooks provide hours of enrichment activities for the animals. This really was of interest to Gwyn and she was upset she didn't get to see any of them using them. So one of the employees is going to possibly email us a video of them using the phone books.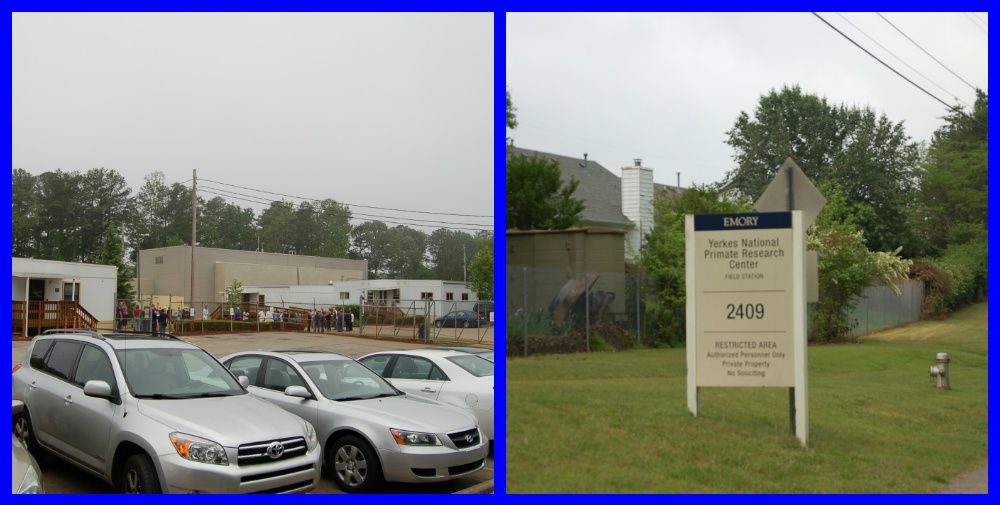 These are the only photos I have because they do not allow photography inside the facility.
On Saturday night I had a blast with a few of the mommas from the homschool group.
For April we will be learning about Primates, Earth Day, Easter and South America. Below is our YouTube Channel and Pinterest board for April.
This is our April YouTube playlist keep checking back because I will be adding more videos throughout the month. It includes various videos we will be using throughout April.
Pinterest Board for April - I would love it if you follow me:
New ideas will be added throughout the month. These are some of the things we are doing for our April units. Check out my other boards on Pinterest for more ideas like ABC's, 123's, Art, Holidays, etc.
I hope you find these resources useful. If you ever have any questions feel free to leave me a comment or email me. Also be sure to follow my
Facebook page
where I post FreeBEEs daily.
Thanks for stopping by.