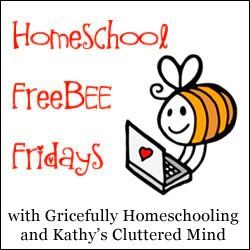 If you have homeschool FreeBEEs to share
please link up at the bottom of this post!
You can copy the button from my right side bar.
Jen, from
Gricefully Homeschooling
,
and I team up, the first two Fridays each month, to bring you great
Free
BEEs...on both of our blogs.
PLUS
...with the added bonus of this being a monthly link up...where you can showcase your freebies, things you've found online, and also, things you've received in the mail, totally
FREE
this month.
FreeBEEs:
Hopefully you grabbed the great
resources
from both Jen and I last week! These FreeBees are still available so be sure to grab them. Remember that we are changing things up this year so we are only posting our FreeBEE posts the first two Fridays each month.
The first Friday of every month,
we will be providing a link and a savings code for you to get a
FREE product
from some of our favorite homeschool companies. These great sponsors are offering these *Limited Time FreeBEEs* of lapbooks, unit studies, online classes, and more to bless homeschool families (you the reader)!
The second Friday of every month
we will have our
Homeschool FreeBEE Friday
Link Up
. So our favorite bloggers can link up their FreeBEE posts! This link up will be open through the rest of the month...so instead of a weekly meme this will be monthly, now.
FreeBEEs:
Did you play with paper dolls when you were a child? I know I did! Have you ever used paper dolls in your homeschool? Well if you do that's awesome, if not you should try it. Paper dolls are great for enhancing geography and history lessons as well as including some art too! Here are several FREE websites I found where you can get FREE printable paper dolls.
-Paper dolls around the World from
Education.com
-Paper dolls through history from
Education.com
-Ancient history paper dolls from
Practical Pages
-History paper dolls from
Paper Dali
-
Star Wars origami
paper dolls
-
Friends around the World paper dolls
-
1900's paper dolls
-
Royal paper dolls
-Lots of various links to paper dolls can be found
here
-Fantasy, historical and literary paper dolls from
A Paper Closet
-Learn to make a
Japanese paper doll
on YouTube
-
American Girl virtual paper doll
that you can print as well
-Lots of great
paper dolls
including American Girl, Elvis and more
-And don't forget about
Flat Stanley
-LEGO paper dolls here is a
3D LEGO Mini-Fig
and
Home Grown Learners
also has a great Mini-Fig paper dolls for girls and boys
While your at it learn about the history of paper dolls at
The Original Paper Doll Artists Guild
.
Linking up with:
3 Boys and a Dog