Supercharged Science

is a versatile online science program that is great for all ages. It can be utilized as a full curriculum or as a supplement to your current science curriculum. Super Charged Science was created by a real NASA Rocket

Scientist

Aurora Lipper. She is devoted to helping kids and parents love science and it really shows!!! Supercharged Science is very hands on and Aurora highly believes in teaching science form the inside-out.
"
We recommend teaching science from the inside-out,
meaning that you start with an experiment or two that really
hooks
your kids… the kind that makes them (and you) say;
"WOW!"
or "
Cool!"
A moms review:
We were given access to all of the
e-Science
lessons in Supercharged Science for the purpose of this review. There are over 1,000 activities, experiments and projects. I utilized Supercharged Science with my 7 and almost 6 year old. Most of the products we review we utilize in a manner that best fits our families needs and Supercharged Science was no exception. Supercharged Science is very versatile and great for all ages and learning styles.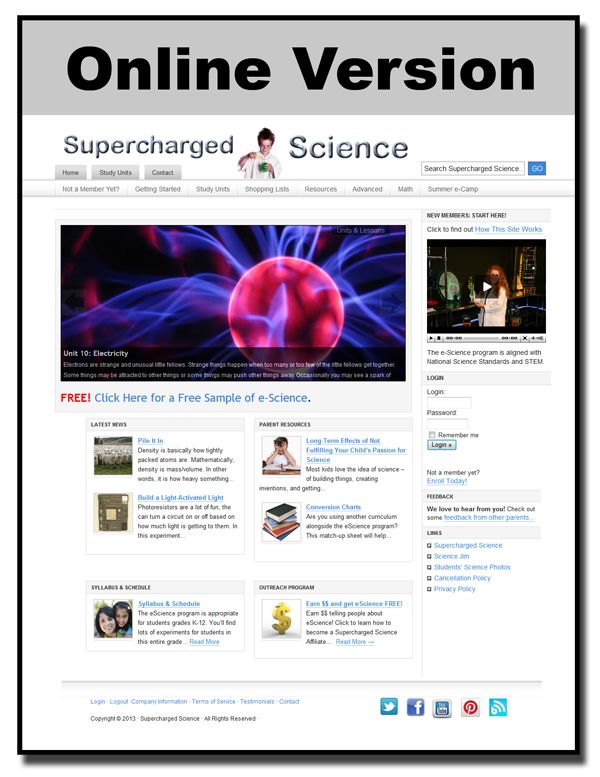 How we used Supercharged Science:
After watching the
getting started video
I began to search for videos/lessons that would fit what we were currently learning about. In March we were learning all about weather, knights/castles and this month we are learning about butterflies and Australia. So I went through and searched for videos/lessons that corresponded with our current studies and
pinned
them of course! This made it very easy to keep up with and quickly find what the experiments I needed to during our busy homeschool days.
During our homeschool day we would pick an experiment from our Pinterest board that corresponded with our current lesson. I would read over the introduction if applicable and then read the corresponding lesson text. Since this program covers a wide age group there were some things I needed to reword or explain in further detail to my children since they are on the younger side. Next the kids would watch the video by themselves and then tell me what they learned and what supplies they needed to complete their experiment. The videos are very well done and Aurora does a great job of explaining the experiment in a very easy to understand way. My 7 and 5 year old had not issue with understanding and comprehending Auroras instructions. We would then write down the experiment details (ie what materials were needed and what the experiment was for) as well as he date and their hypothesis in our journal. I highly suggest reading this information on
how to create and keep a journal
. After they completed the experiment we would write down their results and conclusion in our journal. We just used a
primary Mead journal
. The kids would even draw pictures of their experiments. Afterwards we would complete some of the additional exercises.
Many times after watching the experiments the kids would have additional questions and suggestions for learning more. Like after watching the "homemade thermostat" video Gwyn asked if they could take a look at our house thermostat. Supercharged Science is a great spring board for further engaging children!
Sorry I didn't take a photo of the kids journal to show you but below are several of the experiments the kids did.

More about Supercharged Science:
I highly suggest watching this video to learn more about the program. When you sign up you will be given access to the first 7 units plus the additional sections like "The Scientific Method." Each month you will be given access to the next 1-2 units (60-80 experiments). If there is a particular unit or two you would like access to ahead of time just email Aurora and they will provide the access for your.
There are lots of great
study topics
. The layout is very easy to navigate. One of the great things about the membership is you only need one for then ENTIRE family and anyone from around the globe can use the program. Supercharged Science exceeds state standards and does align with the National Standards for Science. As I mentioned before it can be use as its own curriculum or you can use it along side your current science curriculum. There is a a great conversion chart on the website which will help you meet up Supercharged Science experiments with your textbook lessons. This worked out nicely with our Apologia textbooks.
Supercharged Science does NOT cover creation or evolution so all families (secular, Christian, etc) can
participate
in the programs.


Need to plan ahead Supercharged Science has you covered there too with their
shopping lists
for each unit. This is especially helpful for busy homeschool families.


You can also sign up for Supercharged Science
email list
. Every week or so you will receive a notification about an upcoming FREE webinar (last webinar was on Alternative Renewable energy) as well as FREE lessons and experiments (like the one we recieved on laser experiments). E-members will also receive great emails with additional resources and learning recommendations. I love how Aurora ends her subscriber emails, "
If you found this email useful and insightful...
please pass along the good fortune by simply forwarding it to any other homeschool parents, or anyone else you know that may benefit from it." She truly does have a passion for helping others learn more about science!
The e-Science programs include:
Access to self-guided lessons that kids can complete on their own (even at age 7)

Detailed video instruction taught by a actual Rocket Scientist

Step by step videos show how the experiment is to be done

Complete parent/teacher guides

Textbook readings

Exceeds most K-8th State Standards

Exercises and quizzes available

and more!
Supercharged Science is in the works of revamping their website to make it EVEN better. I found a secret page "
grade levels
" that I am really excited about and cannot wait until it is active.
TOS Crew Special FREE Sample Offer:
Would you like a complete Supercharged Science mini-program ($30 value) for FREE? Visit this
special link
to obtain a small sample of
science
activities and projects taken from the e-
Science
program. This will give you a chance to try out some activities for free to see how they work for your children.
Wrap up:
I am a HUGE advocate for hands on learning and exploring so Supercharged Science was a great fit for our family. Supercharged Science is versatile, great for all learning styles and ages. It is especially great for busy moms or moms who dislike or are scared when it comes to teaching science. Only downside for me was the price. I personally feel it is a little on the steep side and would prefer to have an option to buy a yearly membership or perhaps even a lifetime membership.
Gwyns review (7 yrs old):
I loved the science experiments. They were fun and pretty easy.
Here Gwyn explains their experiment on
making rain
.
Links to follow:
-
Supercharged
Website
-
Supercharged
Facebook page
-
Supercharged
Twitter
Where to buy:
Supercharged Science
is $37 per month for the K-8 level and $57 per month for the K-12 level. You may cancel at anytime, and if you cancel within the first 30 days you pay nothing.
Click here for more Super Charged Science
reviews from the
The Schoolhouse Review Crew
.