Jen, from
Gricefully Homeschooling
,
and I team up, every Friday, to bring you a list of
free
bees...on both of our blogs.

PLUS...with the added bonus of this being a weekly link up...where you can showcase your freebies, things you've found online, and also, things you've received in the mail, totally FREE in the last week...or so.

FreeBEEs: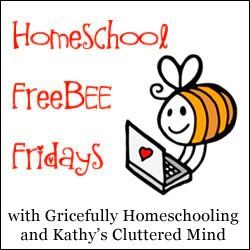 If you have homeschool FreeBEEs to share
please link up at the bottom of this post!
You can copy the button from my right side bar.

FreeBEEs:
I have mentioned this before we are HUGE movie buffs. And yes I use movies, shows and documentaries a lot in our homeschool. Just today we watched 3 great mythology documentaries. We DON'T have cable and I DON'T like spending money so anything we watch we either get at the library, watch over our
Roku Box
or watch online for FREE. There have been several times I have posted on social media about something we were watching and have had friends ask for the link...so today I am sharing some of my favorite FREE online places to watch educational movies and shows. Be sure to also check out my FreeBEE Friday post -
FREE Curriculum For Movies And Shows
.
If we are watching something online gathering around the tiny laptop screen can be quite a pain so we hook up the laptop to the TV via an HDMI cable and wholla we can watch things on the big screen. Watch this video on
Intel's website
to find out how easy it is to do this.
-
YouTube
- you can find all sorts of things on YouTube from short clips to full length movies and shows (don't forget to enable the safety controls located at the very bottom of the page to make YouTube safer - click safety controls to on)
-
Discovery Streaming
(FREE for GA, AL, SC, AR residents read more
here
and contact your local PBS station, if your in GA you can send me an
email
and I will be happy to reply to you with the information for the contact in GA)
-
History Channel
-
Discovery Channel
-
PBS Learning Media
-
PBS
- some of our favorites like NOVA, Nature and History Detectives
-
National Geographic
-
Travel Channel
-
Watch Movies Free
- now with this website simply type in the movie you are looking for. On the moives page you will see several links that take you to other websites where you can view the movie. Sometimes these links don't work correctly. It will take some time to get used to the website and learning which links work better. The link I use most often if its available is PutLocker. These are normally good quality and work well. Vidxden and Movshare are also normally good links.
-
Watch Cartoon Online
- we watch Magic School Bus here
-
Toon Jet
- oh yes cartoons can be educational especially the old Disney cartoons
-
Classic Cinema Online
- you will find some oldy but goody educational shows here like Black Stallion and Treasure Island
-
Freedocumentaries.org
-
Documentary-log.com
-
University Videos
-
Pro Teachers Videos
-
Science Hack
- a fabulous resource for all sorts of fun, fantastic science videos
-
Ustream
- our favorite thing to do on here is watch animals in the wild, zoos and aquariums
-
Animal Planet
-
NeoK12
and
Watch Know Learn
- online directories of high-quality educational videos from around the Web
-
Teacher Tube
-
Brain Pop
-
TED Talks
-
Jaroo
- we watch Liberty's Kids and a few others here
-
OV Guide
- we watch Animated Hero Classics here
-
Snag Films
- there are a few great ones here like the
Nativity Story
, Pocahontas Legend and more be sure to search the different categories
Roku:
Now I know that a
Roku
is not FREE but if you make the small one time investment there is a lot you can watch for FREE over the Roku player. And if you have a Netflix, Amazon Prime or Hula subscription they can all be streamed through the Roku player too.
Our favorite FREE Roku channels:
-Khan Academy
-Kidlet
-Ameba
-Iggy. TV
-The Bazillions
-Kid Paint
-TED TV
-NASA - There are actually a few NASA channels
-PBS
-Ocean Network
-iTunes Podcasts
-VuDu - some movies are FREE some you need to pay for
-NASA
-Spacevidcast
-USTREAM
-Ocean Network
-Video Visits - 1,000s of destinations
-Smithsonian Channel
I hope you find these resources useful. If you ever have any questions feel free to leave me a comment or email me. Also be sure to follow my
FB page
where I post FreeBEEs daily.
Link up:
FreeBEE Fridays
with
Kathy's Cluttered Mind
and
Gricefully Homeschooling
Remember when it comes to FREE resources the internet and a good search engine are your best friend.
*Disclaimer - Many of the links found on my side bars and in my blog posts are affiliate links. Please note that prices indicated in the post are subject to change. As a result, I might get paid money and I will most likely spend the money on homeschool supplies.
Linking up with
3 Boys and a Dog