Jen, from
Gricefully Homeschooling
,
and I team up, every Friday, to bring you a list of
free
bees...on both of our blogs.

PLUS...with the added bonus of this being a weekly link up...where you can showcase your freebies, things you've found online, and also, things you've received in the mail, totally FREE in the last week...or so.

FreeBEEs: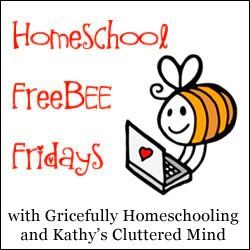 If you have homeschool FreeBEEs to share
please link up at the bottom of this post!
You can copy the button from my right side bar.

Internet FreeBEEs:
You may or may not know this about me...I am a
HUGE
movie buff. And so is Ben (husband) and Gwyn. Rowyn really doesn't care too much for TV he would rather play with his toys or play games on my phone. We often will use resources to go along with movies and shows. These resources are great for children of all ages.
There are still plenty of family friendly and educational movies and shows out there that can be used for homeschooling. We don't have cable but do have a
Roku Box
so we stream lots of stuff that way. We also view stuff online at places like
YouTube
and
Discovery Streaming
(which is
FREE
for GA residents..that reminds me I need to register for this year). And of course we get FREE movies from the library.
Homeschool Movie Club
- curriculum for Dolphin Tale, Little Angels, How to Train Your Dragon, The Blind Side, War Horse and Ramona and Beezus
Magic School Bus
- lessons for all the shows. This is by far my children's favorite show they can watch the episodes over and over again and they always learn lots of great things. These lessons could also go along with the books.
Homeschool Share
- there are lots lapbooks for some great movies and shows like Nims Island, Curious George, Wizard of Oz, Whipping Boy and more. There is also a blank lapbook that you can use with ANY movie.
Samuel Collins Singapore
DVD - there is a
lesson plan
that goes along great with the Singapore episode. If you are not familiar with this DVD series read our review
here
.
Curious George
- lesson plans for several of the Curious George episodes.
Currclick resources - One of my favorite resources and one that not only got me hooked on homeschooling with FreeBEEs but also Gricefully Homeschooling.
-
The Role of Movies in Our Homeschool
- 2 page how to
-
Homeschool Learning Network
- they have lots of great unit studies for movies but sorry they are not Free but they are super cheap $1.50
-
Movie Response Sheets
- can be used with any movie again not Free but 50 cents
Teachers Pays Teachers
- There are lots of great resources to use with movies like Around the World in 80 Days, The Alamo, Annie, Polar Express and more. There is also a great resource to go along with
Eyewitness DVDs
(another one of our favorite shows).
Disney Nature
- Disney has AWESOME lesson plans to go with their Nature Series movies African Cats, Chimpanzee, Oceans and Earth.
More Links:
-
Harry Potter
notebooking pages from Homegrown Learners.
-
Little House on The Prairie
unit study - these are said to be used with the books but I don't see why they couldn't be tailored to use with the show.
-
Bee Movie
lesson plan.
-
Teach With Movies
- A website offering over 350+ learning guides for movies and shows. There is a $11.99 a yr membership fee however you can get 6 FREE!!!
-Great information on creating your
own movie or show lesson plan
.
-
Movie worksheets
- movie worksheets for History, Science, Geography and more. For Science there are worksheets for Bill Nye, Eyewitness, NOVA and Modern Marvels shows.
-
Movie Analysis Worksheet
-
Movie Theme Notebooking Pages
from The Notebooking Fairy - these are super cute.
-
Narnia Voyage of the Dawn Treader
lapbook
Remember when it comes to FREE resources the internet and a good search engine are your best friend.
*Disclaimer - Many of the links found on my side bars and in my blog posts are affiliate links. Please note that prices indicated in the post are subject to change. As a result, I might get paid money and I will most likely spend the money on homeschool supplies.
Linking up with
3 Boys and a Dog