Jen, from
Gricefully Homeschooling
,
and I team up, every Friday, to bring you a list of
free
bees...on both of our blogs.

PLUS...with the added bonus of this being a weekly link up...where you can showcase your freebies, things you've found online, and also, things you've received in the mail, totally FREE in the last week...or so.

FreeBEEs: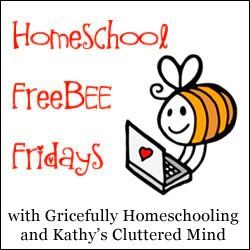 If you have homeschool FreeBEEs to share
please link up at the bottom of this post!
You can copy the button from my right side bar.

Internet FreeBEEs:
A few months ago I won a Kindle Touch on a Twitter party. And as awesome as it was to win a Kindle we actually decided to sell it and got the kids an Android Tablet. Unless you pay the extra money for a Kindle Fire the Kindle Touch is limited on what you can do with it, basically it is just an ereader. We wanted the kids to be able to access the internet, watch videos, have more app options, a color screen and a capacitive touch screen. So we got an inexpensive Android Tablet. My husband and I also have Android phones. Can you tell I prefer Android devices.

Well this week I am sharing several FREE Android Apps we LOVE! When we are on the road or at home and bored the kids love playing the educational games on the tablet or phone.

Please note: At the time of this post all of the Apps below were free, but they because the price can change please make sure you verify they are still free before downloading. The links will take you to Amazon or Google Play.

Kids Educational Apps:


-
iStory Books
-
Enjoy interactive children's story books with audio suitable for ages 2 to 8.
-
Tracing ABC Kids
- Tracing ABC supports capital letters, lower-case letters, digits, and several shapes.
-
Jumpstart Preschool 1
-Jumpstart Preschool 2
-Convert Pad -
ConvertPad is a simple but the most powerful unit converter.
-Environmental Educator -
Keep us in a livable planet. Learn how to and why you should so you will.
Keep us in a livable planet.
-US History -
This app contains a large amount of Historical information.
-Today in History -
Widget displaying events which happened on this day from various sources.
-Bible -
The Bible app from YouVersion makes it easy to read and share God's Word.

-
Stack 'N Puzzles - an Educational Puzzling Adventure for Kids.
-
Speed Anatomy
- Think you know a lot about your body? How fast can you point to your liver, gall bladder, or incisor?
-
50 Languages
- 50languages.com contains 100 lessons that provide you with a basic vocabulary. This free app has 30 lessons.
-
Eggy 100
- Reading Eggs Eggy Words 100 is a FREE application designed to help children recognize and learn sight words.
-
WatchKnow Educational Videos
- WatchKnow Educational Videos is a companion app to the www.WatchKnow.org website which provides free educational videos for teachers, students, parents, and homeschoolers teaching students in K—12 (USA) or ages 3—18 (international).

-
Shapes
- The app is designed to help young children learn basic shapes.
-Science Fun To Go -
Science Fun To Go is an app chock-full of articles, images, videos, and interesting information about a variety of science topics.
-Pre-School and Kindergarten Learning Games -
Includes three free games.
-Periodic Table -
With the Periodic Table app, you can learn all about the elements.
-NASA Space and Weather Viewer -
his app features near real-time images of outer space from a wide variety of NASA missions, as well as video interviews with prominent scientists about the science of space weather and its effects on Earth.
-Awesome Arithmetic -
Do you need help teaching your child basic math skills? Do you want to improve your basic math skills?

-MeMe Tales Children's Stories and Picture Books -
MeMeTales is a place to celebrate children's stories.
Get a NEW FREE Book of the Week - a book your child can keep and read all week long!
-Math Wizard -
Math Wizard for Grade K is designed to help young children practice basic number skills.
-Kids Math Tetris - A new fun take on Tetris.
-Kids Doodle - Movie Kids Drawing -
The Kids Doodle app is a very entertaining kids painting application for young children to freely doodle.
-
Bubble Pop ABC
- A Bubble Game. Pop bubbles, have fun, and learn things!
-My Tiny Coloring Birds -
Color the birds whether its Angry or not...
-Kids Mode - Lots of educational games.


-ASL Alpha -
ASLAlpha is a useful, intuitive Android app that can help you learn the ASL (American Sign Language) finger-spelling alphabet.
-50 States -
50 States is a great way to learn about each state. Each state chapter features a map, total population, capital, state bird and flower, and the state's largest city and its population.
-123's and ABC's Tracing -
123s ABCs Handwriting Fun SET1 is a fun way for your child to practice writing letters, numbers, and shapes.
-Alphabet Coloring -
Alphabet Coloring is a fun way to help kids practice their ABCs.
-Kids Reading -
Kids Reading is a delightful game that invites your children to practice blending sounds together to form, read and spell words that are all made up of only three letters of the alphabet, such as "dog","sun", and "big".
-LEGO App4+ - not really educational but had to include it because besides Angry Birds its Rowyns favorite game.
-My Sight Words -
"My Sight Words" helps pre and early readers develop their skills through a fun and kid-friendly interaction with sight words (also known as Dolch words).
-PicsArt for Kids -
The best coloring, drawing and learning app for kids (parents will love it too!)
Great Outdoor/Hiking Apps:


-
Bird Field Guide
-
Contains information for more than 1,200 bird species including scientific classification, diagnostic identification factors, range distribution, habitat, field behavior, and nesting and migratory patterns.
-Fungitron Mushroom - A mushroom guide.
-Lichen Guide -
A field guide to some of the common lichens of the Pacific Northwest.
-GA DNR Outdoor Guide - This App would be for the GA readers who love to visit the GA State and National Parks.
-Roger Phillips Mushrooms - Another mushroom guide.


-
Sky Map
-
Sky Map turns your Android-powered device into a window on the night sky.
-C:Geo - Geocaching App this is the one we use for our adventures.
And for the Moms:

-The Old Schoolhouse Magazine -
The Old Schoolhouse® Magazine App serves up a banquet of interactive information for homeschooler.
-Classical Conversations -
The Classical Conversations app is a one stop app for access to all of Classical Conversations's greatest online content.
-Cozi Family Calendar - This is the calendar I am using and it allows me to link my meetup.com and Google calendars to it putting everything in one spot!
-Home Education Magazine -
Home Education Magazine has been homeschoolers' homeschool magazine
since 1983.
-Logic Puzzles -
Do your powers of deduction rival those of Sherlock Holmes himself? Find out!
Giveaways:
Expedition Mom - Win a Whitewater Rafting and Zipline Canopy Tour Adventure for 2
FreeBEE events:
Ok ok I lied there is something for the iPhone/iPad/iPod users. Did you know that the Apple store has a FREE 3 day
film making workshop
for kids ages 8-12? Check it out looks really cool. They are going on in July and August check your state and local store for details.
Lowes Build and Grow Clinic
is this week. This weekend kids can build a car from the Madagascar movie.
Left:
Wishes and Rainbows comic book from
Federal Reserve
you can order a hard copy or view and print the pdf.
Right
: Free Razor and coupons thanks to
Bzz Agent
again. I'm telling you sign up its FREE.
If you don't enter blogger giveaways or do Twitter and/or Facebook parties you need to because you can win cool stuff.
I hope you find these resources useful. If you ever have any questions feel free to leave me a comment or email me. Also be sure to follow my
FB page
where I post FreeBEEs daily.
Remember when it comes to FREE resources the internet and a good search engine are your best friend.

*Disclaimer - Many of the links found on my side bars and in my blog posts are affiliate links. Please note that prices indicated in the post are subject to change. As a result, I might get paid money and I will most likely spend the money on homeschool supplies.
Linking up with
3 Boys and a Dog