Jen, from
Gricefully Homeschooling
,
and I team up, every Friday, to bring you a list of
free
bees...on both of our blogs.

PLUS...with the added bonus of this being a weekly link up...where you can showcase your freebies, things you've found online, and also, things you've received in the mail, totally FREE in the last week...or so.

FreeBEEs: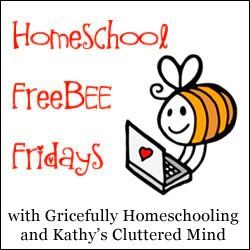 If you have homeschool FreeBEEs to share
please link up at the bottom of this post!
You can copy the button from my right side bar.

Internet FreeBEEs:
This week we are sharing some great garden and flower resources. This month the kids and I are learning going BATTY and learning all about BATS! And since Bats are pollinators we are also taking time to learn about flowers as well. Did you know that without Bats we wouldn't have mango's or banana's? We also have been tending to our first homeschool garden. You can read more about our garden experiences
here
.
-Beautiful
flower paper-piecin
g patterns
-Flower
activity ideas
- worksheets, crafts and more
-
21 flower craft ideas
- these are so cute
-Garden and flower resources from the
Handbook of Nature Study Website
- lots of FREE resources (some of the actual notebooking packets cost though). Check out this most recent post on
Dogwoods
.
-Learn how to draw
flowers
-FREE
interactive online flower and life cycles
learning
-Flower dissection
lab
Giveaways:
-
End of Homeschool Year 2012 Giveaway
- Over $125 in Prizes - One Winner
-
3 Book Giveaway
- Thank You
FreeBEE events:
Don't forget that on May 11th you can get FREE admission to a local public garden thanks to
Better Homes and Gardens
.
Alright so this is a FREE event to get into but you will spend money while there, lol. But they have really, really, really amazing deals. Check to see if there is a
location
near you.
Sign up FreeBEEs, items I will be reviewing soon and items I won:
Nothing fun arrived in the mail this week.
If you don't enter blogger giveaways or do Twitter and/or Facebook parties you need to because you can win cool stuff.
I hope you find these resources useful. If you ever have any questions feel free to leave me a comment or email me. Also be sure to follow my
FB page
where I post FreeBEEs daily.
Remember when it comes to FREE resources the internet and a good search engine are your best friend.



*Disclaimer - Many of the links found on my side bars and in my blog posts are affiliate links. Please note that prices indicated in the post are subject to change. As a result, I might get paid money and I will most likely spend the money on homeschool supplies.