Jen, from Gricefully Homeschooling, and I team up, every Friday, to bring you a list of freebees...on both of our blogs.

PLUS...with the added bonus of this being a weekly link up...where you can showcase your freebies, things you've found online, and also, things you've received in the mail, totally FREE in the last week...or so.

FreeBEEs: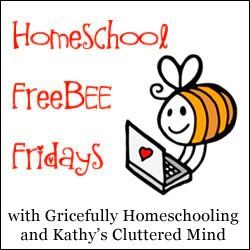 If you have homeschool FreeBEEs to share
please link up at the bottom of this post!
You can copy the button from my right side bar.

Internet FreeBEEs:
-If your thinking about doing a unit study on Bats make sure you check out this
website
for a FREE webinar. There is also a kids section on the website see top right.
-Do you ever use
USTREAM
? This is an amazing Free resource. My kids love watching different animals on live feeds.
-Need FREE pictures for projects or even your blog check out this
website
.
-I know I have shared this before but I am sharing it again for those that may have missed it. Founders Academy has some FREE stuff on this
SPECIAL
page.
-
Supercharged Science
has lots of great stuff for FREE.
-
Knowledge Quest Globalmania
FREE geography curriculum.
-FREE math worksheets from
Math is Fun
- All grades
-FREE worksheets from
Kidzone
- All grades
-
Chick-Fil-A Old School Fun
- spin the wheel to have some family fun
-Lots of FREE
Kindle
classic kids books
Giveaways:
-A Perfect Pet for Peyton multiple chances to enter over at
So You Call Yourself A Homeschooler
-Interactive Bible Games enter at
Homeschool Giveaways
-
Home Educating Family
has lots of giveaways each week check out the reviews for the giveaways which are located on the right.
FreeBEE events:
There are lots of Easter activities going on. Don't forget to check out your local
Patch
website or Google "FREE kids activities for
insert your area
," this is generally how I find stuff for our family to do.
If you live in GA make sure you check out the State Parks. Many of them are offering lots of great educational activities starting this month and going through August. One of our favorite parks is
Amicalola Falls.
The events are FREE but you will need to either pay $5.00 for parking or buy a yearly parking pass.
Sign up FreeBEEs, items I will be reviewing soon and items I won:
1)
Finally got a couple of these books to review. We will also be reviewing the lapbooks that go with them from A Journey Through Learning
2)
Got these books for FREE at the library. From time to time they have a cart with advance reader/uncorrected proofs that they giveaway to good homes.
If you don't enter blogger giveaways or do Twitter and/or Facebook parties you need to because you can win cool stuff.
I hope you find these resources useful. If you ever have any questions feel free to leave me a comment or email me. Also be sure to follow my
FB page
where I post FreeBEEs daily.
Remember when it comes to FREE resources the internet and a good search engine are your best friend.


*Disclaimer - Many of the links found on my side bars and in my blog posts are affiliate links. As a result, I might get paid money and I will most likely spend the money on homeschool supplies.