We had another fun and busy week. It's hard to believe that after this coming week we will be technically done with our homeschool year. Where did the time go????
Sunday the kids spent the day playing video games with daddy and blowing bubbles.
Monday was another busy day as always. We went to Rowyns speech where Gwyn did some
Reading Eggs
while we waited. Then we went to an indoor yard sale where I got some great bargains on kids clothes, toys and some a couple of books. Afterwards we went and got Gwyn her reading reward for March. She choose a big rubber unicorn from Michaels. Then it was off to the library to return some books and check out a few more. After the library we headed to soccer practice except...I forgot she didn't have soccer practice because of Spring break so we hung out at the field and played some soccer. We also cloud watched and did a little nature walk. Then we headed home after our long day and the kids helped with dinner. We had a flavored noodle package with some chicken and veggies tossed in.
Tuesday we began our day by reading our
Calendar Connections
cards (we are using the Rain forest cards). We were a couple of days behind so I had to read cards 1-3. We learned about what a rainforest is, where they are located and how much rain they get in a year. The kids decided to get out the tape measure to see how much 160 inches was. Then I looked up how much rain Atlanta got last year which was 39.23 inches and we compared the difference. Afterwards we started learning about Easter. At noon we took a short break and went on a Nature walk at Roswell Mill with our friends. Gwyn and Rowyn drew in their nature journals and we worked on some poetry too. On our way home we stopped by the Roswell visitor center to check out some of the artifacts they have on exhibit there. They had the history about the mill, samples of cotton and lots of civil war artifacts. When we arrived home the kids decided to help with dinner again. We had our adaptation of chicken dumplings which is some canned veggies, cream of chicken soup and bits of cooked chicken. Then we put some biscuits on top and popped it into the oven. We also made some cute chick deviled eggs.
Wednesday we went to the
Center for Puppetry Art
s in Atlanta where we saw Peter Pan. When we got home we continued learning about puppets and made some of our own. Then the kids watched The Wubbulous World of Dr. Seuss which is a Jim Henson production so it of course starred puppets. While they watched the movie I took in a nap. Afterwards we continued working on some more Easter learning fun. And then we finished up the day by decorating Easter Eggs.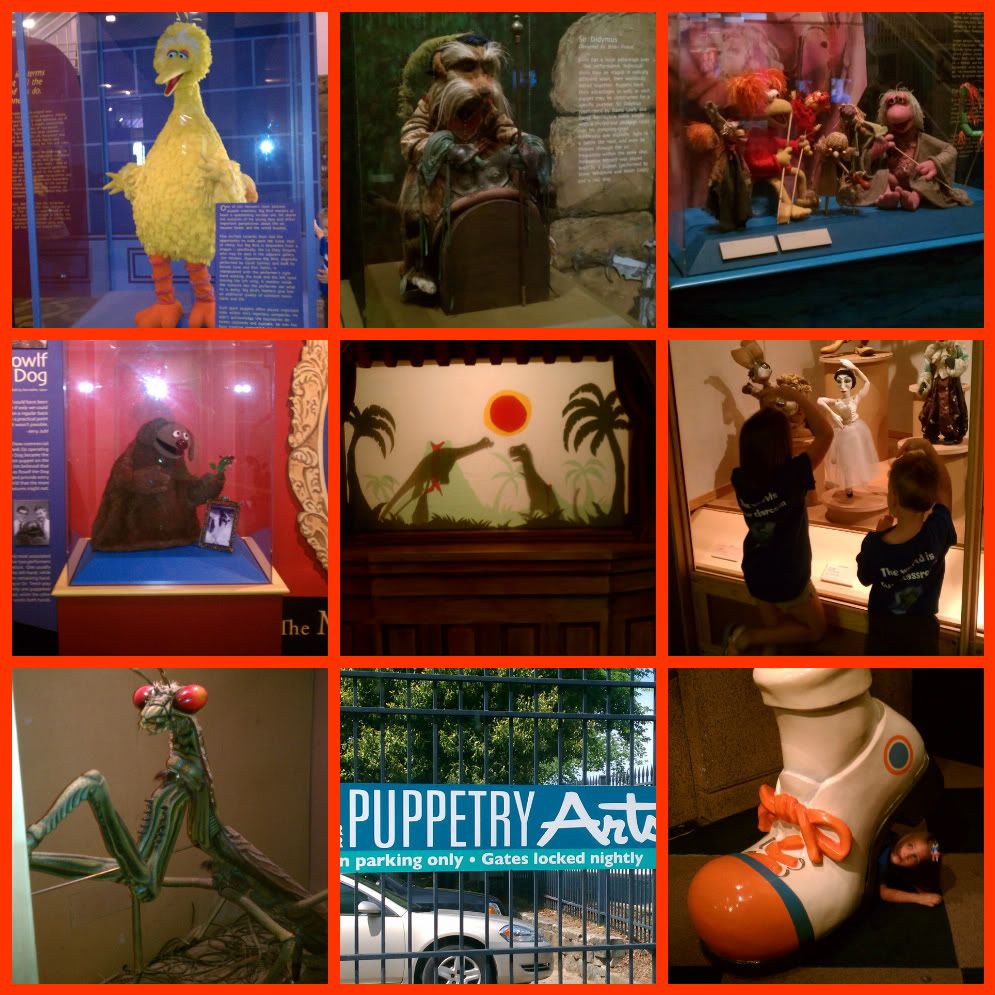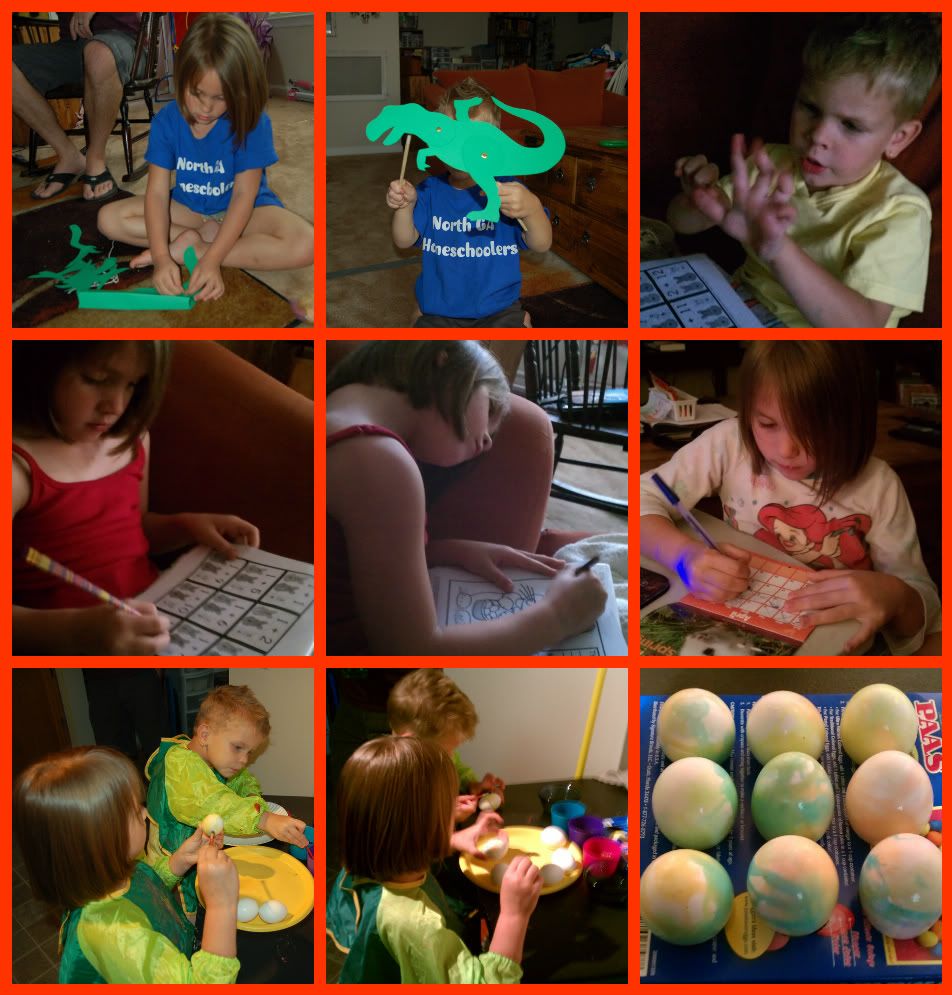 Thursday we began our day with some monkey pancakes then we headed to the library to learn about Earth Day. A lady from the department of water read The Lorax to the kids and they got to do a craft too. They also held a drawing for FREE screening passes to see Disneys Chimpanzee which comes out later this month. Our name did not get drawn for the prize but....one of the winners asked the librarian to give us the tickets because she wouldn't be able to go since it the showing was at 7 pm on a Monday and her kids are in public school so they couldn't be up that late. We are all super excited to see this movie. It was on our list of things to do this month since we are learning about Primates and now we get to see a pre-screening of it. When we got home we started working on our Primate unit study. We are starting with the Chimpanzee. I read some books then we did some lapbooking and worksheets. We also made our rain forest tree which will become home to several primates this month.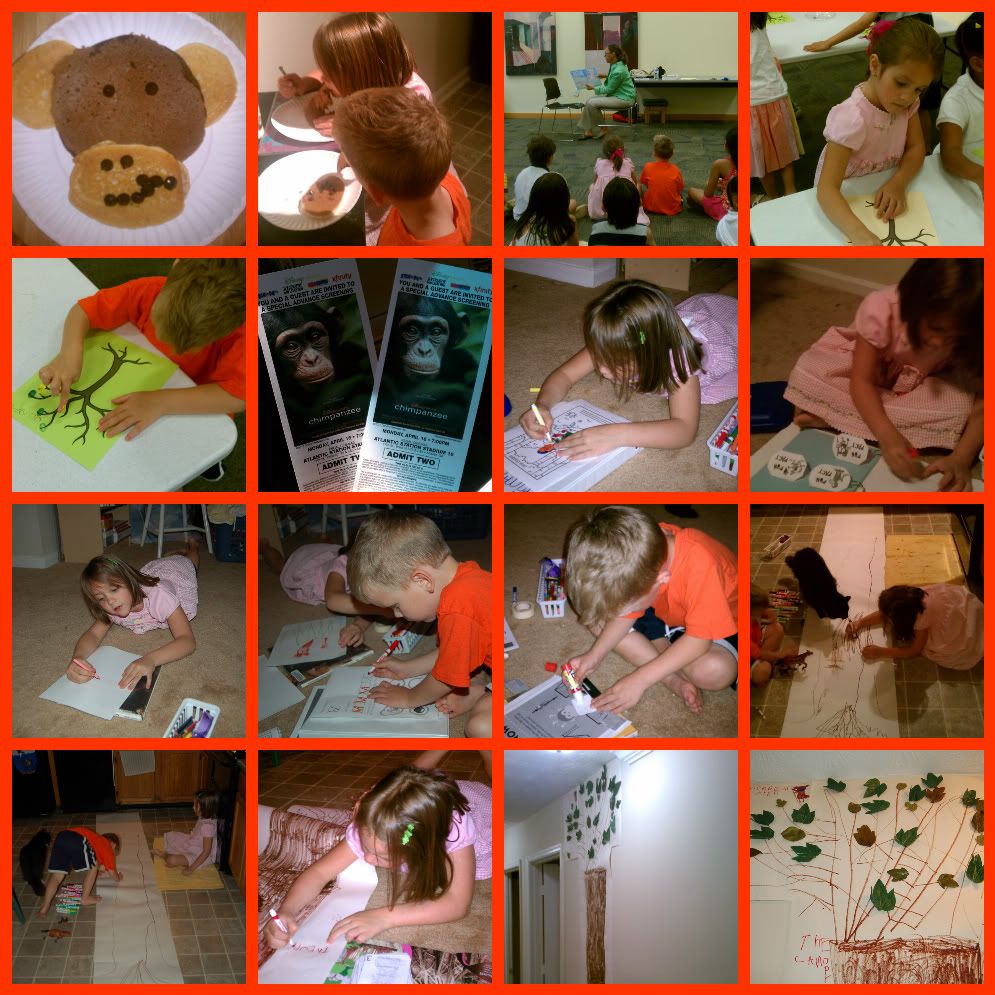 Friday we had another field trip to
Amicalola Falls
with our homeschool group. We had a guided hike up to the Falls and then had a class on birds of prey. After our birds of prey class the kids did a quick Easter Egg hunt and then we ate lunch in the car since it was raining AGAIN at Amicalola (every time we go there it is raining). The kids really wanted to see the base of the Falls so we drove up to another trial and walked down to the base of the Falls. We had lots of nature walk fun and discussed moss, wild flowers, lichens, etc. But my little ones still weren't ready to leave so I drove them up to the top of the Falls. On the way home I took a wrong turn and we ended traveling down a little gravel back road. It was an exciting adventure though and the kids got to see some horses and several turkeys in someones yard.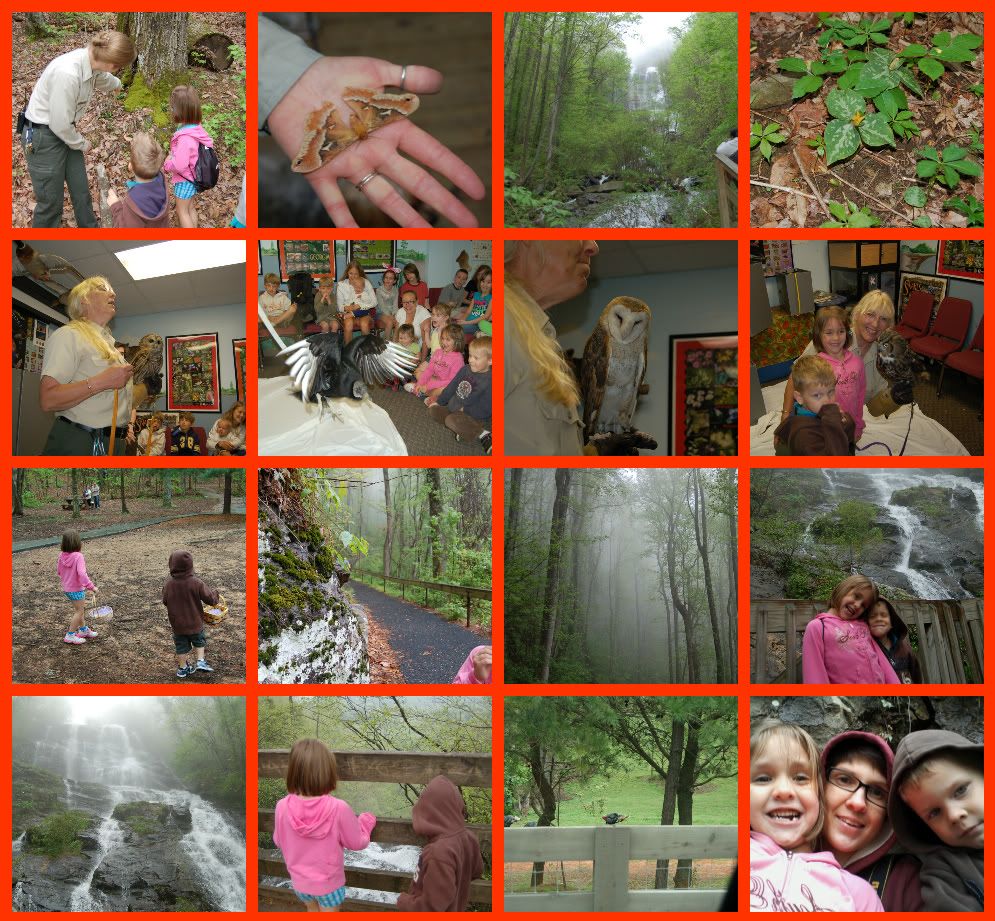 Saturday the kids enjoyed another Easter Egg hunt this time at
Andretti Speed Lab
. They got lots of eggs with candy and game cards. They ended up getting $70 in game cards...their Daddy is very excited. Gwyn helped me make our contribution to Easter dinner an adorable cake made to look like a sunflower.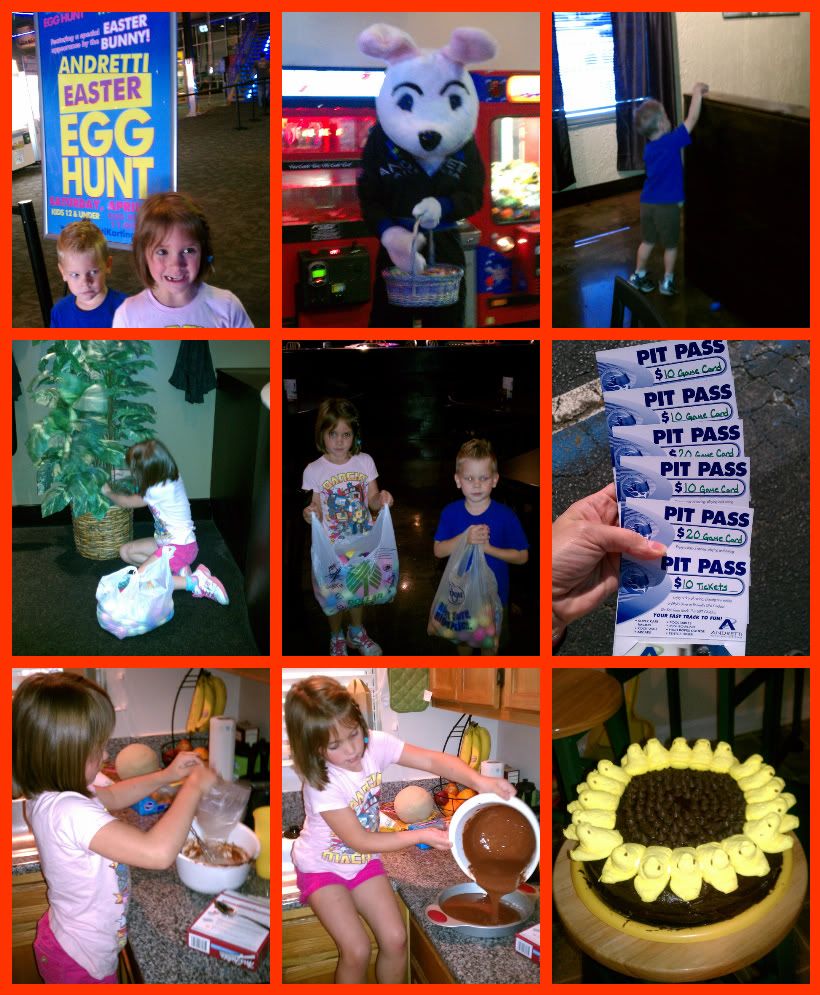 For April we will be learning about Primates, Earth Day, Easter and South America. Below is our YouTube Channel and Pinterest board for April.
This is our April YouTube playlist keep checking back because I will be adding more videos throughout the month. It includes various videos we will be using throughout April.
Pinterest Board for April - I would love it if you follow me:
New ideas will be added throughout the month. These are some of the things we are doing for our April units. Check out my other boards on Pinterest for more ideas like ABC's, 123's, Art, Holidays, etc.

I hope you find these resources useful. If you ever have any questions feel free to leave me a comment or email me. Also be sure to follow my
FB page
where I post FreeBEEs daily.
Thanks for stopping by.