We had a great week. We had LOTS of fun field trips. We continued learning about Christmas and how it is celebrated in other countries. We read the book Gingerbread Baby and did a fun unit pack from
Homeschool Creations
. We made cards for the Red Cross Holiday Mail for Heroes. And we continued to work on our
Truth in the Tinsel Advent
.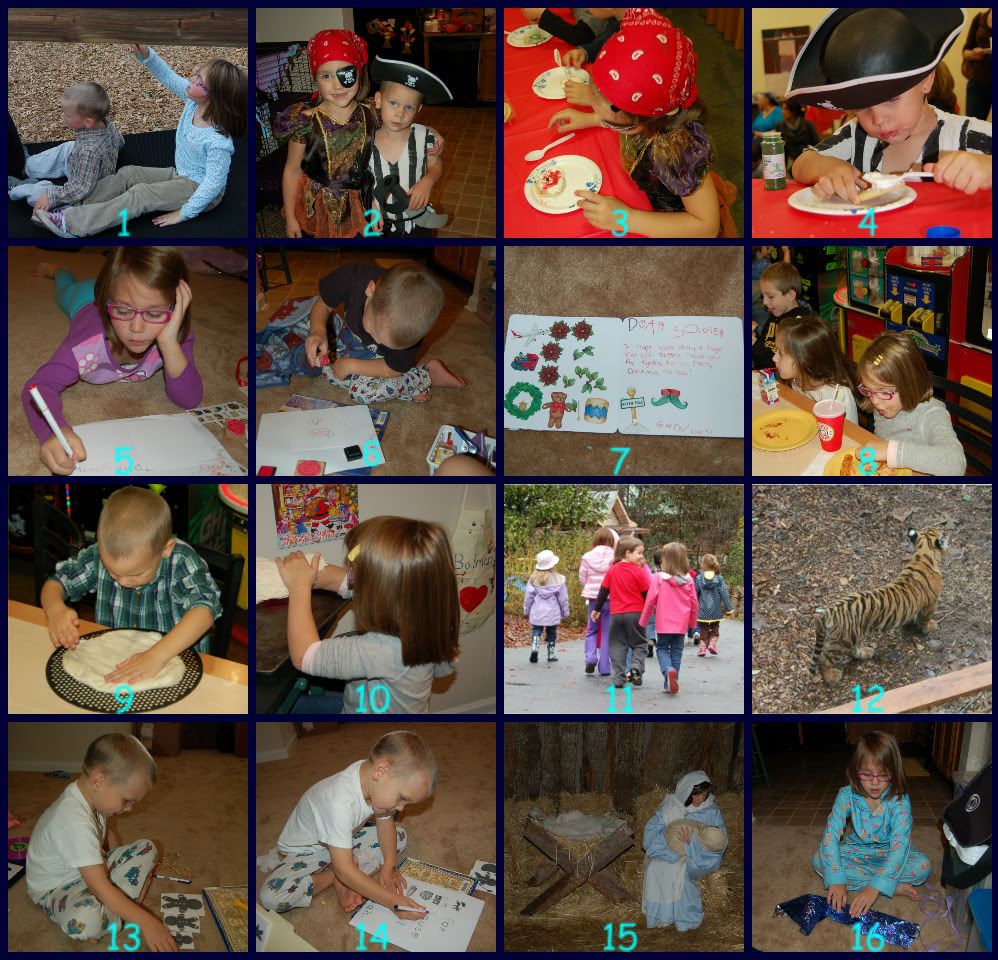 1) Playground fun!
2-4) A very pirate Christmas as the library. The librarian read the book "A very pirate Christmas" which we also won a copy of and the kids decorated sugar cookies.
5-7) Making cards for the soldiers.
8-10) Field trip to Cicis pizza. The kids got to play with dough, top their own pizzas and learn about the kitchen. They also got to play a few games and learned how to share tickets with friends if they didn't have enough to get a prize.
11-12) Gwyn had her last Zoo Academy class. She got to see her friends and learn about animal lifecycle. Rowyn and I spent time with our friends chatting at the zoo restaurant, checking out the warm reptile house, eating cotton candy and popcorn. We also got to see the baby tigers who are growing so fast and not so little anymore.
13-14) Working on Gingerbread Baby printables after we read the book.
15) Back to Bethlehem presentation put on by a church in Canton GA. The kids had a great time with their friends and learned so much about the story of Jesus and how life was in Bethlehem.
16) Making our own crackers. They are an English tradition.
You may have noticed my pictures look a little different this week. I am trying something a little different since I love to put pictures on my blog but they slow it down and make my posts very long. Thanks to my friend at
Homegrown Learners
I have learned about collages!!!! Let me know what you think? Do you like it better than my old method?
How was your week? How many weeks are you planning to take off for Christmas? I haven't made up my mind yet and even when we are not traditionally homeschooling the kids still are learning something so really they are homeschooling. I do have lots of projects and blogging I would like to get caught up on so I am thinking maybe a week for us.