*This post may contain affiliate links. Please see my
Disclosure Page
for details.

For the third year in a row I am participating in the World Traveling blog series. This years theme was, "vote for." It didn't take me long to come up with the perfect topic for my post. It is something our family is very passionate about and something we make a point of exploring just about every week...nature! Nature is all around us so it is one of the easiest and most inexpensive things to explore when you are traveling either in your home state or to another state.
One of my many passions is exposing adults and children to nature. All around us we are surrounded by nature which makes it one of the most effortless travel experiences. Yet so many families don't take advantage of the natural world and all it has to offer our children. Over the last decade there has been a great disconnect between children and the natural world and it is up to us to make a change today. So I, "
Vote for Nature Travel
."
To read the rest of my post visit Wordtraveling.com.
Make sure you click over to
Wordtraveling.com
and
Cast your "Vote for Travel'
by entering the awesome $1500 vacation giveaway to the incredible
Beaches of Ft. Myers/ Sanibel
and to read more posts from other bloggers and family travel experts in our third annual series!
No purchase or real voting necessary!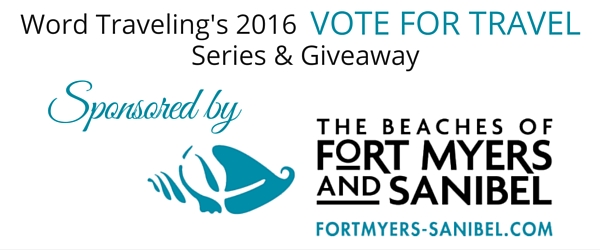 Click the image below to read the rest of my post and ENTER TO WIN: