*This post may contain affiliate links. Please see my
Disclosure Page
for details.
Logic of English
is a fabulous reading program for homeschool families and teachers. Pedia Learning Inc. was founded in 2010 after they noticed a need in the community for better reading resources. Pedia means Educating the Whole Child and that is just what the Logic of English product line is dedicated to doing. Pedia Learning is dedicated to providing parents, teachers and community leaders access to affordable books, curriculum and software which includes accurate linguistic research, multi- sensory instruction and incorporates the five strands of reading.
A moms review:
Last year we reviewed
Foundations A from
Logic of English
. Both children utilized the program in the beginning, but only Gwyn my 8 year old completed it. Rowyn hasn't shown much interest in learning to read yet but hopefully when he does we can start the Foundations curriculum with him again. The program worked so well for Gwyn that when we had the opportunity to review
Foundations, Level B
we jumped at the chance.
The Foundations curriculum is a perfect fit for our family. It is a multi-sensory, interactive and fun curriculum that engages children instead of boring them. The curriculum is great for all learning styles, which makes it perfect for many families. And the lessons are short which is makes it great for busy on the go families, like ours. Foundations is recommended for children ages 4-7 years old and the curriculum covers handwriting, reading and spelling.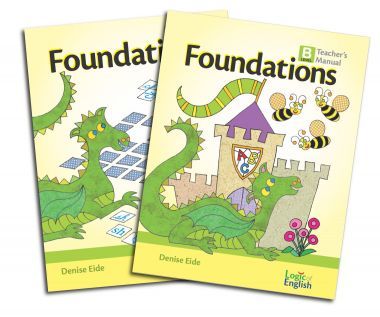 Logic of English utilizes a systematic multi-sensory approach to learning how to read, spell and write. The method is based upon 74 basic phonograms and 30 spelling rules which explain 98% of English words. The information that is learned in the Logic of English materials will help bring order to the English language for your children. Children will learn why words are read and spelled in a particular way. And best of all Logic of English does not use sight words, which my daughter loves!
The Foundations program uses all of the research that goes into the Logic of English and makes it tons of fun for early readers and writers. The Foundations workbooks come in two options manuscript and cursive (see below for more details about the workbook). Foundations B is recommended for children who have learned all of the sounds of the a-z phonograms and can read short vowel words. By the end of Level B children will be know 8 spelling rules, be familiar with the concept of the schwa sound, be able to spell 120 new words,
b

e able to read and write 19 multi-letter phonogram, k
now that a sentence begins with a capital letter and ends with a period and more!
Click here to check out the overview of the Foundations program.
Foundations B complete set components:
Below I have listed the components that make up the Foundations B set. We already had all of the reusable components since we used Foundations A last year.
Below I will break each component down for you with further details and thoughts.
Teachers Manual:
The teachers manual is so easy to use. There are no frills or fluff and no need to plan ahead. The manual is a very sturdy hardback book and contains 48 lessons (40 instructional lessons and 8 assessment and review lessons). In the front of the book there are 2 pages of instruction which you will definitely want to review. In the very front of the book is an awesome scope and sequence so you know at a quick glance what each lesson covers. Each scripted lesson is broken down much the same way so you always know what to expect. And each lesson is very flexible so you can easily adjust it to meet your family's specific needs.
Here is an breakdown of an average lesson:
1)
The green box at the beginning of each lesson indicates the lesson objectives which may include the following topics phonograms, handwriting, multi-letter phonogram, phonemic awareness, spelling rules, words, reading and more. There is also information regarding what materials and optional materials are needed for the lesson.
2)
First your child will start the phonogram portion of the lesson. Everything you need to teach and say (scripted) to your child is laid out for you, again though it is very flexible and can be adjusted as needed. This portion of the lesson is usually very hands on and generally includes a fun game. During this portion of the lesson you may also be directed to utilize the student workbook and phonogram cards.
3)
Next you get into the handwriting portion of the lesson. This is also very hands on and utilizes the workbook, whiteboard and tactile cards. Again everything is laid out for you.
4)
Following the handwriting section children will learn some new words (about 5 at a time) and practice their reading.
The majority of the lessons follow this format, however there are times it will vary and several times throughout spelling and reading rules will be covered.
Throughout the lesson you will find colored boxes (green, blue, orange, red, etc) off to the right hand side of the page. In these boxes you will find additional tips and hints like book recommendations, multi-sensory fun, challenges, letter day activities, vocabulary and teacher and speech tips. The light green boxes will also indicate what materials are needed at that precise point of the lesson.
After every 5 lessons there is a review and assessment lesson. These are not used to grade your child but rather determine which skills need further practice. The review first shows you a chart with all the various skills that have learned so far for phonemic awareness, handwriting, phonograms and reading. Then there is a mastery level indicated for each item (ie 1-mastered, 2-familiar, 3-not mastered, etc). This helps you determine whether or not your child is ready to move on to the next lesson. There is a phonemic awareness, handwriting assessment, phonogram assessment, reading assessment as well as optional practice ideas.
All of the lessons are easy to follow, fun and engaging. The games and activities included are amazing and really make learning language arts fun, even for the parents!
Manuscript Workbook:
The Foundations B workbook includes colorful drawn pictures as well as photographs. There are generally 2-3 worksheets per lesson. One worksheet goes along with the Phonemic Awareness lesson and one goes along with the Handwriting portion of the lesson.
Reusable resources:
(I copied this from last years review)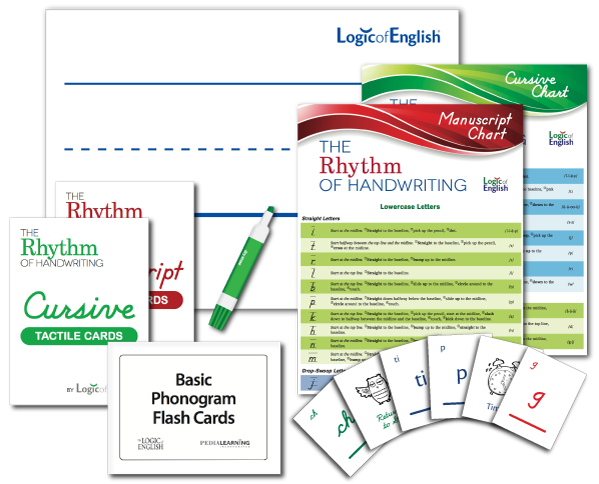 The Rhythm of Handwriting Manuscript Chart:
This chart was very handy for both parents and children. It really helped me explain to Gwyn how letters are formed when written (it's been a long time since I have written cursive). Within the chart you will find instructions on how to write upper and lower case letters. Each letter is broken down according to it's style, ie. roll, curve, loop, slash etc. I love the way that Foundations A breaks down writing cursive by introducing strokes one at a time.
Basic Phonogram Flash Cards:
These sturdy, large 4 x 6 flash cards have been a life saver for this mom. I have a huge issue with vowel letter sounds. I never really learned phonics so trying to remember all the vowel letter sounds has always been hard for me when it comes to teaching them. On one side of the card is the letter in large, bold font. On the other is the sound (s) that the letter makes along with a sample word (s). We have used these cards for games, drill and more.
Manuscript Tactile Cards:
I absolutely love these sturdy, large 4 x 6 cards as well. Who would have thought something so simple would be so wonderful. I am planning to get my son a set of the print ones because I think he would totally benefit from these. The letters are written in green and have a sand paper feel to them. I like that the line guides and directional arrows are included on the cards. It was a great way to for Gwyn to feel how the letters should be written. Lowercase, uppercase, numbers and strokes are all included in the card pack.
Red Manuscript Phonogram and Green Cursive Phonogram
Game Cards:
These nifty cards are used for many activities and games throughout Foundations A. These cards are smaller about 2 x 3. Since I don't have a manuscript workbook for Rowyn I have been utilizing these cards on and off to assist him with practicing his letters.
Student Whiteboard:
This super large whiteboard is amazing. It is perfect for teaching children to write their letters in between the correct lines (something my daughter has an issue with) and practicing their handwriting. It is a two sided board with multiple handwriting line spaces on one side and a large sized handwriting space on the opposite side.
Doodling Dragons is also recommended throughout many of the lessons, however we did not receive this product for the review. It is available for $15.00.
Overall thoughts and how we used it:
I used Foundations B with my 8 year old daughter. One lesson would take us about 30 minutes to work through. We used Logic Of English 4-5 times a week for our reading, spelling and handwriting.
A typical lesson starts with learning a phonogram. There is typically oral practice, a fun game as well as a workbook activity. Next your child practices their handwriting utilizing the workbook, tactile cards and/or whiteboard. Following the handwriting lesson about 5 new words are introduced and practiced. And the lesson completes with some reading practice.
Gwyn's reading has grown by leaps and bounds and some of it is definitely thanks to Logic of English. Logic of English is by far one of our favorite reading curriculum and it's the one that my daughter will ask to use over and over again.
Free resources:
There are TONS of great
FREEBIES
on the Logic of English website be sure to check them all out. You will find spelling and phonogram lists, handwriting paper, phonogram game tiles, research studies and more.
You can also view lots of samples for the
Foundations A
curriculum to see for yourself how wonderful it is.
Gwyn review (8 yrs old) and Rowyns Review (6 yrs old):
Gwyn, "I like the yellow book reading curriculum. There are fun games and activities. I really enjoy reading the mini books in the back of the workbook they are funny and have neat pictures."
Where to buy:
You can purchase the
Foundations A
program directly from the
Logic Of English
website. The complete set of Foundations A,B,C is $268 and is
available
in manuscript or cursive.
The recommended items for this Level B include a Teacher's Manual ($38) and a Student Workbook ($18, available in manuscript or cursive handwriting). It is also recommended that you purchase the basic phonogram flash cards ($18), a student whiteboard ($9), handwriting tactile cards ($28), the Rhythm of Handwriting Quick Reference chart ($10), and two sets of phonogram game cards ($10 each) (these items can all be used with the other Foundations levels as well).
Click
here
for more Logic Of English
reviews (Foundations,

Rhythm

of Handwriting, Essentials and Phonograms App) from the
The Schoolhouse Review Crew
.