*This post may contain affiliate links. Please see my
Disclosure Page
for details.
Golden Prairie Press is owned by Amy Puetz a homeschool graduate, a self-taught historian, and a servant of Jesus Christ. History has been a passion for Amy since her childhood so after years of
in-depth study (both in modern and old sources) Amy began writing history-related books and curriculum that show history at its best. Amy's mission is to
bring encouraging, uplifting, family friendly historical resources and other media to families and individuals.
A moms review:
For the past several weeks we have been exploring history using the
Digital Heroes & Heroines of the Past: American History Curriculum
by
Golden Prairie Press
. This elementary American history curriculum is geared towards children in grades 1st - 6th, however it can definitely be used with older children as well.
We are a family of history buffs and history is one subject that we touch on just about everyday. However because we are an unschooling family we enjoy exploring history a little differently than most. We prefer living history books, lots of hands on learning, and we like to jump around through time periods based upon what the children are interested in. Up until now I haven't found a very flexible homeschool history curriculum that provided these three things!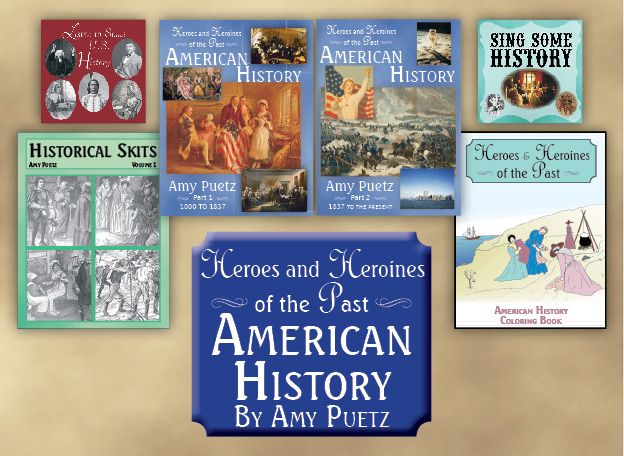 There are 6 components (3 ebooks and 3 audio downloads) in the 36 week Heroes and Heroines of the Past American History curriculum:
Heroes and Heroines of the Past: American History Part 1 ebook -

l

essons for the first half of the year. View the Contents and Introduction. View a sample.
Heroes and Heroines of the Past: American History Part 2 ebook - lessons for the second half of the year.
Additional Material Downloads - this CD contains a variety of supplemental materials. There are printable timelines, instructions and entertaining videos, color artwork, coloring pages, and much more.
Historical Skits ebook - bring history to life by performing historical skits This book has nineteen skits from the time of Columbus to World War II. View the table of contents and sample pages.
Sing Some History CD - listen to some of the songs that are mentioned in the book. There are 20 great songs that will let you experience history. Including: All the Pretty Little Horses, Lavender's Blue, Liberty Song, Chester, Johnny has Gone for a Soldier, Yankee Doodle, Hail Columbia, Tippecanoe and Tyler Too, Oh! Susanna, Missionary Farewell, Henry Clay, Sweet Betsy from Pike, Dixie, and many more. Listen to a sample.
Listen to Some U.S. History MP3 CD - this is an audio collection of 20 original speeches, poems, sermons, and documents that are mentioned in the book. Including: Mayflower Compact, Model of Christian Charity, Sinners in the Hands of an Angry God, On the Method of Grace, To King George on the Repeal of the Stamp Act, and many more. Listen to a sample.
In the front of each ebook is a table of contents that breaks down each section and lesson. Each section contains 5 lessons. In ebook 1 there is a brief 2 page introduction which explains how to use the books. And in the back of the book is a comprehensive index. The curriculum is really easy to use and requires very little preparation. It is also very flexible so you can make any necessary adjustments to fit your family's needs.
For example we mostly explored the Native American and explorer lessons, because that is what my children are interested the most in right now. And since Georgia is celebrating the 150th Anniversary of the Civil War this year we dove into some of those lessons too. For our literature fair project we did The Legend of Sleepy Hallow so the Revolutionary War lesson came in quiet handy for completing the Revolutionary War and Hessian solider information for our board. It was very nice to be able to jump around without worrying that we would be missing details or become confused.
Each lesson is divided into two sections. The first page has larger font and just a basic overview which is great for children in grades 1st-2nd. The next section provides the same information but it is more advanced and geared towards children in 3rd-6th grades. We flip flopped back and forth between the two versions depending on the subject matter. For example my daughter age 8 is really into Native Americans so for those lessons we read the advanced version. And my son age 6 is really into explorers so for those lessons we read the advanced version. If you happen to come across a word that is difficult to understand, Amy has you covered. A definition will be next to the word in parentheses. Lessons generally take 1/2 - 1 hour to complete.
Throughout the ebook you will also come across stories of heroes and heroines from the past. These stories are reprints of old stories by modern day authors and are geared toward children of all ages. Learning about the people who made history is one of our families favorite ways to explore history.
Throughout the text portions there are great black/white and colored photos, maps and diagrams. After each lesson you may find the following: questions, writing topics, geography, hands on activities, timelines, memory verses and literature recommendations. After each section there is also a great list of recommended resources to expand the learning experience even more.
Questions:
There are generally 3-6 questions for most lessons which children can answer to ensure they are retaining the information. All of the answers to these questions as well as other questions (like art examination) can be found in the back of each book.
Writing Topics:
There are 1-2 writing topic recommendations for children. Because neither of my children are very fond of writing we either skipped these or I had my children verbally tell me their thoughts.
Geography:
Scattered throughout there are maps and geography questions which will help children become familiar with the places mentioned in the text.
Timelines:
Included on the additional material downloads file there are several timelines that children can complete as they make their way through history.
Hands on Activities:
This was my children's favorite part, and mine too. All of the recommended activities are tons of fun and hands on. What better way to fully understand what life was like years ago than to experience it. Cooking recipes, singing tunes, listening to famous speeches, playing games from the past, examining historical art, making tepees and even throwing in some fun historical fieldtrips really brings history to life. There are a variety of activities and they certainly don't need to all be completed, but if your children are anything like mine they will want to do them all plus add some of their own activities too.
Memory Verses:
Each week there is a suggested memory verse. It is recommended to write the verse on an index card and recite the verse on the 5th lesson of each section.
Literature Recommendations:
For children in grades 5th-6th there is recommended literature. However these can even be utilized with younger children as read alouds. We reviewed Ten Girls from History last year and my daughter loved the stories.
Ten Great Adventurers by Kate Dickinson Sweetser, Edited by Amy Puetz
Ten Girls from History by Kate Dickinson Sweetser, Edited by Amy Puetz
Heroines of the Past: Bible Study by Amy Puetz
Two Little Americans in Spanish California by Frances Margaret Fox
Jack and Jill by Louisa May Alcott
I found 2 of these on Amazon for FREE and the other on Archive.org for FREE.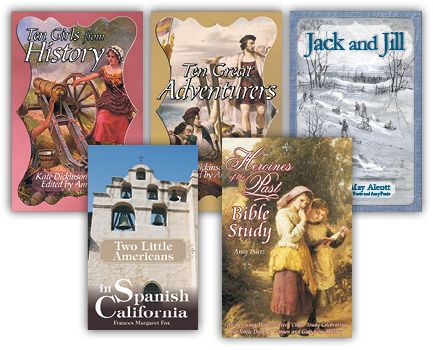 Supplies:
The supplies for the lessons are pretty standard and things you most likely have on hand like, pencils, paper, crayons, play dough, etc. Each activity has a list of supplies needed so you can easily look and plan ahead for the week if you choose.
Recommended Resources:
These resources include books, etc that you can find at your local bookstore or library. Each resource contains the book name, authors name, recommended age and brief description. We checked out a few of the explorer and Native American books at our library and they were fabulous recommendations.
Printing:
I am not generally a fan of ebook materials because I hate printing at home, however this curriculum requires very little printing. The text portions can easily be read on a computer or mobile device. All you really need to print are 1-3 pages of questions or actives for each lesson. And since it is a pdf copy it can easily be utilized with multiple children without copyright issues.
Gwyn (8 yrs old) review:
I loved the history lessons. They were lots of fun and we learned a lot. We made tepees, went on fieldtrips, made yummy things, played with play dough, created timelines and drew on maps. I love learning about Native Amerians and I learned things I didn't know.
Links to follow:
-Golden Prairie Website
-
Golden Prairie
Facebook
Where to buy:
You can purchase the digital version of Heroes & Heroines of the Past: American History on the Golden Prairie Press website for $98.99. The optional literature books are and the coloring book is $9.99.