*This post contains affiliate links. Please see my
Disclosure Page
for details.
Welcome to a New Year of FreeBEEs. Every Friday I will share a great list of educational FreeBEE resources.
PLUS
...there's the added bonus of this being a monthly link up...where you can showcase your freebie posts or discover more amazing freebies from my blogging friends. The blogger link up will start on the first Friday of every month and end on the first day of the following month. Each month there will be a new link up. Link up anything that is educational and FREE including GIVEAWAYS!
Valentine's Day is right around the corner so to help you out with some Valentine's Day learning fun I have compiled a list of FREE (or very inexpensive resources) along with some fun crafts too!
Valentine's Day FreeBEEs:
With all of the upcoming holidays I decided to make my kids a holiday journal page. Be sure to download your
FREE Holiday, Celebration, Festival Journal Page
(you can also click on the photo below).
-
Valentine's Day activity placemats
-
Valentine's Day coloring pages
-
Story of St. Valentine study
-
Valentine's express lapbook ($1.00)
-
100 FREE Valentine's Day worksheets
-
Valentine math worksheets
from A+ Interactive Math
-
Valentine's day measurement math
-
Valentine's day idioms booklet
-
February calendar cards
-
Notebooking Valentine's day
-
Friends and Heroes
has a free music video, plus a couple of downloadable puzzles that highlight the Biblical idea of love and the real story of St. Valentine.
-
Valentine's day book lapbooks
and
chocolate lapbook
from Homeschool Share
-ABC Teach
Valentines Day worksheets
-
What's In The Bible? Printable Valentine cards
.
Valentine Crafts:
My kids wanted to make their close friends some personalized Valentines. So I picked up a bag of foam sparkly hearts at Dollar Tree and here is the craft we came up with.
Buggy Valentines:
Materials:
-Pipe cleaners
-Foam, sparkly hearts
-Wiggle eyes
-Pom poms
-Felt
-Sequins
-Glue
-Scissors
-Magnets
-Construction paper (if you want to make a card too)
What to do:
1) Decide what bug you want to make using your hearts and let your imagination run wild. Use pipe cleaners for antennae, pom poms for heads, etc. My kids came up with butterflies, caterpillars, bees, worms, ladybugs and spiders.
Then the kids also had the great idea to turn their creations into magnets for their friends. They also made some cards out of construction paper. They wrote their fun phrases (see below) on the outside of the card and taped their bugs onto the inside.
You can come up with all sorts of fun phrases like, "I will worm my way into your heart," "I'm buggy about you," "Bee my love bug," "Bee my Valentine," "You are cute as a bug," or for someone you don't want as a Valentine, "You bug me."
For more fun Valentine crafts head over to my friend Joanne's blog!
Videos:
I made this YouTube playlist with several Valentine's Day videos.
eBooks/Audio Books:
-
Valentine's Day! Learn About Valentine's Day and Enjoy Colorful Pictures - Look and Learn! (50+ Photos of Valentine's Day)
-
Valentine's Day Love
- 25 stories and a coloring book
-
Valentine's Day is... The Story of Saint Valentine (Picture Book for Kids)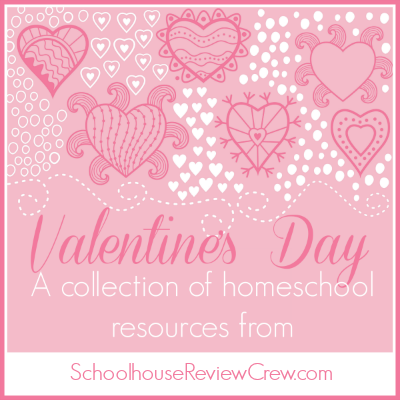 I hope you find these resources useful. If you ever have any questions feel free to leave me a comment or
email me
. Also be sure to follow my
Facebook Page
where I post FreeBEEs daily.
If you have homeschool FreeBEEs to share
please link up at the bottom of this post!
You can copy the button from my right sidebar to share
somewhere on your blog.
Link up:
FreeBEE Fridays
with
Kathy's Cluttered Mind
.
Remember when it comes to FREE resources the internet and a good search engine are your best friend. Oh and a library card!