*This post contains affiliate links. Please see my
Disclosure Page
for details.

Greene Bark Press, Inc
is a family owned publishing company that was established in Connecticut in 1991. Their home office is in Allentown, PA, right near where I was born and raised...how cool is that? The company only publishes books that they feel are original, colorful, imaginative and add to the growth and learning process of children. They also sell other products from publishers and manufactures who have similar publishing or manufacturing philosophies and whose materials are compliment the Greene Bark Press list of published titles. You can expect to find brands like Melissa & Doug, International Playthings, WJ Fantasy etc.
A moms review:
We received an adorable board book called
Look Left, Look Right, Look Left Again from
Greene Bark Press
. This book definitely met the Greene Bark publishing requirements. It was colorful had imaginative characters and taught some very important lessons.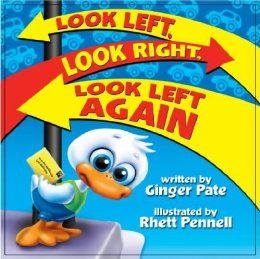 The kids wanted me to read the book to them immediately after opening the package...which I did. Since receiving the book about 5 weeks ago we have read it several times and have been able to utilize it for our lessons on safety.
The book is made out of very sturdy cardboard and is 7 in. x 7 in.. There are 25 pages with bold easy to read text and adorable, brightly colored illustrations. The book uses fun rhyming verses throughout to help children remember the safety rules for crossing the street. Like, "Look left, look right, make sure the trucks are out of sight." The book is recommended for children ages 3-8 which is definitely an appropriate age recommendation. I do think little ones however would enjoy it as well....just don't let them eat the book! The book is writeen by Ginger Pate and illustrated by Rhett Ransom Pennell.
Synopsis:
When Wally Waddlewater wants to find a mailbox to mail a birthday card to his Grandmother, he has to learn how to cross the busy streets of his town as well as the rules for crossing streets safely.
How we used the book:
This book was perfect for our family since we live in the suburbs of the very busy, hustling and bustling city of Atlanta. We are always out exploring our amazing city and street safety is something we feel strongly about. At least once a week we hear in the news about an adult or child that has been hit by a car while trying to cross a street. We not only have busy streets but we also have active railroad tracks, which is another topic discussed in the book.
As I mentioned above we read the book several times over the last few weeks. It only took me reading it one time for them to catch onto the key phrase used throughout which is of course, "look left, look right, look left again." The second time I read the book I would pause and let the children complete the phrase. About the 4th time I read the book my daughter decided she wanted to try to read some of the pages. She is 7 and working very hard this year on her reading skills. The repetitive words and rhyming writing style is perfect for beginning readers. Both kids loved the book and it is one that we will definitely be reading a few more times.
We learned a lot about street safety in the
Look Left, Look Right, Look Left Again
book. Then we reinforced what we learned through some fun hands on activities and practiced in real life situations.
The book helped strengthen the kids LEFT vs RIGHT skills as well.
Street Safety Signs:
First we made some fun street safety signs. The kids each choose what traffic signs they wanted to make afterwards we discussed the signs and what each of them meant to pedestrians.
Materials:
-Construction paper
-Glue
-Scissors
-Markers
-Glitter optional

What to do:
Have your child determine which sign they would like to make. Gwyn made a yield sign and Rowyn made a street light. Next show your child a picture of the sign so they can determine what paper color then need. Next have them cut out the correct shape (s) for their sign and right the correct word if
necessary
on their sign.
Lego Town:
Next we built a Lego town and practiced crossing the street with our mini figs.
Gwyn (7 yrs old) and Rowyns review (6 yrs old):
This video pretty much sums up what the kids though about the book and how much fun they had using it for our safety lessons.