*This post contains affiliate links. Please see my
Disclosure Page
for details.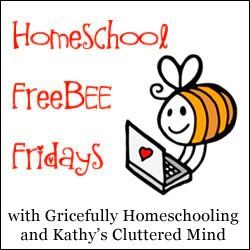 If you have homeschool FreeBEEs to share
please link up at the bottom of this post!
You can copy the button from my side bar.
Each month Jen, from
Gricefully Homeschooling
,
and I host a freebie link up called Homeschool FreeBEE Fridays.
The blogger link up will start on the first day of every month and end on the first day of the following month. Each month there will be a new link up.
Check back next Friday for an amazing, limited time, special freebie from on of our
Homeschool FreeBEE Friday Sponsors
. View all my FreeBEE posts
here
!
FreeBEEs:
Are you addicted to educational posters? Or is it just me that has an addiction? Our schoolroom is covered in educational posters. I find that having visually stunning educational posters on our wall's is great for my visual learners. The posters help reinforce and teach various concepts we are learning about. They are also good reminders about character, manners, chores, etc! You can even use posters to play educational games. And if you are really creative you and your children can even make your own posters! I know first hand that posters work because I have seen my children's attention being grabbed by our posters many times.
Did you know that almost 65% of people are visual learners? Read more
here
about why posters are so great!
Here are 10 websites that have FREE posters:
1)
Free downloadable
days of the weeks posters
- be sure to check out all the other free fun resources on this website.
2)
282 free classroom posters
.
3)
Free 9 x 13 posters
(just pay shipping 87 cents - $1.38) - there are all kinds of posters on this website including science, health, history, reading, motivational, etc.
4)
Free downloadable posters
- there are some good character reminder posters on here.
5)
Free inspirational posters
.
6)
Teachers Pay Teachers
free posters for all subjects.
7)
Currclick
-
there are lots of great posters just sort by price to view the free ones (there are also many for only $1-$2)
8)
Fun
math posters
9)
I Crave Freebies
shares free posters all the time. I love the spider one that was just posted (it's a great one to have posted for the summertime).
10)
Free
printable posters for homeschoolers
.