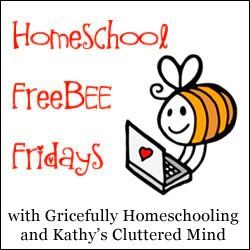 I have another great FreeBEE to share with you this month + another giveaway. Have you heard of
FreePianoLessons4Kids.com
? Piano lessons can be very expensive and time consuming for busy homeschool moms (driving to and from lessons, etc). So why not start learning for FREE from an actual music teacher from the comfort of your own home? I had tried learning the piano at an early age but became bored. My teacher wasn't very engaging and I felt I was only learning music history (composers, etc) and theory and not really learning how to play the piano.
FreePianoLessons4Kids.com teaches how to play while teaching about theory, etc at the same time...plus the videos are very engaging. Don't worry if you don't have a piano a keyboard can easily be used as well.
So what does this site offer?
FreePianoLessons4Kids.com
offers

FREE

video lessons on their website. YES

100% FREE

...there are no catches. I previewed a few of the lessons and they are fabulous and great for kids of all ages and even adults. The lessons are fairly short and there are 53 in all.
Some of the lessons include.
ANYONE who wants to learn how to play the piano (Perfect for beginners--no prior experience or musical training is required!)
A parent and child wanting to take piano lessons together
A piano student who already has a teacher who wants to supplement his or her learning
Piano teachers who want to learn new tools and techniques for teaching piano to beginners
Besides learning to play the piano you will also learn correct play technique, posture and hand position; how to read and write notes on the grand staff (treble clef and bass clef); how to read, write and perform rhythms; basic music theory including chords, key signatures; and more!!!!
If you wish to download the additional activity pages, sheet music, practice instructions and an mp3 listening album which corresponds to the lessons there is an additional charge for these. I had a chance to review these as well and they are both fabulous resources. Right now the complete download materials for lessons 1-41 (64 pgs) and the listening album w/parent's guide are on
SALE
for
ONLY $19.00
order
here
.
About

FreePianoLessons4Kids: www.FreePianoLessons4Kids.com

was launched 3 years ago by pianist and veteran music teacher Joseph Hoffman (MM), as a way to make quality

piano

instruction available and affordable for anyone. Concerned that too many kids were missing out on music lessons because of tough economic circumstances, Joseph decided to offer his lessons online for free.

Our site now has 50 lessons live, with

over 1 million

total lesson views. The lessons are geared for ages 5 to 10, but I've also heard from many adults and teens who enjoy using them. The lessons are simple and fun, yet also thorough, covering all aspects of a solid musical training, from square one—no prior musical experience is required.
N
ow time for the giveaway:
www.FreePianoLessons4Kids.com has graciously offered to giveaway 3 copies of the Materials for Lessons 1-41 w/the Listening Album (downloads).
Only the first entry is mandatory. Other entries are optional and give you extra chances. This giveaway is not affiliated with Facebook in any way. The winners will be posted on the blog and will be emailed. Winners must reply within 48 hrs with their contact information or another winner will be chosen. Prize will be emailed to the winner by Free Piano Lessons 4 Kids.
Please wait a moment for Rafflecopter to load.....