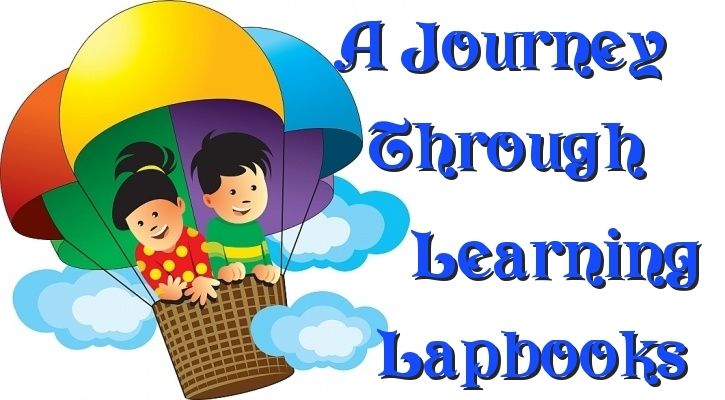 A Journey Through Learning
is a lapbook company that was created by two homeschooling moms Nancy and Paula about 5 years ago. What started as a Christmas dinner discussion soon turned into a thriving business. A Journey Through Learning creates stand-alone lapbooks for various topics, and they also make professional quality lapbooks for well-known programs such as Jeannie Fulbright/Apologia science, TruthQuest History, Classical Conversations, Geography Matters, Founders Academy and more (all with the permission of each publisher). A Journey Through Learning has something for every age!!!
"Scrapbooking with and educational twist!"
A moms review:
We received 3 great downloadable lapbooks and 1 unit study from A Journey Through Learning,
Letters, Numbers and Shapes
(ages 3-5),
The Earth
(grades 1-4),
Knights and Castles
(grades 2-7),
Astronomy and Space
(grades 2-7) to review. We were able to utilize 2 of the 4 products so far, The Earth and Knights and Castles. It just so happened that our March unit study was going to be weather and knights, princesses and castles so I was thrilled once again that TOS Crew review products fell right in line with our plans.
We have used A Journey Through Learning products in the past and have even reviewed them...be sure to read our review on the
Preschool File Folder Games
. But since I never tire of mentioning them on my blog I of course I jumped at the opportunity to share more about their fabulous supplemental products.
If you have no clue how to complete a lapbook that's fine A Journey Through Learning has several instructional
videos
that will help you. The lapbooks are very versatile. They are a great compliment to
any
curriculum and there is something for every age. The lapbooks are available in downloadable, CD or printed format...you can even purchase them pre-assembled. On each of the product pages there is a
sample
that you can view. As you will see on the sample page below many parts of the lapbooks are in color however I chose to print our lapbooks in black and white because the kids like coloring the pictures.
All the
A Journey Through Learning
lapbooks include everything you need: lapbook instructions, lapbook pieces with directions, study guides and book recommendations. There are also optional use enrichment pages that may include a book log, a biography book report page, NICK note taking page, narration forms, crafts, questions, poems, songs and more. As with any of our unit studies I always tend to go above and beyond with our extra resources and add in extra books, movies as well as videos from YouTube.
I had encouraged the kids to complete these the recommended way, utilizing a file folder... however they prefer to do our lapbooks in binders and that is what they choose to do this time around yet again. But don't worry many of the other
TOS Crew members
will have photos of completed lapbooks utilizing file folders so you can see the recommended method...as well as our alternative method utilizing a binder. For the binder method I 3 hole punch card stock and place it in the binder. Then we glue or tape the various lapbook pieces onto the card stock. I also 3 hole punch the study guides and place them in the back of the binder. The kids then each draw covers (one for the front and one for the back) for the binder. Many times we have a few other worksheets, notebooking pages, drawings etc that we may do with our lapbook/unit study and those will get 3 hole punched and placed into the binder as well. There are also instructions on how to store your completed lapbooks in a binder in each lapbook pack as well.
We currently complete our lapbooks as a family...however I see that changing very soon since both of the kids are going in opposite directions with their interests. When we work on our lapbooks my 5 1/2 and 7 yr old take turns cutting the pieces, writing and coloring. Most of the time my kids don't mind writing on the lapbook pieces but if they do I will let them draw pictures or dictate to me while I write. Doing the lapbooks together as a family works very well for us and we all have fun learning together!
Lapbooking and unit studies are our primary curriculum. Pretty much every subject can be covered in one lapbook/unit study. Because we follow a delight directed learning style the kids pick their interests and I find them the resources. I have several favorite companies and A Journey Through Learning is definitely one of them. Their products are reasonably priced, often have a Christian perspective and include everything you need (well expect for the crayons, scissors, glue and file folder).
Below I will describe each of these great lapbooks in further detail: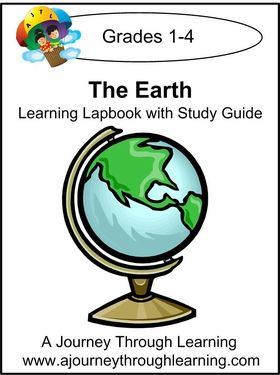 This lapbook and study guide is 42 pages of terrific information about the Earth. Children will learn about what the Earth is made of, the Earth's crust, volcanoes, rocks, land forms seasons, parts of the Earth and much more. My kids had a blast with this unit. Below in the photo is picture of several of the supplemental books we used. We also used videos on YouTube here are the links to our
Earth YouTube Channel
and
Weather YouTube Channel
.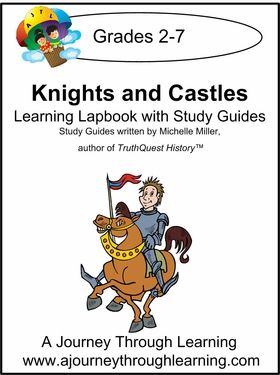 This lapbook with study guides is 51 pages and will have you and your kids traveling back in time to the Middle Ages. The included study guide is written by Michelle Miller author of the TruthQuest History program and is written from a Christian perspective. Children will learn about the fall of Rome, the Middle Ages and of course knights, castles, peasants and more. Below in the photo is picture of several of the supplemental books we used. We also used videos on YouTube here are the links to our
Medieval History YouTube channel
. My son had so much fun with this lapbook he insisted on wearing his knight gear while working on it.
Free/cheap resources:
-Sign up for the
A Journey Through Learning newsletter
and get a
FREE
lapbook.
-There are several great
FREEBIES
right now on the
A Journey Through Learning FREEBIE page
including St. Patrick's, Easter, Chinese New Year, Valentines Day and Presidents Day.
-These
$1.00 lapbooks
are some of our favorites.
-There are also some great April $5 deals
Horse lapbook
,
Spring lapbook
,
Resurrection lapbook
Gwyns review (7 yrs old):
Both of these lapbooks were lots of fun. I like to color and write on the little pieces. I also like drawing the front cover for our lapbook. We are working on another one on Australia too right now for our geography fair project. I like to pick the topic we study. The knights one was our favorite.
Links to follow:
-
A Journey Through Learning
Website
-
A Journey Through Learning
Facebook page
-
A Journey Through Learning
Twitter
Where to buy:
You can purchase
A Journey Through Learning
lapbooks on directly from their website. Pre-printed are $20 and
downloadable
are $13. A Journey Through Learning however does run specials each month so be sure to check their monthly $5 special page.
**SPECIAL: For April you can use the A Journey Through Learning coupon code

5off

to save $5 off your purchase of $25 or more.**

Click here for more A Journey Through Learning
reviews from the
The Schoolhouse Review Crew
.