TouchMath
is a multisensory math program that was created by Janet Bullock and has been around for over 30 years. TouchMath is a complete supplemental curriculum that teaches counting, addition, subtraction, multiplication, division, story problems, time, money and fractions. TouchMath makes homeschool programs for Pre-K through 2nd grade.
A moms review:
My son was my primary reviewer for once. Normally his sister is my
guinea pig
reviewer. My son is 5 1/2 and in Kindergarten this year. We have gone almost 2 years without a specific math curriculum for Rowyn, primarily because we haven't found one that worked well with his very tactile learning style as well as his love for the computer (oh and his stubbornness). Well I am happy to announce that
TouchMath's
Kindergarten Homeschool
curriculum is the perfect fit for him. We received all 4 Kindergarten units as well as lots of great manipulative's. Below is a breakdown of each component, how we used them, our thoughts as well as lots of photos.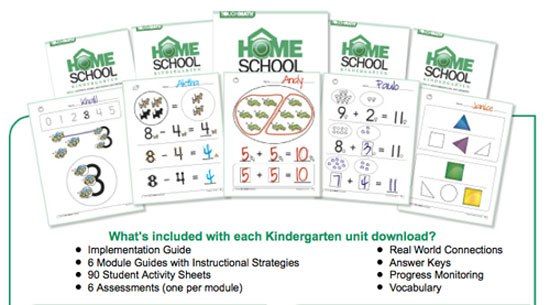 Kindergarten Homeschool Units:
There are several parts to each
Kindergarten Unit download
and there are a total of 4 Units (A-D). We received all 4 units and have made it through most of Unit A.
Units:
Implementation Guide
6 Module Guides with Instructional Strategies
90 Student Activity Sheets
6 Assessments (1 per module)
Real World Connections
Answer Keys
Progress Monitoring
Vocabulary
Each Unit is laid out pretty much the same however different concepts will be addressed. You can read more about what each Unit covers on the
TouchMath website
because there is just too much to list out here.
Unit Modules:
I loved how simple and easy to use the TouchMath program is. I was able to get my son started immediately after receiving the package because there is little preparation involved. Everything in the Units is very organized and nicely laid out. Printing was probably the most time consuming and I have just been printing a UnitModule at a time. We 3 hole punch our Modules and keep them in a binder.
Module Overview - this includes an overview of the content, the common core state standard info, objectives, prerequisites, vocabulary and materials. This is only one page (simple right)!
Instructional Strategies for Student Activity Sheets - There are about 15 worksheets for each Module. For each worksheet there is a parent instructional strategies page which has a short paragraph explaining how to have your child complete the worksheet. There is also an anticipatory set and suggested pre-activities page as well. All of the worksheets are very fun and engaging. My son generally does not like to color or write and quite frankly doesn't care much for worksheets so I was very delighted that he wanted to do 3-4 of them a day. Many of the worksheets recommend the use of some sort of manipulative (including sand, counters, etc). After a few worksheets there is a review worksheet so you can make sure your child doesn't need further practice before advancing. I really love how many of the worksheets incorporate other subjects as well like science, etc.
Module Review - This is an overall review for all of the worksheets in the module. There are dialogue suggestions as well as a post test worksheet.
Module Closure - This page has great suggestions for parents on how they help their child make "Real World Connections." This was definitely one of my favorite sections because I love incorporating all or our learning into real world, everyday life. Things always make more sense to the kids when they can apply what they have learned to real situations, events, etc. And again it helped my very tactile son apply what he has learned in a way that he learns best.
Progress Monitory Record - This is a very simple tracking chart which makes keeping track of your child's progress super easy.
Manipulatives:
The
Kindergarten Unit download
is the heart of the program...but there are some great manipulatives that TouchMath makes that I NEED to tell you about. I had a special opportunity to review ALL of the recommended manipulatives for the Kindergarten homeschool program. These hands-on manipulatives and software components complete the homeschool program and help enhance the teaching and learning experience. As an added bonus I was able to utilize the manipulatives with my daughter too. These manipulatives are so much fun...I must admit even I had fun playing with some of them.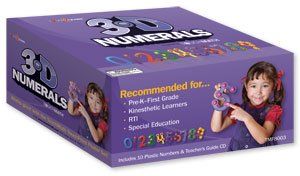 Below is a breakdown of each of the manipulatives and how we utilized them. The manipulatives are recommended throughout the program and do compliment it very nicely but are not required. Throughout the various modules they will indicate which ones to use with the various worksheets. An informative booklet, CD or flyer comes with each manipluative and provides additional ways you can utilize them with your children.
TouchShapes - These super sturdy plastic shapes go along great with Unit A Module. There are 108 brightly colored, multi-sized shapes. My son would match up the appropriate shapes on the various worksheets. We also used the shapes for counting, naming/spelling colors, making patterns, naming shapes, making pictures and more.
TouchMath Tutor Kindergarten Software (check out the great videos by clicking the link) - The software complements the download product and is supposed to be used I believe around Unit B which is when the TouchPoints are introduced. There are 2 disks and they can be installed on Windows or Mac computers. However my son saw a computer disk and wouldn't stop bugging me so I installed it and he immediately picked up the TouchPoint concept and fell in love. The software is fun and interactive and teaches the TouchPoint method of learning numbers. This method helps students master basic math concepts. The software is very educational and also incorporates some geography learning as well. UnoBear the character for the program helps and guides students throughout the program and encourages them as well. The program is very easy to use and my 5 yr old had no problem navigating on his own. Various topics are included such as adding, patterns, number concepts, backward counting and subtraction. There are also pre- and post-tests which are scored and recorded. This is definitely a hit with my son and he would spend hours on it if I let him.
Math Fans - WOW these are probably my favorite manipulative and one that I used with my daughter quite a bit. This manipulative helps with basic math concepts. They are great for visual and tactile learners and have great graphics, words and numbers on them. There is a great CD (pictured above) that comes with the Math Fans which has lesson plans for Pre-K-3rd as well as higher grades as well. These really helped my daughter with counting, adding and subtracting, and number order. They are also helpful for learning fractions, place value, money, shapes and more. Included are:

Two sets of 1–10 Fans,

Ten 10 Blocks,

One 100 Block,

A comprehensive CD containing an 80-page PDF with Teaching Strategies, Lesson Plans, and Student Worksheets.
3-D Numerals - These 3-D brightly colored plastic numbers were a hit with both kids. They are about 6 inches and are perfect for little hands. These numbers helped both of my kids out tremendously. We used them for counting, number identification and more. The really helped my daughter (age 7) with her two digit numbers (which she is struggling with). Included are numbers 0-9, a nice sturdy storage box and a CD (pictured above) which has an activity booklet and reproducible masters and lots of ideas.
Texture Cards - Okay we LOVED these too. These are fabulous for tactile/kinesthetic learners. I would often catch my son just playing with these cards during his free time. We used these for many of the same activities as the 3-D numerals, counting, number identification, etc. We also used them as spelling cards for my daughter The fuzzy forest animals are my personal favorite. My daughter liked the sea life ones and my son liked the shapes. These are very sturdy thin cardboard cards. There are 5 sets (45 cards). Each card has its own theme and texture: shapes, fruit, forest animals, sea life and TouchPoints. There are numerals 1-9. The back of the cars has the numeral with TouchPoints and touching/counting patterns.
Number Concept Posters - These nifty 0-9 numeral posters hang in the hallway just outside the schoolroom. They are 11" x 17" and brightly colored (I do recommend laminating them). There are balloon TouchPoints, standard TouchPoints and visual cues on the numeral on each poster to help children learn and practice their touching/counting. We pretty much just use these as a constant visual reminder. I love hanging educational posters on our walls it's a great way for the kids to learn without them even realizing they are learning (shhh don't tell them). The kids also have fun tracing the numbers and counting the balloons. On the backside are black and white activity masters which can be reproduced and used to reinforce concepts. The posters come with instructions and recommended activities as well.
TouchPoint Posters - These cardstock posters are smaller than the ones above and are 8 1/2" x 11". They are also very colorful and have the numerals 0-9 with TouchPoints. We keep these in our binder and have used them for many things. My son uses them the most with the software however we have also used them to play the number hunt game (which is a game I made up). They are also great for reviewing TouchPoints, counting, reading numerals and more. There are suggestions for activities included with these as well.
My sons math day:
TouchMath recommends that you spend 4-5 days a week utilizing the program and that you spend two-and-a-half times the age of the child per day doing the lessons. So for my son (age 5) the recommended time for the sessions per day was 10-12 minutes. Well he enjoyed it so much that most days we did more than that.
Generally he would start the day off with the computer program. He would do the educational computer games for about 10 minutes. Next we would work on about 2-3 worksheets. And to end our lesson he would work a little with the manipulatives. You know me I love making games out of everything so we would make up fun games with the manipulatives (like the ones I mentioned above). Each day we spent about 1/2 hour doing math his math lesson. He literally begs to do math now.
FREE stuff:
Be sure to visit the
TouchMath website
for F
REE
samples pages, educator materials and some fun worksheets and games.
Wrap up:
This is a great program for all learning styles...but it's especially great for tactile/
kinesthetic
learners. It is definitely a great program for children with special needs. The prices are indicated below and they may seem very high to some however keep in mind that you don't need the manipulatives. Also if you have multiple children in the lower grade levels you only need to purchase it once and the manipulatives can defiantly be used with children of all ages. They can also be used along side other math curriculum's. I highly suggest the 3-D Numerals, Texture Cards and Math Fans if you can only choose some of the manipulatives. I found these to be the most versatile, beneficial and favorites for our family. We will continue to use the program as my sons math curriculum and the manipulatives will continue to be well loved for many years to come. Please be sure to visit the
TouchMath
website to read up more on each product. There is so much to say about this product and I just cannot type it all. If you have any questions please let me know.
Rowyns review (5 yrs old):
I love my new math. It is fun. I like to use my number cards (texture cards) and hard numbers (3-D Numerals). We play games with mommy using our numbers. I like my worksheets they are fun and neat.
Links to follow:
-
TouchMath
Website
-TouchMath Facebook page
-
TouchMath
Twitter
Where to buy:
All 4 Units cost $199.95 and can be purchased directly off of the
TouchMath website
. If you wish to purchase the Units separately they are $59.95. The manipulatives vary in price and are as follows: Touch Math Shapes $30.00, TouchMath Software $99.00, Math Fans $239.00, 3-D Numerals $79.00, Touch Point Posters $43.00, Texture Cards $99.00, Concept Posters $53.00.
Click here for more Touch Math
reviews from the
The Schoolhouse Review Crew
.
*Disclaimer - As part of the TOS Review Crew I received the entire Touch Math Kindergarten program in return for my honest review. Please note that prices indicated in the post are subject to change. I was not compensated for my review and all opinions are our own! Many of the links found on my side bars and in my blog posts are affiliate links. As a result, I might get paid money and I will most likely spend the money on homeschool supplies. I am disclosing this in accordance with the FTC Regulations.