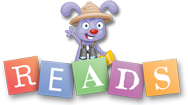 EGM Educational Systems, LLC was developed by
Elaine Meyers, a certified reading specialist in a suburban Philadelphia school district. READS stands for "Really Easy and Dynamic Strategies." The READS program is NOT just for homeschool parents it is also for parents with public/private school children. The website states, "The READS system helps work with your child to improve reading comprehension skills efficiently and painlessly."
A moms review:
The product we
received
was
READS Parent/Child Reading Comprehension System
. This supplemental reading system will work with any reading material and any curriculum. It is designed for children in 1st through 4th grade however even my kindergartner benefited from it. It can be used with readers who are above or below grade level. We used the READS system throughout the week with our various read alouds and Gwyns (age 7) reading books. It is also important to note the READS system also conforms to the
Common Core State Standards
.
READS has several components (see photo below). Each kit comes with the READS manual, question cards & ring, reward chart & stickers, magic finger & reading strip guide, seedy speller and storage pouch.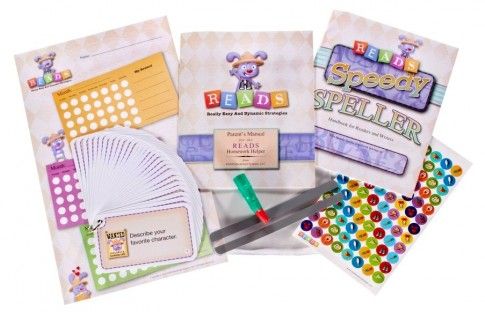 How we used each component:
As I mentioned above this is a supplemental program designed to help any parent encourage and improve your children's reading skills. The parent manual explains how to utilize the program but as with any product we review we always come up with a few extra ways to utilize it and this product was no exception. Below is information on how we utilized each component.
30 Question Cards - we utilized these with the books Gwyn is reading as well as our read alouds. These cards are a great way to help children with their reading comprehension skills and critical thinking skills. And they also help children build their communication skills with their parents. I utilized these cards with both of my children, even my 5 yr old enjoyed answering the questions and giving his input. They can be used with fiction, non-fiction and even magazine articles and science books (though the latter two may require some guidance). But we utilized them one other way as well...fieldtrips. Sometimes I get tired of asking the same questions after fieldtrips, "so what did you learn or what was your favorite part?" These discussion cards solved my problem. They have to be reworded a little bit to use them for fieldtrips but they really help me communicate better with my children and discuss our fun learning adventures in more detail. On each card there is an adorable picture of Henry Hopper. The picture is a visual clue to assist children with understanding the question.
Card Examples:
In parenthesis I included what I substituted for fieldtrips.
"What question would you like to ask the author (or museum director)."
"Describe your favorite character (in the painting/sculpture)."
"Would you recommend this book (or fieldtrip) to a friend? Give a reason."
"What did this story (painting/sculpture/artifact/flower) make you wonder about?"

Parents Manual - the 16 page manual includes information about READS, how to use READS, how to use the homework helper questions cards, how to use reading helpers, reward suggestions and a glossary. It is a quick read and only took me about 1/2 hr to get through it. The manual even provides parents with great information on how your children may respond to each question card and how you can better assist your children if they are struggling with the cards.
Reward Chart
- this fun colorful reward chart makes reading fun and rewarding for children. We hung ours right outside the schoolroom door so it was easily accessible. I would let Gwyn pick her weekly rewards which included things like pick out something from the dollar store, watch a movie and have popcorn, get a special ice cream, earn a n extra dollar allowance, etc.
Magic Finger/reading strip guide
- the magic finger was quite a hit with both of my kids. Gwyn happens to use reading rulers on and off to help her with tracking so she was super excited to use fun "witch" magic finger to help her track her words. The magic finger may have been used for dress up play as well, lol. "Come here my pretty and take a bite of this apple." Both of these devices help children with staying focused and tracking.
Our magic finger spell:
Alakazam, Whippity Wham I have a silly finger on my hand. It helps me read, it keeps me smart. And the more that I read, the more stickers I can add to my chart.
Speedy Speller
- the Speedy Speller is a 32 page booklet with over 1,400 common words. Also included are abbreviations, numbers, symbols, punctuation, days of the week and more. This booklet is helpful for both readers and writers. We haven't utilized this a lot yet as a writing resource since Gwyn mostly does copy work stuff right now but I can see this being very helpful in the near future. We did use it as a reading resource though and a few times a week Gwyn would go through and read various words and practice spelling them. We would also go over they types of punctuation and she would explain how and why they are each used. There are blank spaces on each page where children can add their own words if they are not already listed that way the speedy speller grows with your child. The speedy speller is a great way to help build independence.
I found this video to be very helpful in determining if the READS system was for us. The READS program will not only assist children with reading but it will also greatly assist parents with effectively helping their children.
Helpful tips on website for reluctant readers as well as valuable links. The downloadable "white paper" is also a valuable resource. Blog
Wrap Up:
This is a great resource for
ALL
parents, all learning styles and all elementary age children! It's a helpful supplement which can be utilized with any curriculum. The program only costs $19.95 so it's very affordable as well.
Gwyns review (6 yrs old):
I like the discussion cards we even used them on fieldtrips. We played and read with the silly magic finger. I got lots of rewards for reading. I am can read all by myself now.
Links to follow:
-
EGM Educational Systems
Website
-
EGM Educational Systems
Facebook page
-
EGM Educational Systems
Twitter

Where to buy:
You can purchase the
READS Parent/Child Reading Comprehension System
for $19.95 and it includes READ's manual, question cards & ring, reward chart & stickers, magic finger & reading strip guide, seedy speller and storage pouch.
Click here for more EGM Educational Systems

reviews from the

The Schoolhouse Review Crew

.

*Disclaimer - As part of the TOS Review Crew I received the

READS Parent/Child Reading Comprehension System

in return for my honest review. Please note that prices indicated in the post are subject to change. I was not compensated for my review and all opinions are our own! Many of the links found on my side bars and in my blog posts are affiliate links. As a result, I might get paid money and I will most likely spend the money on homeschool supplies. I am disclosing this in accordance with the FTC Regulations.