The Handwriting Without Tears product line has been around since 2008 but the Jan Olsen began implementing the program with her son 30 years prior. Handwriting Without Tears is the leader in handwriting curriculum that is easy-to-learn, easy-to-teach, developmentally appropriate and inclusive to elementary students.
From the Handwriting Without Tears website, "At Handwriting Without Tears, our mission is to make learning and teaching easy and fun by providing superior educational products, training, and materials to educators and parents."
A moms review:
We had the privileged of reviewing the
2nd Grade Printing Power Plus
program which includes the Printing Power and Kick Start Cursive workbooks as well as the teacher's guide. Handwriting With Out Tears is a multi-sensory handwriting curriculum so it's great for all learning styles (visual, tactile, auditory and kinesthetic). It is also great for both righties and lefties.
When we first started homeschooling in 2011 my daughter would literally end up in tears when it was time to write. But over the last year she has gotten a little better and doesn't seem to dread it as much, however she does have some issues when it comes to printing her letters. Her issues mostly have to do with reversals, spacing and sizing. So when I found out I had an opportunity to review
Handwriting Without Tears
I jumped at the chance. I had heard so much about this curriculum and wanted to see for myself if it would help my daughter. Last year Gwyn asked to learn cursive, because it was prettier, I was very skeptical that she was ready. So I was even more excited to find out that the Printing Power Plus program included a the Kick Start Cursive workbook.
Well I am happy to report that it the HWT curriculum has greatly helped my daughter. She doesn't dread the short 15 minute lessons, loves doing the workbook and was excited she could start learning cursive.
Over the past few weeks we have been using Handwriting Without Tears about 3-4 times a week. We generally do one-two lessons in the Printing book and one lesson in the Cursive book. I was afraid she would get confused working out of both but I wanted to share my thoughts on both so I thought I would give it a try. So far she has been fine with utilizing both workbooks so we will probably continue to do so.
My daughter is actually in first grade but based upon what I read on the website I decided she would be fine with the 2nd grade (and we wanted to try out the cursive which doesn't come with the 1st grade). After a few lessons I gave her the
FREE
HWT screener
test to actually see where she placed. The screener helped me figure out what we needed to work on a little more before proceeding further. She did score below in some areas which was what I expected because of her reversal and spacing issues.
I think it is wonderful that HWT provides this FREE screener test to everyone. It will help you figure out your child's weakness no matter what curriculum you use and it will help you track the progress they are making as well. It is the perfect way to determine whether or not the curriculum you are using is actually working for your child.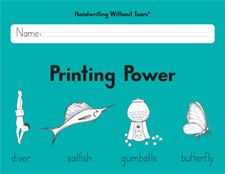 The workbooks:
As mentioned above my daughter loves the workbooks. I love how items are explained using stories, props, etc. Like Frog Jump Letters and Magic C letters with Magic C Bunny (see a pict of Magic C Bunny below). The letters are not introduced alphabetically instead they are taught in a developmental teaching order which is the easiest way for children to learn. First the easiest skills are taught. Capitals are taught before lowercase letters and all letters are taught in small groups which have similar formations.
The Printing Power workbook is 94 pages and includes lots of different activities like letter, words, sentences and number writing practice. There are fun, basic illustrations on many of the pages which children can color or draw on, but at the same time there are not too many which could lead to distractions. Many of the illustrations are arranged in such a manner as well to help promote left to right directionality. One of my favorite things though about the workbook is the cross curricular connections. Whenever possible HWT will place appropriate topics and skills into the handwriting practice pages. For example in the 2nd grade workbook (near then end of the book) grammar, feelings, art, science, Spanish and more are worked into the handwriting practice.
The Kick Start Cursive workbook is 32 pages and mostly contains an introduction writing cursive letters. There is some word and name practice as well. The kick start cursive lessons can be found on the, Click Away section of the HWT website (explained further below).
Teachers guide:
I love this very thorough 190 page teachers guide. The first 21 pages are filled with valuable information on how to use the teachers guide and lessons. The last 25 pages include resources. It took me about 1 hour to read through all the information.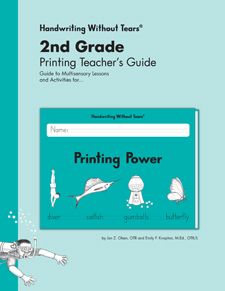 There is way too much information to tell you about everything so I will quickly describe how the lesson plans are set up as well as some of the recommended activities. In the back of the book is a recommended 36 lesson plan (see photo below on the left). I utilized this pla
n very closely and simply checked off the days we completed.

There is a notes section as well

, perfect for keeping track of we

ak areas, etc

.
Lesson layout:
The lessons are very short and only took us about 15 minutes a day. Each lesson is broken down much the same (see photo above on the right) and there are two types of lesson plan layouts.
1) There are
Activity Design
lessons which are set up like this: At the top of the page there is an explanation of the activity and the purpose. Underneath is a green shaded area labeled,
Activity
. In this section you will find the main activity listed and explained in easy to follow steps. Under the green shaded box is,
More to Learn
. This section tells you ways to extend the learning. To the left of the green shaded box you will find three sections:
Materials, Grouping and Support/ELL
.
Materials
explains what supplies are needed for the lesson. You may also find the "A Click Away Smiley Face" which tells you that there are additional resources online.
Grouping
will be utilized more in a public school environment and didn't really apply to homeschool use.
Support/ELL
has suggestions for modifying or reinforcing the activity. At the very bottom of the you will find the
Connections
section. This section helps you connect the activity to another subject, technology or a home link (again mostly utilized in a public school environment).
2) And there are
Active Teaching
lessons which are set up like this: At the top of the page there is a lesson heading which indicates the letter you will be working on as well as language for teaching the letters. Then there is a photo of the corresponding workbook page. Next is a green shaded area which features the
Lesson Plan
.There are 3 simple steps in the
Lesson Plan
, demonstrate & copy letters, demonstrate & copy words and check & evaluate. It is also recommended that you then
Read and Discuss
the words and/or sentences together. Under the green shaded area you will find the same sections indicated above:
More to Learn, Support/ELL and Connections.
Activities:
Various activities are utilized in many of the lessons and generally on Mondays it is recommended that you let your child pick their favorite activity. This was probably my children's favorite day and it was a great way for my 5 yr old son to get involved as well. Activities include:
-Teaching with Technology
-The Hand Activity
-Air Writing
-My Teacher Writes
- Laser Letters - This was my childrens favorite activity. They actually beg to play this game. It is so simple and super fun and educational. And all it cost me was $3.00 (thanks to the clearance section at Petsmart) and 1 sheet of paper for the smiley face.
-Letter Stories
-Rock, Rap, Tap & Learn CD - My kids loved the CD (explained more below).
-Diver Letters' School
-Voices
Resources on HWT website:
Another thing I love about Handwriting Without Tears is all the extra resources they have available. Throughout the teachers guide there are references to these various items and one of them does require a special code to access which is located on the back of your teachers guide
Videos
- There are lots of great videos. My kids really enjoyed watching the song videos.
Click Away
- This section requires the special code. In Click Away you will find grade-specific downloads, home link activities, practice pages, handwriting all year activities, more video lessons, remediation guidelines and strategies techniques.
Digital Teaching Tools
- Create your own worksheets and utilize the activity board (this requires an extra fee but there is a FREE two week trial). This is a fabulous resource and does cost a small additional fee of $24.95 year. I utilized it for a couple of weeks and am debating on whether or not to purchase it. I really liked the worksheet creator but most of all I liked the activity board which can be used with a computer (or any devise with Flash capability) or an interactive whiteboard. The activity board is great for visual learners. I specifically utilized this feature with my son who loves the computer and is a very visual/tactile learner There is a
FREE
version of the
A+ Worksheet Maker
which has lots of features but has some limitations as well.
Additional materials?
Handwriting Without Tears makes several additional hands on manipulative resources which will assist with the curriculum but they are not necessary and there are other things you may be able to use in there place. I felt it necessary to mention some of these items in my review because they ate recommended and utilized throughout the teachers guide. These great products do help make this great curriculum even better.
I highly recommend purchasing the
Rock, Rap, Tap & Learn CD
. This was not part of the review and is not required to complete the lessons. I honestly had no intention of purchasing it but my daughter and son heard me listening to the
samples
on the HWT website and started singing along. So...I decided to purchase it and am glad I did. The CD goes along great with the lessons and both kids have learned a lot from the songs. They especially like listening to it in the car.
Chalk Board
- I did introduce the wet-dry-try activity to my children but we utilized a chalk board we already had on hand.
Mat Man
- Mat man has his own entire world so be sure to read more about him. Mat Man teaches important readiness skills such as body awareness, drawing & pre-writing, counting, building, socializing & sharing. The mat man pieces can be used to create uppercase letters as well. We do not have the Mat Man pieces but that didn't stop us from having fun building Mat Man because there is an online interactive
Mat Man Game
that is
FREE
.
Wet Dry Try App
- Several of the TOS reviewers reviewed this so be sure to read their thoughts. This app is available for Android an iPhone/iPads.
FREE stuff:
-
Screener
- will work with any curriculum.
-
Learning Lounge
- there are several Free items you can access from the Lounge like the FREE worksheet maker, seminars, newsletters, lesson samples, formation charts and more.
-
Mat Man
interactive game.
Wrap up:
This is definitely a program we will continue to utilize. I like that the program is multi-sensory and easy to adapt to your families specific needs. The books are very reasonably priced which is a HUGE plus for homeschoolers. I am 99% sure I will be buying the 1st grade level next year for my 5 yr old son who has some motor skill issues,
is ambidextrous
and a very tactile learner. I liked the detail in the teachers guide and liked how HWT provides many valuable resources (some free) that go along great with the program, but are not necessarily a requirement.
Gwyns review (7 yrs old):
I like writing in my workbook. I was very happy to start learning cursive letters. I think cursive is fun.
Click here for more Handwriting Without Tears
reviews from the
The Schoolhouse Review Crew
.
*Disclaimer - As part of the TOS Review Crew I received the 2nd grade handwriting without tears workbooks and teacher guide in return for my honest review. Please note that prices indicated in the post are subject to change. I was not compensated for my review and all opinions are our own! Many of the links found on my side bars and in my blog posts are affiliate links. As a result, I might get paid money and I will most likely spend the money on homeschool supplies. I am disclosing this in accordance with the FTC Regulations.