Did you here the
news
about MEGA Brands and LeapFrog teaming up to make a fun, educational paper product line for kids! The new line is great for children in Kindergarten - 3rd grade. There are workbooks, mini dry erase activity books, play money, flashcards, journals and more. These products are great for any child whether they are homeschooled, public schooled or private schooled.
A moms review:
When our goodies arrived from RoseArt several weeks ago the kids were excited to try EVERYTHING out right away. They literally tore in the package and began using the fabulous products we received right away. So what did we receive: ddition flashcards, play money, two workbooks, draw and write journal, double sided drawing board and 2 color, shapes and counting dry erase activity books.
And here is how we used these items and some thoughts on them:
My daughter (age 6) LOVES workbooks. She uses them for homeschool, car rides, and will sometimes just do them when she is bored. Each workbook is filled with 60 pages of fun, educational activities to teach and/or reinforce subjects like reading, math, etc. There are also 60 reward stickers included. There are two levels PreK-K and K-1st. We utilized the reading and math workbooks for K-1st. The activities are colorful and very easy for children to do on their own with just a little instruction from a parent/teacher. Gwyn claimed the "Ready for 1st Grade Math" workbook and Rowyn claimed the "Beginning Reading skills" workbook. The workbooks retail for $2.99.
We do a lot of journaling in our home so the 80 page "Draw and Write Journal" from LeapFrog was a huge hit. I love that it has wide writing lines making it easier for little ones to write. On the backside of each page is a nice blank page where they can draw a picture. On the inside cover are some fun story ideas and there are also 51 story inspiring stickers. Here are some things we use journals for: drawing pictures to go along with a chapter book we are reading, drawing and writing about something we learned about during a nature walk or just for having some story making fun. The journals retail for $2.99.
The double sided 8 1/2 x 11 dry erase/chalk board are wonderful. They are great for practicing letters, numbers, names, sight words, etc. without creating paper waste.The storage pouch is a great addition and perfect for storing chalk and dry erase markers.
The play money is so much fun. You can use this play money for so many things like playing store, sorting exercises or matching games. They make a great manipulative for tactile learners while they are solving money math problems. There are 50 - $1, 20 - $5, 15 - $10, 10 - $20, 5 - $50 and 5 - $100, 40 - 1 cent pieces, 20 - 5 cent pieces, 20 - 10 cent pieces, 16 - 25 cent pieces, 2 - 50 cent pieces so there is plenty of money to go around! The play money retails for $6.99.
We love flashcards, we have an entire bin full of them. They are a great educational tool. But a lot of people don't like flashcards because they end up all over the place and get lost. So I hole punch them and keep them together with a binder ring. Then they go into a plastic shoebox container. There are 50 addition flashcards and 30 mini cards in this LeapFrog set. I liked the inclusion of the visual aid dots. And the cut corners make them easy to sort if they do end up off the binder ring. Each card includes the equation on the back with the answer so these are great for practicing alone or with others. The mini cards have counting dots and numerals. These can be used for creating equations, counting, playing a matching game and more. There are several types of flashcards available fro LeapFrog: sight words, alphabet, division, multiplication, subtraction and addition. The flashcards retail for $2.99.
The dry erase activity books are perfect for on the go moms. They fit nicely in any bag. There are 8 sturdy board pages in this 5 x 7 spiral bound book. The included dry erase marker fits perfectly into the spiral binding and even has an eraser. We tried out the color, shapes & counting book which helps children identify shapes and colors and helps with number recognition. Activities are bright, colorful and fun. There are several different activity books available: printing, numbers, math skills and colors, shapes & counting. The activity books retail for $1.99.
We also received the LeapFrog Success Charts but haven't had a chance to utilize them yet. There are 36 weekly charts, 4 award certificates and 270 stickers. The success charts retail for $3.99.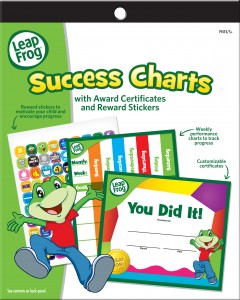 With the holiday breaks approaching these LeapFrog/MEGA Brand products would be a great way to keep your children entertained as well as maintain their learning while they are out of school.
Gwyns review (6 yrs old):
I love the workbooks they are fun and I get stickers when I do a good job. I really like the drawing and writing journal. I made pretty
pictures
in it.
Rowyns review (5 yrs old):
I like the activity marker book (dry erase activity book). I can match shapes, color shapes and do patterns. I like to play store with Mommy and Gwyn using the coins and green dollars.
Links to follow:
-MEGA Brands
Website
-RoseArt
Facebook
-MEGA Brands
Twitter
-RoseArt
Pinterest
Where to buy:
These items can be purchased at Joann's, Michaels, Barnes & Noble, Officemax, Target (limited runs) and Meijer. Retail prices are indicated above and may vary.
*Disclaimer - I received the items mentioned from MEGA Brands in this review free in return for my honest review. Please note that prices indicated in the post are subject to change. I was not compensated for my review and all opinions are our own! Many of the links found on my side bars and in my blog posts are affiliate links. As a result, I might get paid money and I will most likely spend the money on homeschool supplies.