Jen, from
Gricefully Homeschooling
,
and I team up, every Friday, to bring you a list of
free
bees...on both of our blogs.

PLUS...with the added bonus of this being a weekly link up...where you can showcase your freebies, things you've found online, and also, things you've received in the mail, totally FREE in the last week...or so.

FreeBEEs: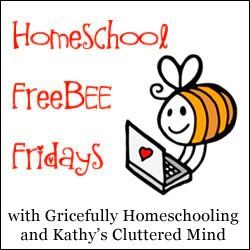 If you have homeschool FreeBEEs to share
please link up at the bottom of this post!
You can copy the button from my right side bar.

FreeBEEs:
We do a lot of crafts in our home. I have always been into crafting ever since I was a child. I even used to make and sell products at local craft fairs and shows. But after having children time to devote to my hobbies became difficult...so now I craft with the kids instead. You can check out our various crafts and craft how to's here on my blog
Crafting With Kids
.
When I post our crafts people comments saying, "you are such a fun momma," "you are so creative," "I wish I was that creative," "you always do such cute crafts and projects." Well guess what???? You can too. I wish I came up with all the cute crafts we do on my own but I always don't many times I get the ideas from other websites or
Pinterest.
So this week I am going to share some of my favorite craft idea websites so you too can have fun crafting with your kids.
FREE Craft Idea Websites:
-
Lakeshore Learning
-
Michaels
- The Knack
-
AC Moore
-
Hobby Lobby
-
Free Kids Crafts
-
LooLeDo
- this website also has videos making it even easier for non-crafters
-
Family Fun
-
Make and Takes
-
Krafty Kid
-
Craft Bits
-
Enchanted Learning
- easy to search by themes to find the perfect craft to go along with what you are learning
-
DLTK Kids
- another easy to search website so you can find that perfect craft
-
Education.com
- I really like this website and use it a lot for crafts and worksheets
-
Crafts for Kids
- another website that has videos
-
Busy Bee Kids Crafts
FREE Field Trips:
And if you really think you are not crafty then perhaps you can take your kids on a field trip to one of these fun places that offer FREE craft projects for kids.
-
Michaels
- sometimes there is a small fee normally $2-$3 which pays for the main craft material
-
Lakeshore Learning
-
Home Depot
- The first Saturday of every month kids can make a fun wooden project for FREE. They also get a pin, apron and certificate.
-
Lowes
- Offered twice a month. Kids get to make a fun wooden project for FREE. They also get an apron, iron on badge and certificate.
-
Toys R Us
- at least once a month Toys R Us will offer events where children can make crafts for FREE
-
Pottery Barn Kids
- offers FREE crafting events monthly
-
Disney Store
- often the Disney Store will have fun crafts for kids to do for FREE
I hope you find these resources useful. If you ever have any questions feel free to leave me a comment or email me. Also be sure to follow my
FB page
where I post FreeBEEs daily.
Remember when it comes to FREE resources the internet and a good search engine are your best friend.
*Disclaimer - Many of the links found on my side bars and in my blog posts are affiliate links. Please note that prices indicated in the post are subject to change. As a result, I might get paid money and I will most likely spend the money on homeschool supplies.
Linking up with
3 Boys and a Dog