Jen, from
Gricefully Homeschooling
,
and I team up, every Friday, to bring you a list of
free
bees...on both of our blogs.

PLUS...with the added bonus of this being a weekly link up...where you can showcase your freebies, things you've found online, and also, things you've received in the mail, totally FREE in the last week...or so.

FreeBEEs: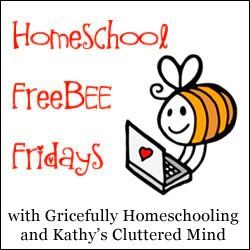 If you have homeschool FreeBEEs to share
please link up at the bottom of this post!
You can copy the button from my right side bar.

FreeBEEs:
Its been another busy week and I forgot it was
the end of the week
until Jen sent me a text. So this post is going to be another short post. Since Halloween is next week I am going to share a few fun Halloween/Fall activities, apps and eBooks. We do get dressed up and go trick or treating on Halloween. If you don't though I completely understand and am sure you are still having lots of Fall Fun!
H is for Halloween and Harvest Fun
-
Printable Jack-O-Lantern craft
-
Witches' Brew
Android app game FREE right now
-
Pumpkin dip recipe
-Currclick FREE or nearly FREE resources for Fall and Halloween:
Franken-Blubber
(science, literacy and craftivity),
Take Me Home
(pencil toppers, bookmarks and cards),
Spooktacular Letters
,
Christian Fall Decorations for Young Children
,
Fall's Colorful Leaves
(recorded class),
Halloween Coloring Book
-Free eBook
Book of Halloween
-Unique
Fall centerpiece
perfect for book lovers
-Have fun carving a pumpkin without the mess with this cool
virtual carving game
by BHG - you can also print your stencil when you are done
-Also from BHG find your perfect
pumpkin stencil
by taking a quick quiz
This year the kids decided to go as Myth Girl and Grant Man from episode 86 of MythBusters.
-Do it yourself -
39 last minute costumes ideas
- We always make our own costumes. It is so much fun and best of all since we use stuff we already have on hand our costumes are virtually FREE. I think the most I have spent on costumes is $10 and that was for both kids.
-
Halloween Rhyme Worksheet
-This Saturday Lowes is having their FREE
Build and Grow Clinic
- kids get to make a fun wooden monster project
-One of our most favorite resources is this
pumpkin observation worksheet
from Two Teaching Mommies
-
Pumpkin Life Cycle
worksheet
-Fun
Fall leaf craft
-
QR code Fall scavenger hunt
w/giveaway (3 days left to enter)
-Lots of
Autumn/Fall printables
I hope you find these resources useful. If you ever have any questions feel free to leave me a comment or email me. Also be sure to follow my
FB page
where I post FreeBEEs daily.
Remember when it comes to FREE resources the internet and a good search engine are your best friend.
*Disclaimer - Many of the links found on my side bars and in my blog posts are affiliate links. Please note that prices indicated in the post are subject to change. As a result, I might get paid money and I will most likely spend the money on homeschool supplies.
Linking up with
3 Boys and a Dog
,
Ben and Me
,