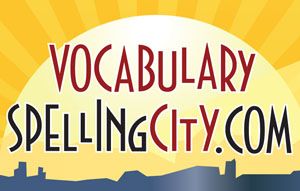 A moms review:
As part of the TOS Review Crew we received a one year PREMIUM membership to
Vocabulary Spelling City
. This isn't the first time though that we have used this fabulous website.
We originally started using the
FREE
membership to
Vocabulary Spelling City
last year when we began our first year of homeschool. Sadly we didn't utilize the website a lot throughout our first homeschool year because Gwyn (age 5 at the time) was just learning to read and wasn't quite ready for Vocabulary Spelling City. But now that she can read about 30-40 words well and is really enjoying reading I was super excited to give Vocabulary Spelling City another try with her.
I am not a big fan of the phonics reading method instead I prefer the whole language learning method. The whole language learning method is working great for our family so far. Vocabulary Spelling City is NOT a reading curriculum but it can greatly assist your child with their reading and spelling skills especially if you lean more towards the whole language learning method. I was very excited to find the
word family beginner spelling lists
on Vocabulary Spelling City. There are dolch-sight word lists too. These lists are great for Gwyn because they contain the words she is currently learning.
WOW
the lists....there are so many fabulous lists. These lists are created by Spelling City, Teachers and Parents. You can use the hundreds of lists provided or create and save your own. You can also choose to publish your created list making it available to other users. I love this feature so much because you can make spelling lists for virtually anything. We will be using this feature a lot more this year especially with our unit studies. Last year I started creating a
Bob Books
word list since those were the first books Gwyn began reading.
Here is just a sampling of list options:

So if its FREE why would you get the premium?
Yup I asked myself this same question last year. The FREE membership seemed great to me and still was until.....I logged into our premium account.
Here are the items you get with the premium membership:
Individual Student Logins -

Student assignments,

records for each student useful for IEPs & transcripts

, no paperwork saves time!
Premium Learning Activities - Engagement in learning
No Advertisements - No distractions
Grouping Students & Lists - Simplified differentiated instruction

Remember those lists? Well you can organize them into groups which will make it much easier to navigate your list management menu. Especially since I am sure your lists will grow and grow just like mine have. I currently have a group for 1st grade reading, unit studies, colors, numbers, and states. I will also be adding a group soon for Kindergarten for Rowyn.
My favorite premium features though are the assignment creation and student tracking capability. Each child can have their own log in information which you will create through the parent account. Then you can set up assignments for each child with the word lists and activities they are to complete. Once your child logs in they can view the assignments they need to complete and work their way through them at their own pace. Parents can opt to set up due dates for the each assignment as well.
This is the parent dashboard. Here parents can track their children's progress on
assignments
, spelling tests, activities and more. When you click on the spelling or vocab test results a pop up window will appear with a pdf document containing the child's score, the spelling words and the words they got incorrect. This is great to save or print for your child's homeschool records.
Games:
What better way to learn spelling and vocabulary than through FUN games. There is a great selection of games. Gwyn enjoyed most of them but did have some issues with a few which seem to be designed for older children (I would say above the age of 8). Wordfall, wordfind, alphabetize and the paragraph and
sentence
writing was
difficult
for Gwyn. For the
paragraph and
sentence
writing we improvised and Gwyn just practiced typing her words, which worked great for her because typing is something we are also working on this year. Many of these games can also be printed as worksheets.
Currently there are 21 games:
Word Find - New Premium Ggame available to all members for August

Match It Sentences

Match It Definitions

Which Word Sentences?

Which Word Definitions?

Word O Rama

Sentence Unscramble

Sentence Writing Practice

Paragraph Writing Practice

Word Search

Hang Mouse

Unscramble

Audio Word Match

Missing Letter

Letter Fall

Speedy Speller

Alphabetize

Handwriting - printable

Parts of Speech

Premium Crossword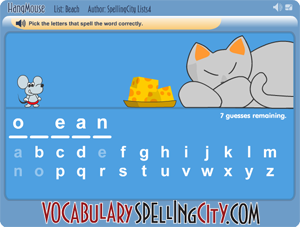 Vocabulary City is very easy for children to navigate on their on their own. And utilizes 5 buttons once the student is in a list. I explained these buttons to Gwyn once and she was on her way. I love seeing the look on Gwyns face when she passes a spelling test. Oh and there is a great little certificate you can print out for your child to hang on the wall or fridge when they pass their spelling test (I am sure they will love to show daddy how well they did).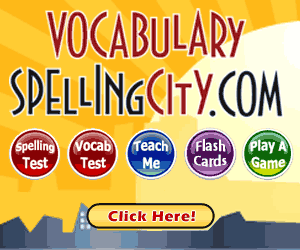 So after using the Premium membership I will say that the $29.99 (up to 5 children) yearly membership fee is very much WORTH it. And it is something we will be keeping for our upcoming homeschool years.
Cons:
As mentioned above some of the games are difficult for younger children.
There is a wonderful app available for
iPhone
users...con its not available for Android yet which are the only devices we own.
Don't you just love all they faces she makes?
Gwyns review (6 yrs old):
I like the games a lot they are so super fun. I like to do the spelling words because I can read now.
Links to follow:
-Vocabulary Spelling City Website
-
Vocabulary Spelling City
Facebook page
-
Vocabulary Spelling City
Twitter page
Where to buy:
Vocabulary Spelling City's
premium membership is $29.99 a year (up to 5 children) and worth every penny!
Click here for more Spelling City
reviews from the
The Schoolhouse Review Crew
.
*Disclaimer - As part of the TOS Review Crew I received Premium access for 1 yr to Vocabulary Spelling City in return for my honest review. Please note that prices indicated in the post are subject to change. I was not compensated for my review and all opinions are our own! Many of the links found on my side bars and in my blog posts are affiliate links. As a result, I might get paid money and I will most likely spend the money on homeschool supplies.