Jen, from
Gricefully Homeschooling
,
and I team up, every Friday, to bring you a list of
free
bees...on both of our blogs.

PLUS...with the added bonus of this being a weekly link up...where you can showcase your freebies, things you've found online, and also, things you've received in the mail, totally FREE in the last week...or so.

FreeBEEs: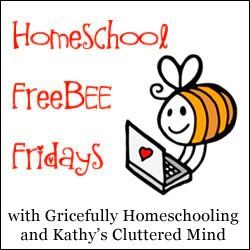 If you have homeschool FreeBEEs to share
please link up at the bottom of this post!
You can copy the button from my right side bar.

Internet FreeBEEs:
Well goodbye August and hello September wow this year is "flying" by. The kids have picked birds as their unit study for September. WOW bird resources are abundant that's for sure. If you follow me on Twitter
@kbalman
you may have noticed tweets this month with the hashtag #sand #unitstudy. Well I will be continuing to do that each month so if you want to see what sort of feathery fun we are having each day follow hashtag #birdunitstudy in September.
BIRD RESOURCES:
-
Hawk guide
-
Bird match up
from Montessori Print Shop
-
Birds lapbook
from Homeschool Share
-
Birds writing center
from Spell Outloud
-
Bird picture cards
-Parts of a bird
mini book
-
Bird PreK Pack
from Homeschool Creations
-
All about birds
from Kid Zone
-Lots of great ideas for a
bird unit study
-
Bird anatomy
-
Bird pack
from Nature Detectives - includes coloring pages, printable activities, craft ideas and more
-
Owl lapbook
-Lots of great
bird unit study ideas
- songs, crafts, snacks, activities
-
How to do a homeschool bird unit study
from Homeschool Bytes
-
Homeschool bird unit study
from Squidoo
-
Go Birdwatching
printable bame
-
Hummingbird lapbook
-
Bird song and nest play set
from Kiboomu
-Bird
notebooking printable
-
Audubon
lots of great resources
-
Egg and bird tanagrams
-
E Nature
has lots of great FREE bird resources - including nature guides for your area
-
Birding at About.com
lots of great resources - including tips on
identifying birds
and keeping a bird journal
-
All About Birds
Cornell Lab of Ornithology
-
Bird call memory game with audio
-
Robin mini helper
-
Bird notebooking pages
-Lots of great u
nit study ideas
- geared more towards PreK-1st
-Loads of great bird resources from
Kennesaw Edu
(which is actually a college near us)
-
Bird central
lesson plan
-
Bluebird nature study
from Starts At Eight
-
Secret of bird flight revealed
-
Bird flight experiments
-
Big egg mystery
science experiment
-
Bringing up birdy
lesson
-
Avian diseases pet bird board review
(kind of graphic)
-Make your own
bird worksheets
at Twisty Noodle
-Lots of great
bird printables
at ESL Printables
-Birds
handwriting worksheet
from All Kids Network
-
Bird beaks and feet
biology lesson
-
Birds
from National Geographic
-
Pigeons in military history
-
Falcons and man
- history of falconry
-
Birds in mytholology
-
Native American Falcon Dancer
lesson
-This
PDF
contains some great bible verses to use with a bird unit study
-
Birds of the bible
-
Bird stories found in the bible
-
Prehistoric bird
lesson plans
Not FREE but very good resources for a bird unit study:
-We received the
Birds of a Feather
4 wk unit study from Homeschool Legacy to review and will be using it next month (review will be around September 19th. - $15.95
-
Bird themed journal and copy work
- 50 cents
-Simple Schooling -
Lets learn about birds
- $1.99 on sale right now
-Daily Bird
Blue Jay
- $1.00
VIDEOS:
My kids love watching videos that go along with our unit studies. Here are a few we will be using. If you want to see more you can check out our
YouTube
channel.
-
Robin In The Rain
by Raffi
-
Bird Songs
-
Birds and Animals
-
Bird Watching Sabah
-
How Birds Fly Animation
-
Acorn Woodpecker
-
Color Patterns of Birds
-The
Cornell Lab of Ornithology
has loads of great bird video posted on their YouTube channel
-
For The Birds
- silly animated show
-
Bird Love Story
(sad)
-
Eyewitness Birds
- check this out at the library - I love this series and so do the kids
-
Secret Life of Birds
- I got a really good deal on this DVD so I bought it and will be giving it to the kids as a unit study kick off gift (check to see if your library has it)
-
Free Class Video Birds
- Naturglos Art and Science eCenter Currclick
-
USTREAM
has lots of great live bird streams with owls, humming birds, penguins and more
CRAFTS/ART:
-
Bird feeders/houses
-
Bird mobile
-
Owl mask
-
Bottle cap birds
-
Spring bird
-
Bird cake
-
Watercolor bird lesson
from Deep Space Sparkle
-
Pinecone bird craft
-Several adorable
bird crafts
-
Bird puppet
-There are lots of bird crafts over at
DLTK
-
Bird coloring book
from Cornell Ornithology
FOOD:
-
Birdseed snack
-
Edible bird nest
-
Bird nest cookies
-
Bird nest cookies
-
Peeps cake
-
Bird nest treats
FIELD TRIPS:
-Visit local petstores and observe the birds. Take along nature journals to draw pictures and write some sentences about your observations. And if its not busy at the petstore you may even be able to ask them to get out a bird or two to pet. FREE field trip.
-Visit a
local aviary
. I contacted several in our area and a couple were happy to have us. And many times its a FREE field trip.
-Contact your local
Audubon Society
and see if they are offering any bird watching trips. These are FREE most of the time because they are at State or National parks (may have to pay a parking fee). If Audubon is not offering anything check directly with your State or National Park.
-Lots of nature walks and bird watching from our balcony.
KINDLE E-BOOKS:
-
Birds Every Child Should Know
-
Feathers At Las Flores
(Free for Prime)
-
Birds Illustrated
Vol 1 #2 1897 (there are several volumes of these for FREE)
-
Grandpa Hates The Bird
(may want to preview this before reading to your kids it may not be for every family)
-
Clawbinder
- short story
-
The Bird Study Book
-
Olivia And The Little Bird
-
Falcons
(Free for Prime)
-
50 Easy To Make Bird Treats
And LOTS of books from the library:

These are several of the books we will be using I am sure more will be added throughout the month.
We will also be using our
Flying Creatures of the 5th Day
Apologia book. And our Flying Creatures of the 5th Day Lapbook from
A Journey Through Learning
.
ANDROID APPS:
And of course our
exploration box
will be filled with new goodies for our bird unit study. I will post about this over the weekend so check back.
The links above as well as others are pinned to my
Bird Unit Study Pinterest Board
. If you're interested doing a Bird Unit Study you may want to follow the board because there are more great ideas on the board that I didn't share here and I will be adding more FREE resources as I find them throughout September.
I hope you find these resources useful. If you ever have any questions feel free to leave me a comment or email me. Also be sure to follow my
FB page
where I post FreeBEEs daily.
Remember when it comes to FREE resources the internet and a good search engine are your best friend.
*Disclaimer - Many of the links found on my side bars and in my blog posts are affiliate links. Please note that prices indicated in the post are subject to change. As a result, I might get paid money and I will most likely spend the money on homeschool supplies.
Linking up with
3 Boys and a Dog