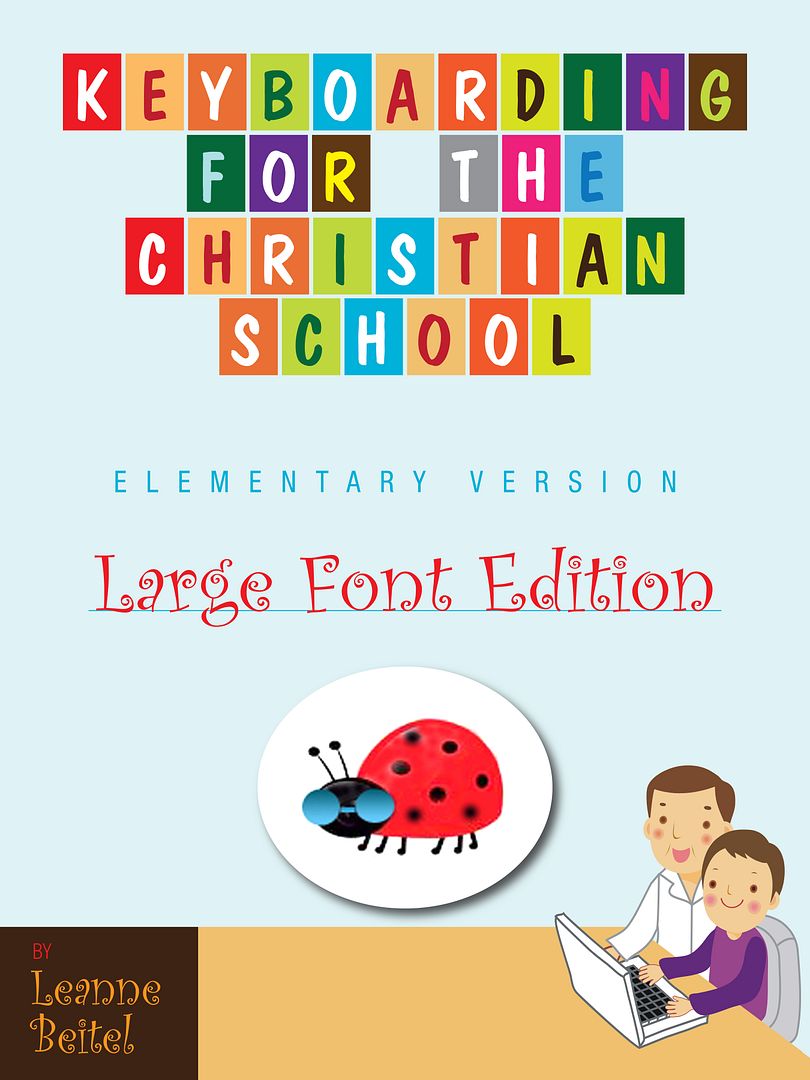 Keyboarding For The Christian School
is a keyboarding curriculum created by Leanne Beitel. The curriculum is great for homeschool and even classroom use. Leanne found that there was a need for a curriculum that demonstrated proper touch-typing methods, offered MLA and APA report formatting and had Biblical-based references and material for students to copy. And so Keyboarding For The Christian School was created.
A moms review:
In a world filled with technology where children are utilizing computers, laptops, cellphones and tablets as learning devices it is important that they learn early on how to type properly. Last year I had bookmarked a couple of online programs that teach typing skills but we never got around to using them. And we probably never will now that we have found Keyboarding For The Christian School. This curriculum uses a method similar to what I used when I was in school and I am proud to say I am a very good typist.
We had the opportunity to review the Elementary Large Font Version of
Keyboarding For The Christian School
e-book.
This 87 page curriculum offers the basics of learning the keyboard with the help of Miss Mabel the Ladybug. The elementary version is recommended for ages 6 and up (but my 5 yr old was very interested in giving it a try also). I chose to print the e-book, three hole punch it and place it into one of our nifty binders. The printable e-book is nice because its

reproducible

, portable and economical.
In the beginning of the program Leanne gives a brief introduction going over some basic components of the curriculum like what font style and size should be used, spacing etc. You can use the program with ANY word processor. She then explains what keyboarding is and why it is important to learn how to type correctly. She also explains information about the various components of a computer i.e. mouse, keyboard and monitor. She explains in further detail what a QWERTY keyboard is and that there is another type of keyboard called a Dvorak (which I never knew). And lastly she explains the proper typing technique.
I think it was great that these items were discussed prior to jumping into the first lesson because they lay down the foundation for the lessons.
Lesson Breakdown:
Lesson 1-20 teaches the Alphabetic Keys
Lesson 21-25 teaches the Number and Symbol Keys
Lesson 26-29 teaches the Number Pad
Lesson 30 teaches Centering
Lesson 31 teaches Enumerated Lists
Lesson 32 teaches Timed Writing

Before the lessons there are several wonderful scriptures which are carefully selected and go along great with the curriculum.
The scriptures are repeated throughout several lessons so children will be able to memorize them very easily. Here is the scripture for Lesson 1-17 -
1 Corinthians 16:3, "Then, when I arrive, I will give letters of introduction to the men you approve and send them with your gift to Jerusalem."

In the back of the book there is a Timing Scale so you can track how many words per minute your children are typing.

I like how the book progresses slowly so children who are new to typing won't get frustrated. Children only learn two letters or numbers at a time. For the first few lessons they only type single letters and letter combinations. Then slowly progress to typing words and then sentences. Each of the lessons only took us about 15-30 minutes to complete (this will vary depending upon the child though).

Some of the advantages of this curriculum over an online typing program are:
-less distraction
-learn to transfer information from paper to the computer (a very important skill to master)
-Christian based curriculum
Make sure you check out the FREE sample lessons.

Gwyns review (6 yrs old):
Check out this quick video of Gwyn using the Keyboarding For The Christian School curriculum. Yup she loves it. And she enjoys her time typing a couple times a week. No more finger pecking for this girl.
Links to follow:
-Keyboarding for the Christian School Website
-Free Sample Lessons
-Keyboarding for the Christian School Facebook page


Where to buy:
The e-book or printed softcover can be purchased directly off of the website. There is a keyboarding package deal which includes Keyboarding for the Christian School, Revised Edition

and the

Elementary Edition

e-books for only

$22! Just the Elementary Edition e-book is $12.95 (regular or large print). There is also a Creating Columns and Creating Tables e-book curriculum. As well as a Teacher's Tool e-book. Prefer a glue bound version you can purchase one for $16.95 on Amazon.

**

And guess what? Leanne is offering a 20% discount for my readers through August 29, 2012 just use code

SUMMER2012

at checkout (exp
8-29)
!
**
Click here for more Keyboarding for the Christian School
reviews from the
The Schoolhouse Review Crew
.
*Disclaimer - As part of the TOS Review Crew I received a copy of Elementary Keyboarding for the Christian School in return for my honest review. Please note that prices indicated in the post are subject to change. I was not compensated for my review and all opinions are our own! Many of the links found on my side bars and in my blog posts are affiliate links. As a result, I might get paid money and I will most likely spend the money on homeschool supplies.