Jen, from
Gricefully Homeschooling
,
and I team up, every Friday, to bring you a list of
free
bees...on both of our blogs.

PLUS...with the added bonus of this being a weekly link up...where you can showcase your freebies, things you've found online, and also, things you've received in the mail, totally FREE in the last week...or so.

FreeBEEs: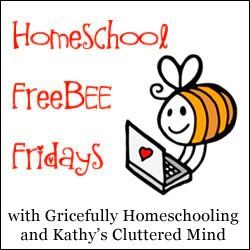 If you have homeschool FreeBEEs to share
please link up at the bottom of this post!
You can copy the button from my right side bar.

Internet FreeBEEs:
This is going to be a short list because well I forgot today was Friday. It appears that August is when homeschool will be back in session for most families, including us. August is only 2 1/2 weeks away so while you're busy organizing your planner, gathering curriculum, etc. make sure you also add some fun things into your August schedule to make your first day/month Not Back To School is a memorable one.
Also will you please take a moment to take the poll on my
Facebook Page
to let me know what you would like to see more of on FreeBEE Fridays.
-I love this idea from Joyful Always - have a
Back to School Scavenger Hunt
-Not Back To School
party printables
from Spell Outloud
-Mormon and Momma shares some great
Back to Homeschool
ideas
-Customizable
coloring page
- I love that the school looks like a house or old one room schoolhouse
-
Worksheet
alphabetizing things found in classroom
-Some of these
worksheets
could be adapted for homeschool
-Laugh at this
YouTube
video
-Have a day filled with fun arts and crafts check out some of these great ideas on
education.com
Ideas:
-Get together which homeschool friends and have a big picnic with lots of fun on the side (like water balloon fights, kickball, Frisbee, etc). This is one of the things we will be doing.
-Have a special breakfast.
-Take a field trip.
-Play games.
-Buy the kids mini backpacks filled with goodies. I did this last year and the backpacks are great to take on our field trips.
-Make the kids signs with their grade on them and take a photo of them with their sign. My kids kept their signs on their desks all year.
-Pick a fun unit study.
-Go on a nature hike.
Make sure you check out my blog each Monday in August I will be
participating
yet again in the
Not Back to School Blog Hop
. Check out our
August 2011
Not Back to School Blog Hop posts.

Did you find ALL
12 Olympic FreeBEEs
yet? They are great! I found all 12 + snagged a few other Olympic goodies at 10% off. If you need help finding any of them leave me a comment below and I will give you some hints.

Great SALE I have to tell you about where you get a FREE Ebook with your purchse. First off remember all most all the lapbooks at Knowledge Box Central are ONLY $5. Now here is the current promotion which ends very soon.


Buy ANY 2 Ebooks
and get a
3rd $5.00 Ebook FREE!
Here is what you do: Purchase 2 ebooks ~ they can be the $5 ones or the $10 ones ~
and then
email Pam
with this information
:
1. The name and email you used to
make your purchase
2. What 2 ebooks you purchased
3. Which $5 ebook you would like
to receive free
Within 48 hours of receiving your email, she will send you a link to your free ebook!
FreeBEE events:
Michaels
Passport To Imagination
is still going on. These projects will go along great with the Olympics as well.
Sign up FreeBEEs, items I will be reviewing soon and items I won:
Image(s): FreeDigitalPhotos.net
Nothing to share this week.
If you don't enter blogger giveaways or do Twitter and/or Facebook parties you need to because you can win cool stuff. Also it pays to follow companies on Facebook you score lots of FREE stuff.
I hope you find these resources useful. If you ever have any questions feel free to leave me a comment or email me. Also be sure to follow my
FB page
where I post FreeBEEs daily.
Remember when it comes to FREE resources the internet and a good search engine are your best friend.

*Disclaimer - Many of the links found on my side bars and in my blog posts are affiliate links. Please note that prices indicated in the post are subject to change. As a result, I might get paid money and I will most likely spend the money on homeschool supplies.
Linking up with
3 Boys and a Dog