Jen, from
Gricefully Homeschooling
,
and I team up, every Friday, to bring you a list of
free
bees...on both of our blogs.

PLUS...with the added bonus of this being a weekly link up...where you can showcase your freebies, things you've found online, and also, things you've received in the mail, totally FREE in the last week...or so.

FreeBEEs: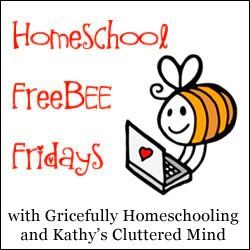 If you have homeschool FreeBEEs to share
please link up at the bottom of this post!
You can copy the button from my right side bar.

Internet FreeBEEs:
Well there has been so much talk going on about the Olympics so in this edition of FreeBEE Fridays I have gathered several great Olympic FreeBEEs for you! Have fun!
-I love logic problems they are one of my favorite ways to pass boredom. Head over
Nrich
for 4 FREE
Olympic logic problems
.
-Olympic Dreams Activity from Teacher HUB
-Olympic Craft ideas - rings, flags, recipes and more
-Olympic Craft ideas from
Kaboose
-Homeschool Share Olympic
Unit Study and Labook
-Project Britain Olympic
lesson plans
-Karascope
3 Free Olympic Resources
-Lots of great
Olympic Resources
at Education World
-Olympic
Math
-Olympic Games
worksheets
-Ancient Olympic Games
notebooking page
-
Official Olympic Website
- Play the
Olympic Mini Game
-
London Official Olympic Website
- also head over to the
Mascot Website
for some fun
Android Apps:
-
Mahjong Olympic
game this is a great problem solving game for older kids.
-
Olympic Calendar
to keep track of all the Olympic games.
Amazon Prime Kindle Books:
If you have a Prime account you can get borrow these Olympic Kindle books for FREE.


-
Your Guide to Sports at the London 2012 Olympic Games
-The Olympic Games 101 Amazing Facts
-
Lola the Mermaid and the Splish Splash Olympics
-
London Olympics Visitors Survival Guide
-
Little Red Fern and the Oaklympic Games
-
The Olympic Games Ultimate Quiz Book
-
The Olympian

Did you find ALL
12 Olympic FreeBEEs
yet? They are great! I found all 12 + snagged a few other Olympic goodies at 10% off. If you need help finding any of them leave me a comment below and I will give you some hints.
From
1+1+1=1
make sure you get your FREE
Calendar Connections Cards
for July which are about the Olympics of course. We love these cards and the kids learn a lot from them. The cards are a simple walk through of a few basic facts about the Olympic Games, and then each of the 26 sports in alphabetical order. There is a special Opening Ceremonies card for July 27th, and a special Bible verse card for the 31st.
FreeBEE events:
Michaels
Passport To Imagination
is still going on. These projects will go along great with the Olympics as well.
Don't Forget! Saturday July 7th 9am - 12pm build a moving truck at Home Depot.


Sign up FreeBEEs, items I will be reviewing soon and items I won:
Top Left:
Like
The Magic Schoolbus FB
page to participate in Frizzle Friday where you can win Free books.
Top Right:
Sign up to get the
FREE
Lego Club Magazines
.
Bottom Left:
Did you catch my review on
Learn Math Fast
? Well they ended up sending me the entire set for future use and reviews. And guess what I will be giving away book 1 very soon so be sure to watch my blog.
Bottom Right:
Get your
FREE
copy today from
CBH Ministries
.
If you don't enter blogger giveaways or do Twitter and/or Facebook parties you need to because you can win cool stuff. Also it pays to follow companies on Facebook you score lots of FREE stuff.
I hope you find these resources useful. If you ever have any questions feel free to leave me a comment or email me. Also be sure to follow my
FB page
where I post FreeBEEs daily.
Remember when it comes to FREE resources the internet and a good search engine are your best friend.

*Disclaimer - Many of the links found on my side bars and in my blog posts are affiliate links. Please note that prices indicated in the post are subject to change. As a result, I might get paid money and I will most likely spend the money on homeschool supplies.
Linking up with
3 Boys and a Dog