We have officially finished 169 days of school. In order to meet the state requirement we need to have 180 days so pretty soon we will be done with school as far as the state is concerned. But our learning will not stop. We are planning homeschool year round we just may not do it every single day like we have been. I am planning to take at least a week or two almost completely off so I can plan our unit studies for next year. I already have a few unit study ideas if the kids agree of course: butterflys, puppets, mythology and dinosaurs. Who knows they may come up with some better ideas. I also have already decided what FREE science curriculum I will be using next year (more to come on this).
The kids also attended their friends 6th birthday party where they had a blast. They got to jump on a big trampoline, get their faces painted, watch a magician and get balloon animals. Gwyn was super excited that she got to pet the magicians bunny. They also had some yummy mini hamburger cakes (their friends birthday is on April Fools day).
Monday was another busy day again. First we met some families from our homeschool group at the playground and had a picnic lunch. Rowyn made friends with a ladybug. Then I took Rowyn to his speech appointment while Gwyn stayed at the playground with friends. After the playground we ran some errands and then went home for some crafting fun again. We made Easter baskets out of paper plates and pencil holders out of cans. If you haven't seen my National Craft Month With Rose Art posts be sure to check it out
here
. it was time for soccer practice.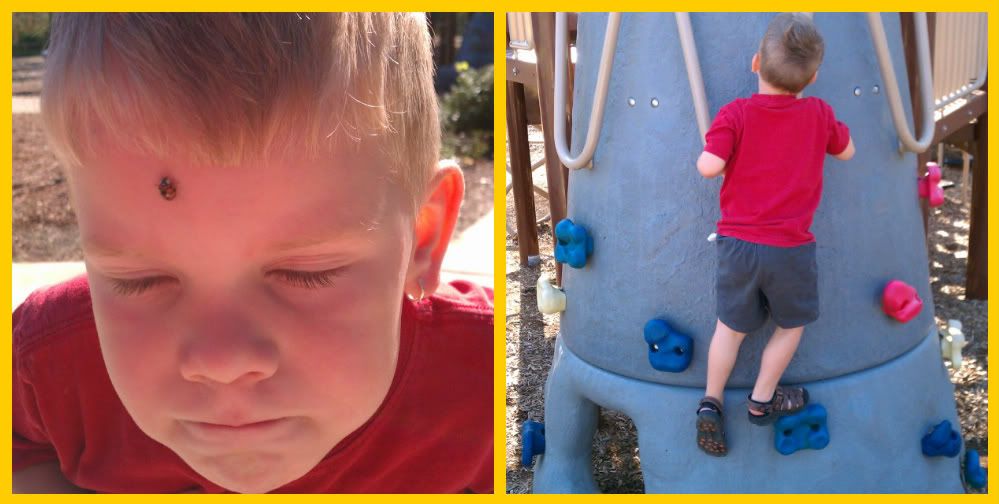 Tuesday I took a day off to get the school room organized. The kids were also supposed to take the day off too but they opted to play educational Wii games and Reading Eggs. I did manage to get the entire school room re-organized, YAY for Spring cleaning.

Wednesday we went see Synergy which is presentation that Kennesaw State University puts on for Free at the
Cobb Energy Center
. It was awesome. The kids got to learn about all the different types of performing arts. Like theater, orchestra, ballet, storytelling, opera, etc. It was a great learning experience for us all. Rowyns favorite part was the orchestra who played Bolero. Gwyns favorite part were the dances.
Thursday we went to the
State Capitol
building for homeschool day (check out the link for great FREE resources on the GA Capitol). Special thanks to GHEA for sponsoring this fabulous event. We attended with several homeschool families from our group. The Capitol was hustling and bustling because it was the end of the 2012 session of the Georgia General Assembly. We saw protesters protesting the anti-free speech Senate Bill 469. We saw some Army soldiers w/service dogs and the kids got to pet a bomb sniffing dog who just returned from Afghanistan named Miley. We got to check out the museum located at the top of the Capitol building. We got to hear a homeschool band named Joyful Noise play. And we got to see the House and Senate in action. We also saw the Governor and Secretary of State offices. Then we explored the outside of the building and the monuments. Where we actually got some lost of science learning in. We found inch worms, lady bugs and caterpillars to examine. We climbed on some trees. And we even found some bones of a dead animal (which we brought home of course). Turns out they are bird wings. Rowyn got to shake the hand of Rep. Josh Clark who was outside taking pictures with his family. He is from State House District 98. He introduced us to his wife and kids who where there for homeschool day because they are a homeschooling Christian family. I love that we can take part in educational days like this.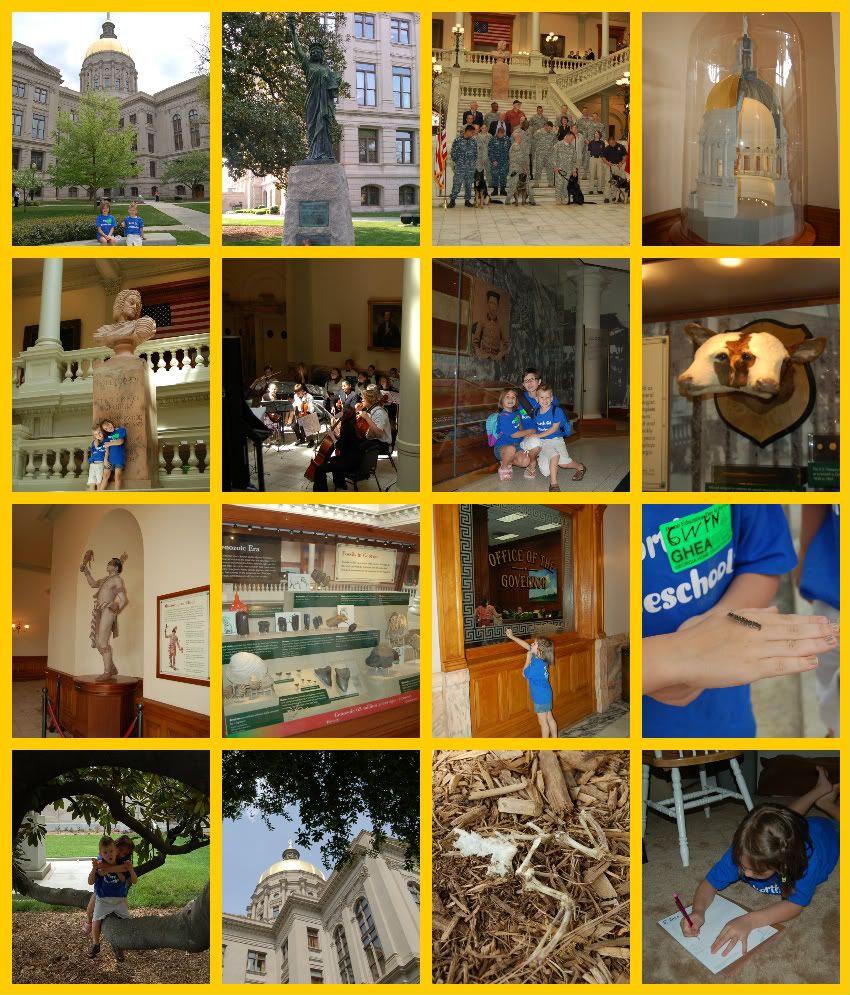 Friday I had an errand to run up in
Gainesville GA
. I was going to pick up my final white bookcase from my friend. She sold me 3 of them for $40 isn't that awesome? Anyway we were supposed to head home right after to get some school stuff done but....it was so nice out I just felt like we needed to be outdoors. So we first stopped by the
Engine 209 park
to look at the 3 trains. The kids thought it was really cool to be so close to an actual train. They got to explore the outside, look under the bottoms and learn how they connect to each other. Then we headed to our new favorite place
Elachee Nature Center
. This place is a homeschoolers paradise. There is lots to explore inside their main building like live animals, a hands on science center and a hands on astronomy center. Since this was an unplanned field trip we didn't have any of our nature walk materials. But that was okay because they have these awesome backpacks you can borrow for FREE. There is one for plants and one for animals. We decided to explore plants, flowers and trees. One plant that really caught our eye was called Toadshade Trillium. I had never seen them before, they were all over the place and really cool looking. The bag was filled with paper, writing utensils, books, field guides and more. Then we hit the trail. We decided to do the short unpaved one. It was super educational. We saw wildflowers, inchworms, lots of butterflys, spiders, all sorts of trees and fungus/mushrooms. Rowyn traced some leaves and Gwyn drew and wrote in a mini nature book we made by folding a piece of paper in half. We checked out the butterfly garden which is starting to grow hopefully next time we visit it will full of pretty flowers. On the way to our car we checked out the compost center they have set up. They had some brochures and coloring pages about composting and when we pulled one out it had an unused Paper Wasp nest on it (score another thing to add to our bug board). So whats even cooler about this place???? I am going to let you GA folks in on a secret. Their
family membership
is only $55 and it will also get you into 3 other nature centers in GA and
100's of others over the USA
(The Chattahoochee Nature Center being one..there membership is $80). Check out their
Facebook page
too.
Saturday Gwyn had her first soccer game and did awesome. She scored 7 goals. Then we played some of our new board games. After some board game fun I spent the day getting caught up on some blog posts while we snuggled and watched a couple of movies. The kids decided they wanted to help with dinner. We made English muffin pizzas which are super easy and super yummy. Gwyn was in charge of the sauce which she did a great job of spreading onto each English muffin. Rowyn was going behind her and sprinkling some shredded cheese onto each one. And then they both placed 3 pepperonis onto each pizza. My job was to put them into the oven (at 400 degrees) for about 7-10 minutes or until they are well toasted and the cheese has melted. They turned out great and the kids were so happy they got to help.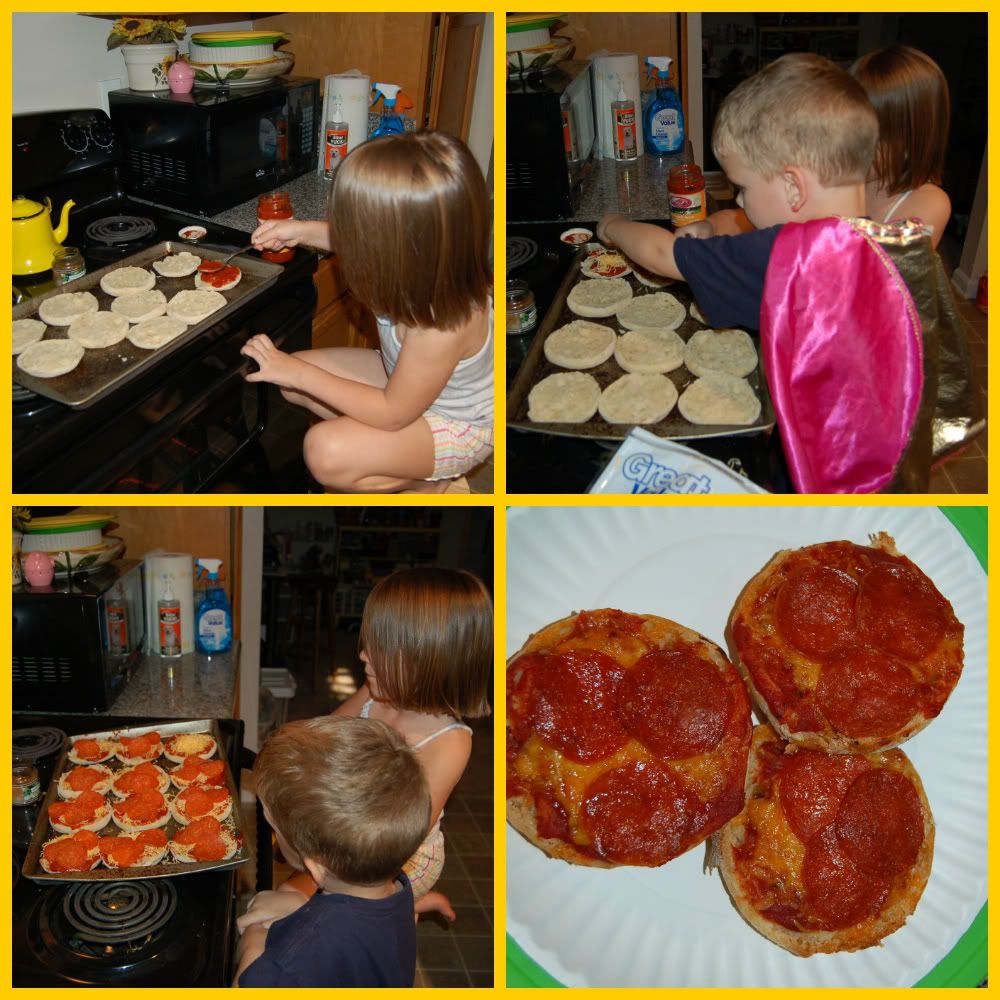 Yes my super hero son is wearing a pink and gold cape to help with dinner.
For April we will be learning about Primates, Earth Day, Easter and South America. Below are our YouTube Channel and Pinterest board for April.
This is our April YouTube playlist keep checking back because I will be adding more videos throughout the month. It includes various videos we will be using throughout April.
Pinterest Board for April - I would love it if you follow me:
New ideas will be added throughout the month. These are some of the things we are doing for our April units. Check out my other boards on Pinterest for more ideas like ABC's, 123's, Art, Holidays, etc.
I hope you find these resources useful. If you ever have any questions feel free to leave me a comment or email me. Also be sure to follow my
FB page
where I post FreeBEEs daily.
Thanks for stopping by.