Bob Books Level 1 Readers are NEW to the Bob Books product line and the first two books Cupcake Surprise and The New Puppy came out at the beginning of the year. They are written by Lynn Maslen Kertell and illustrated by Sue Hendra. Two more books will be released this summer, Outdoor Adventures and My School Trip. Gwyn has been working her way through the Bob Books Beginner Book Sets for a few months and has been doing very well. So I have been slowly introducing her to Level 1 Readers. When Bob Books contacted me again and asked if we wanted to review their NEW Readers I was very excited since Bob Books are what she started learning to read with.
When the two books arrived Gwyn was very excited she tore open the package and immediately began to flip through them reading the words she knew. The Level 1 Readers contain sight words, words to sound out and simple sentences. Each one has between 50-250 words.
Here is Gwyn after she tore the package open she tried reading them on her own on our way to a field trip.

A moms review:
I love that these are true Level 1 Readers. It's been very frustrating searching for books for Gwyn to read because publishers all have different ideas about what Level 1 is. I consider Level 1 to be simple words, lots of sights words, an average of 5-7 words per page and large font. I am delighted to say Bob Books met my expectation. Gwyn did need some help with the books because there were words she did not know yet. But after reading them a few times she has gotten better and has learned most of the new words. I absolutely love the stories and pictures. Each of the books teaches kids a little lesson and the brother and sister get along and help each other out which is a big A+ as well.
The New Puppy was a hit with my animal loving daughter. In this book Jack and Anna want a puppy because puppys are lots of fun. But they soon find out that puppys are hard work too.
In Cupcake Surprise Jack and Anna want to give their Dad a surprise for his biryhday. So they decide to bake him cupcakes. But not everything goes as planned and they encounter some surprises of their own along the way. And guess who else you will see in this book? Buddy the new puppy of course. Since Gwyn loves to bake and give suprises this book was also a hit.
Another feature I love about these books are the flash cards in the back which can be cut out. The flash cards contain words from the book on one side and sentences in which the words are used in the book on the other.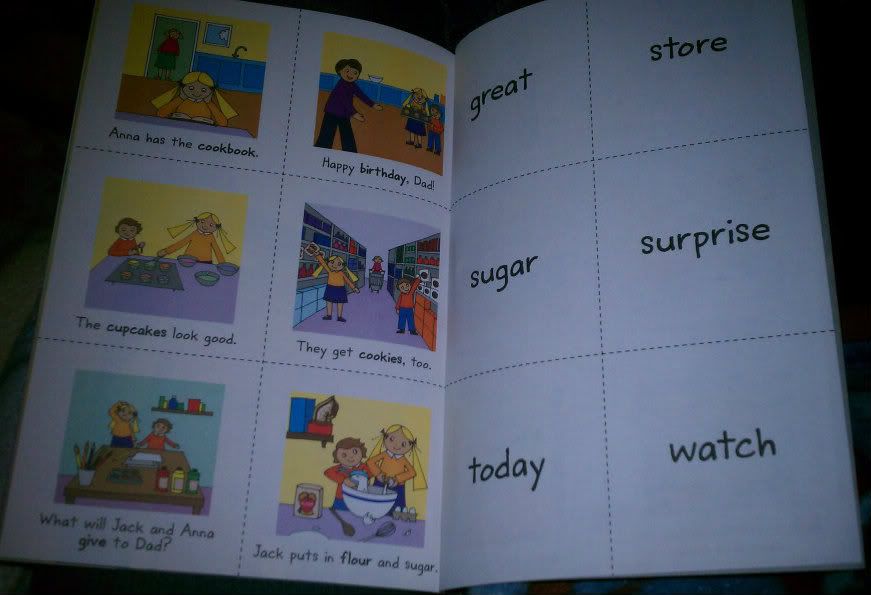 Gwyns review (6 yrs old):
I like to read these books. They have cute pictures and are funny. Mommy has to help sometimes with the words. I am so happy I can read now and I get reading prized at the end of the month if I do a good job.
Rowyn my son is not reading quite yet but he has enjoyed having these books read to him by his sister.
Links to follow:
-Bob Books
Early Reader
page and even a recipe for your own cupcake surprise
Where to buy:
*Disclaimer - I received a review copy of each book mentioned in this post. I was not compensated for my review and all opinions are our own! Many of the links found on my side bars and in my blog posts are affiliate links. As a result, I might get paid money and I will most likely spend the money on homeschool supplies.