Welcome to the Seussy Saturday Link Up. As you may know we are going crazy with Dr. Seuss this monh for our homeschool unit. We will be reading EVERY single one of his books and doing worksheets, lapbooks, crafts, fun food and more. I know there are a bunch of link ups going on for Dr. Seuss but this one will be a little different because it will last all month. So if you are having a Seusstactular time with Dr. Seuss this month be sure to link up.
Below is the button if you want to join in the fun. Just link up a post that has to do with Dr. Seuss. And I would love it if you put the button either in the post or on your sidebar if your participating.
So here is what A Week In Life Of A Seussy Homeschool looks like.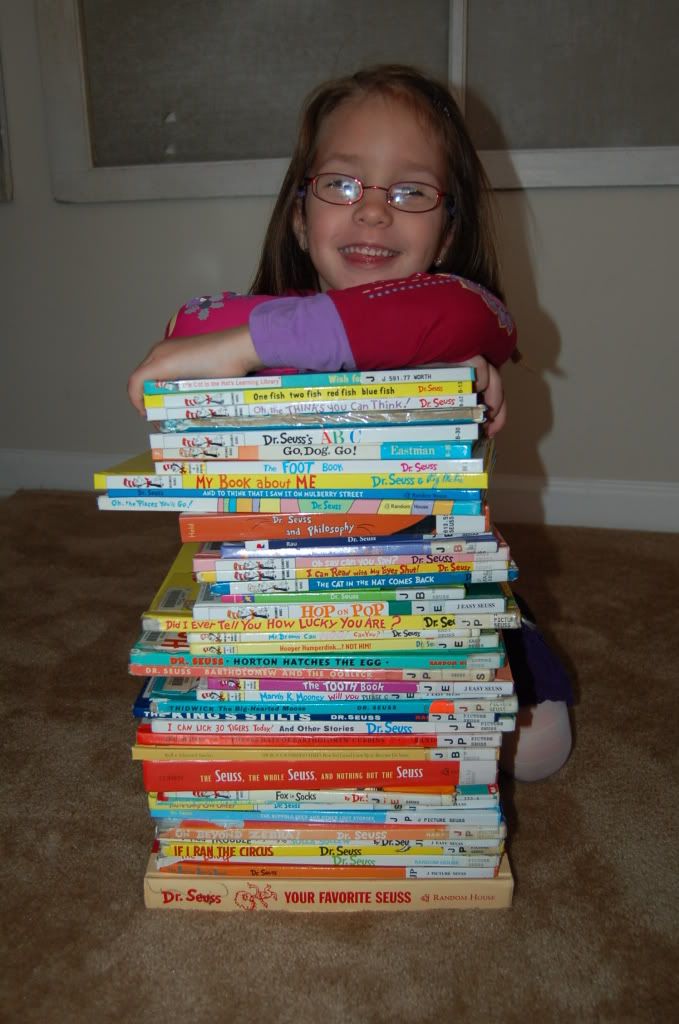 Our Dr. Seuss book stash.
Sunday we had some fun with One Fish, Two Fish, Red Fish, Blue Fish. We made a fish bowl craft. If you haven't seen my National Craft Month With Rose Art post be sure to check it out
here
. Since we did it on Sunday even daddy got involved with craft time.
Monday we continued the One Fish, Two Fish, Red Fish, Blue Fish fun. We did some worksheets, discussed what descriptive words (adjectives) are. And the kids went fishing in the sink, more photos
here
.
Tuesday we didn't get much Seussy stuff done because we were busy learning French at the library, voting and then having some fun with Lucky the Leprechaun at the library (I will be writing a mini review on this book.)
Wednesday we took a field trip to Fernbank with some friends. We had a great time and daddy even got to go with us.
At some point during the week the kids picked up a lovely little flu like virus. So Thursday and Friday were pretty unproductive. First the kids had it. Gwyn had a 104 degree fever at one point which scared me but with some medicine and a cold wash cloth it came down quickly. And then lucky me got the bug. I am actually typing this post while I am laying on the sofa feeling like crap. We still managed to get a little bit of homeschooling done though. We read the Butter Battle book. We discussed the importance of peace and importance of respecting differences in others. Gwyn wrote some words from the book and drew a picture of a Yook. Then they designed their own banners. They also each ate some toast - one ate it butter side down and the other ate it butter side up. This was a great little lesson and they said it doesn't matter because either way you just eat it. We also read another biography book on Dr. Seuss. And thank goodness for electronic devices. The kids played some educational games on the Wii and Android tablet which allowed momma to rest and take a nap.
We had a lot of other plans but the virus sort of put an end to those.
We also read Marvin K. Mooney Will You Please Go Now, and I Can Lick 30 Tigers Today And Other Stories this week.
Here are some websites with FreeBEEs to help you with your Dr. Seuss learning:
-Lots of Dr. Seuss
ideas
-
Barnes and Nobles
Green Eggs and Ham online story time
-Lots of ideas and printables from
What the Teacher Wants
-Cat with the Hat
handwriting practice
There are so many great resources for Dr. Seuss on the web. We are not planning to use all the ones I shared but I wanted to pass these along. I will have more next week.
YouTube Channel for March:
Pinterest Board for Dr. Seuss I also have one March - I would love it if you follow me:

Link Up:
Thanks for stopping by and linking up. I will not have my Seuss/Week In The Life Of A Homeschoolers post up until Sunday next week because I will be at the
Teach Them Diligently Convention
for Thursday, Friday and Saturday.
Linking up with: