I just had to share this awesome book with you. Tuesday we went to the library and had the pleasure of meeting the authors of
Lucky The Leprechaun
. This is a newly published book and came out January of this year. The authors Risa Rae Ramji and Samantha Strum Brown read to the kids and sang some cute songs. Each child also got to make a Leprechaun trap. Special thanks to the Roswell Library for hosting this wonderful event.
Gift set.
So why am I so excited about this book? Well there are several reasons. It is written by two local Johns Creek Georgia women, printed in Georgia and all of the supplies to build your Leprechaun trap are also from local Georgia companies. The plastic bag the gift set comes in is reusable and great for storing crayons, toys etc in. Isn't that awesome? I love to support small business ventures so I broke down and purchased a Lucky the Leprechaun gift set and the kids love it.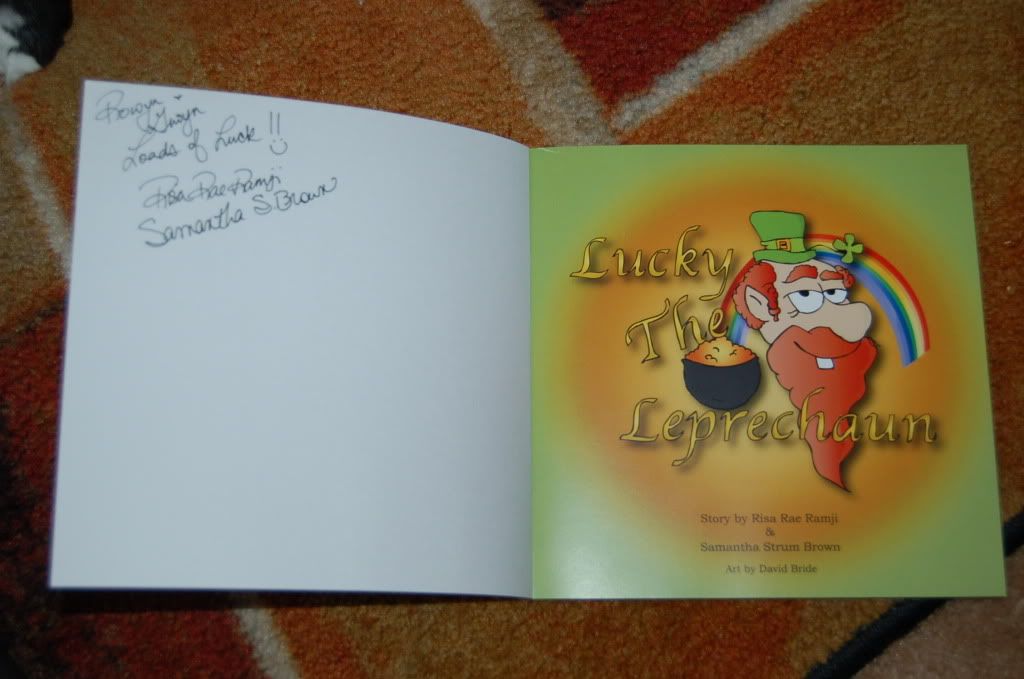 The ladies were nice enough to sign our copy.
The book is wonderfully illustrated with simple, bright colored pictures. I love how the authors incorporated parts of their real life into the story. Like on one page there is an illustration of one of the authors dogs. This book is great for kids of all ages and uses fun rhyming words. The story is about Lucky the Leprechaun and the silly things he does. He also teaches children the importance of treating others with kindness and respect, behaving and listening well. I just love books that teach kids a lesson of some sort. It introduced a new word meaning to the kids, they now know that the word dough has another meaning. Gwyns favorite part of the book is where the kids make their traps to catch Lucky.
And the CD well it is loaded with cool things. There are 2 read alongs (done in different voices), music/movement activities and some printable activities. Another thing I love and look for in books is supplemental items that I can use to make a homeschool lesson out of and this book provides those on the CD and online (see links below).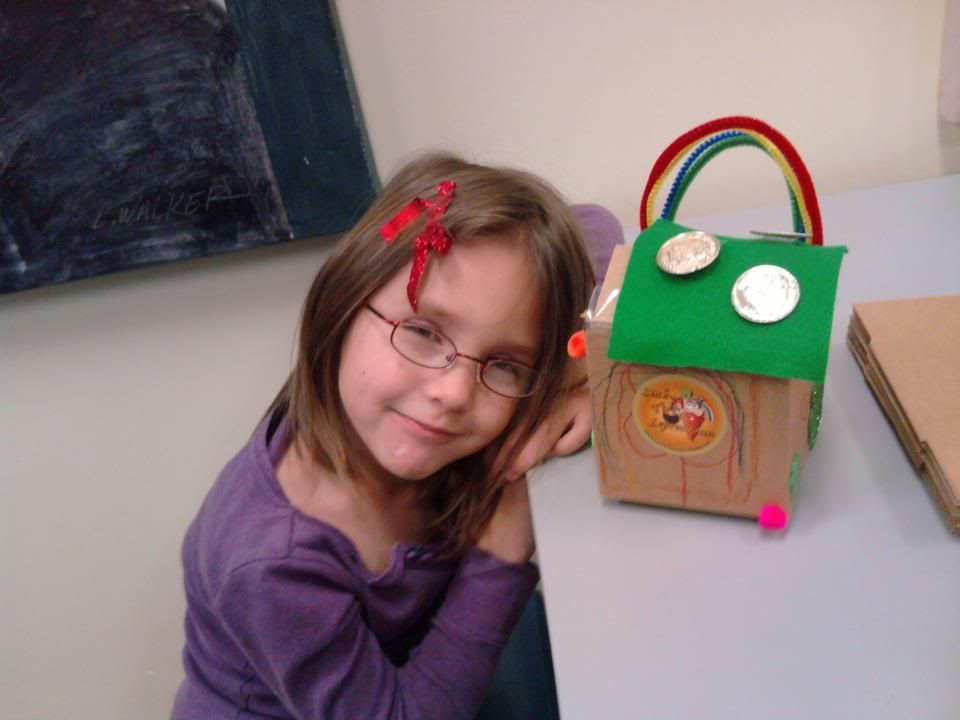 Gwyns trap.
Links:
-
Activity sheets
for Lucky the Leprechaun
-Lucky the Leprechaun ideas for
parents
-Lucky the Leprechaun
Website
-Lucky the Leprechaun on
Facebook
-Lucky the Leprechaun on
Twitter
The authors reading to the kids.

Buy It:
If you would like to purchase a Lucky the Leprechaun gift set you can visit their website
here
. The gift set is $19.99 and comes with the book, CD and supplies to build a trap. You can also choose to purchase the book, cd and kit separately.
Thanks for stopping by.
*Disclaimer - No compensation or free products were received for this review. I did this review to provide support to the authors because I feel supporting small business ventures is very important. Many of the links found on my side bars and in my blog posts are affiliate links. As a result, I might get paid money and I will most likely spend the money on homeschool supplies