First off I would like to thank each and every one of you for reading my blog, following me on Twitter, liking me on Facebook, subscribing to my emails or RSS feed, etc. It means so much to me. I started this blog April 2011 as a journal for our homeschool journey but it has become so much more than that and my family has been so blessed.
If you don't follow me yet there are many ways to do so. I highly recommend my
Kathys Cluttered Mind Facebook Page
because every time a new post goes up it shows up there and I share lots of great info like FreeBEES, field trip ideas, etc. You can also follow me via GFC,
Email
,
RSS Feed
,
Twitter
,
Pinterest
,
Google +
,
Klout
and a new way
Linky Followers
.
With regards to Pinterest there has been some posts from people who feel it is infringing on copyright laws. Please note anything I post on my blog may be pinned. I wouldn't put it up there if I didn't want it shared with others. Please give me FREE advertising and Pin, Share, Tweet, Forward my posts to friends.
You may have noticed the list of affiliates on the left side of my blog. I have slowly been earning money from them which is awesome because it helps us with groceries and homeschool supplies/field trips. I appreciate everyone who has been ordering from my links and hope you will continue to do so. Dropping down to one income was not easy on us financially but being home is totally worth the financial struggles.
As you may have noticed I changed my blog button so if you are using this on your blog or website would you please update it this one is much prettier.
I also have a couple of link ups I am doing right now. FreeBEE Fridays is on going and Seussy Saturdays is only for this month. Also this month I am doing a
National Craft Month with Rose
Art link up with but there is no button for that. I would love it if you join in the fun and link up your posts. Rules are simple share a post that goes along with the link up and if you can please post the button either in the post or on your sidebar.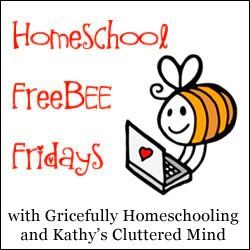 I hope you will take a look around my blog sidebars I have added a few new things like a Google Map that shows our field trip journeys (right side), Shelfari where I will share the books we highly recommend (left side still working on this), Amazon store (left side doesn't always show in all browsers but you should still see a text link) and easier navigation for what we are learning and current giveaways (top right)
Thanks again for being a faithful follower I appreciate the support.